Rotary Report - Cathy Mulcahey is pictured with Rotarian Charlie Cox following Thursday's Rotary meeting held at the Moose Family Center. Mrs. Mulcahey is going on a mission trip to Costa Rica and presented a program to the Rotarians concerning that trip and her upcoming fundraiser. A Chicken BBQ will be held Saturday, July 23. Also visiting were ReBecca Culver and Marta Mena from Spain. The Culver family from Port Allegany are hosing Marty and next month Rebecca will travel to Spain and stay with Marta's family. It was the first meeting for new President Dave Fair.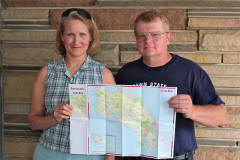 Rotary Hears About Mission Trip - President Dave Fair called his first meeting to order Thursday at the Moose Family Center. There were 20 Rotarians present for a reportable attendance of 67 percent.
Cathy Mulcahey was introduced to the club by Rotarian Charlie Cox. She spoke about becoming an International Volunteer and her upcoming trip. A chicken BBQ dinner will be held Saturday, July 23 at the Jubilee Parking Lot beginning at 11 a.m. until sold out. Proceeds from the BBQ will go to sponsor Mrs. Mulcahey on a missions trip to Cartago, Costa Rica from August 21 to August 28. The dinner will include half chicken, baked beans, potato salad, roll/butter at a cost of $8. For more information about the mission trip, go to www.crossculturalsolutions.org.
Also visiting were Rebecca Culver, daughter of James and Sharon Culver of Port Allegany, and Marta Mena of Spain. The Culvers are currently hosting Marty and next month ReBecca will travel to Spain and stay with Marta's family.
A Rotary Youth Exchange student, can spend up to a year living with host families and attending school in a different country. Participation can be in Rotary's long-term or short-term Youth Exchange programs. Students learn a new way of living, a great deal about themselves and maybe even a new language. They are also ambassadors, teaching people they meet about their country, culture, and ideas. They help bring the world closer – and make some good friends in the process. For over 75 years, students and host families have broadened their horizons through Rotary Youth Exchange. More than 80 countries and over 8,000 students each year participate in the program, which is administered at the regional level by Rotary districts and at the local level by Rotary clubs.
July 14, the club will do their part in cleaning up the area around the gazebo. Food and fellowship will follow at the Moose Family Center. Clean-up begins at 5 p.m. There will be no noon meeting that day.
The club will sponsor a food booth at the Car Show on August 6.
Winner of the 50/50 raffle was Jason Stake.