Library Building Fund Grows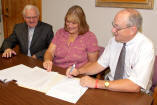 Board members Frank Rackish and Ki Bayline are pictured with S. W. Smith Memorial Public Library Board President Lynn Farber as they give her a little history of the Tri-Area Development Corporation. The Corporation has distributed checks to the S. W. Smith Library Building Fund, Port Allegany; the Hamlin Library in Smethport and have put the same amount, $42,500, in trust for Eldred. Pam Fischer Photo
Tri-area Development Corporation Makes Donations
The Tri-Area Development Corporation, under the leadership of President Martin Digel, has distributed $42,500 checks to the S. W, Smith Memorial Public Library Building Fund, the Hamlin Library in Smethport and has put the same amount in trust for Eldred. The corporation was organized July 26, 1968 and was formed to finance the Jaguar plant in Smethport. The purpose of this corporation was to advance the economic, commercial, and civic interest of the Boroughs of Smethport, Eldred, and Port Allegany, and of the surrounding area; to acquire, preserve, and distribute economic, commercial, civic, educational and social statistics, and information of value, to encourage the continued development of existing industry and the establishment of new industry in the Boroughs of Smethport, Eldred and Port Allegany, and the surrounding area; to co-operate with similar organizations engaged in like activities affecting larger areas of McKean County. Membership was limited to the membership of the Chambers of Commerce of Eldred, Port Allegany and Smethport.
The Jaguar plant opened in 1969 and employed around 75 women. They made pants for J.C. Penney, Sears and the Arnie Palmer line and at one time (1984) had a payroll of a million dollars. Also in 1984, the plant was producing 2,000 pairs of pants per day. The women were paid $6.50-$7.50 per piece. The plant closed around 1988.
In 2002, the Tri-Area Development Corporation gave $5,000 to the Eldred World War II Museum; $5,000 to the Port Allegany Recreational Authority for Port Allegany Community Park Improvement; and $5,000 to the Smethport Rotary Club for their skateboard recreation area.
In response to the donation, S. W. Smith Memorial Public Library Board President said, "The Library Building Fund has maintained a steady fundraising campaign. The money from Tri-Area Development Corp comes as a huge and very welcome surprise. It reinforces the fact that the community needs and wants a new library.
We have hired a grant writer to help us in obtaining more funding. Building plans are done and bids have gone out.
The fundraising campaign is ongoing. As the ground breaking nears, continued commitment from area businesses and residents will play a pivotal role.
Chiropractic services added in Port Allegany

Dr. Michael Kavounas is now offering chiropractic services at Charles Cole Memorial Hospital's Port Allegany Community Health Center.
"The hospital is expanding its menu of services at the Port Allegany Health Center by adding chiropractor Dr. Kavounas to the staff of professional providers. With Dr. Kavounas' training and experience, this will bring another value added service to our patient population," said Dennis Geitner, executive director, surgical and rehabilitation services.
Dr. Kavounas earned bachelor's degrees in athletic training/sports medicine and physical therapy at the University of Pittsburgh and a doctorate of chiropractic at Logan College of Chiropractic. Before joining the staff at CCMH, he provided physical therapy and chiropractic care to patients in Pennsylvania and Ohio including owning clinics in Oil City, Allentown and Cleveland.
He is a member of the American Physical Therapy Association. Appointments can be scheduled by calling (814) 642-5076.
Coudersport to Host Biggest Yard Sale Yet - Over 100 Sales and Counting!

Coudersport, Pa will host its third town wide yard sale! With over 100 families and organizations participating, there will be plenty of great bargains to find here in Potter County on Saturday, September 3rd from 9 am – 5 pm.

Sales will be set up all over town and at the Court House Square. Maps, showing the locations of the yard sales, will be available at local merchants a few days before the sales begin. They will also be available at various yard sales throughout town and on the square.

There will be spots around town to fill your bellies and re-fuel your energy. The To Fill a Backpack organization will be selling "Walking Tacos" in front of KOS on Rt. 6, the St. Paul's Lutheran Church will be having a bake sale and selling lunch along with their yard sale on Borie Street and the 4-H Club will be selling hot dogs on the square along with their sale! The Farmers Market will have fresh fruits and vegetables available at their stands on the Court House Square.

Coudersport welcomes everyone to our community and we hope you have a wonderful time finding great bargains this Labor Day Weekend!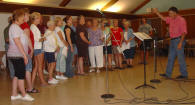 Ensemble - Many of the Potter-McKean Players are seen at a recent rehearsal of the upcoming Broadway on the Allegheny production, with performances scheduled September 16 at the Consistory and September 23 at the Port Allegany high school. Director Paul Herzig is at right. Martha Knight Photo

Barefoot In The Park? - No, but Broadway shows will be sampled at the upcoming performances by the Potter-McKean Players September 16 and 23 in Coudersport and Port Allegany. Martha Knight Photo

Old Man (Allegheny) River - Denny Bloss uses his powerful voice to good effect in one of the numbers in Broadway on the Allegheny, being rehearsed by the Potter-McKean Players in preparation for September 16 and 23 performances in Coudersport and Port Allegany. An impressive cast and ample program are being deployed to entertain the group's many fans and benefit both communities' swimming pools. Martha Knight Photo