Republican Gov.-elect Tom Corbett will soon have to decide whether to greenlight hundreds of millions of taxpayer dollars for projects supported by lawmakers or outgoing Gov. Ed Rendell.
The Rendell administration late Tuesday released a list of projects that collectively are slated to receive more than $400 million, if certain qualifications are met. Rendell issued commitment letters in November and December for the lawmaker-approved projects, including hospitals, universities, businesses and a stadium.
Also, lawmakers have asked Rendell in recent months to approve more than $55 million for local projects. The grants are nicknamed WAMs, for "walking-around money."
Corbett takes office next week and isn't making any promises publicly.
His spokesman says he'll review any funding promise Rendell made that doesn't have a completed contract. Corbett has vowed to end WAMs.
2 Life Terms For Killing Pregnant PA Woman
SMETHPORT, Pa. (AP) -- A northwestern Pennsylvania man has been sentenced to consecutive life prison terms for stabbing and choking a pregnant woman, which also killed her unborn son - after which he sent cell phone pictures of the crime scene to a woman who turned him in.
Thirty-one-year-old Thomas Haggie, of Bradford, was sentenced Thursday.
He had pleaded guilty last month to killing Megan Konopka, who was eight months pregnant, with the help of another man in September 2009. Haggie avoided the possible death penalty by pleading guilty.
His guilty plea was delayed when he laughed, cursed, and exclaimed, "Holy schmolies!" when prosecutors and police arrived.
A McKean County judge learned Haggie hadn't taken his psychiatric medication and accepted a plea a week later after Haggie was medicated.
Board Previews IU9 Budget, Network Pact
By Martha Knight
A draft of the IU9 service budgets for fiscal 2011-2012 was discussed at the Port Allegany School Board meeting Monday night. IU9 board member (and IU9 president) Dave Mensch and superintendent Tony Flint endorsed the fiscal plan in its present form.
Mensch said he doubts that there will be any significant changes in the budget before it is offered to the member school districts for their approvals.
Calling it a "flat budget," Mensch said that overall spending is not being increased, although there is "some movement back and forth," with some items increasing and others decreasing.
Flint pointed out that the state kept its contributions to intermediate units the same for 14 years, but last year cut the funding. Diminished state support for IUs is expected to continue. For the most part, IUs derive their support from member districts. IUs have no power to levy taxes.
Pointing out that the Port Allegany district's contribution to the service budgets is listed as $28,190, Flint said the district receives good value for this amount.
The services the district receives are Curriculum, $10,784; instructional Media Services, $14,619; Management Services, $1,043 and Pupil Personnel, $1,744.
Former IU9 vice-president and board member Gary A. Hardes questioned the salary increases given to IU9 personnel, administrators in particular.
"We used to say that a raise to IU people had a trickle-down effect. Now it is more of a deluge," Hardes stated.
Flint disagreed, pointing out that the raises given to IU9 support staff were 3.01 percent, while those given to the administrative staff including the executive director and assistant were 2.81 percent.
The raises were derived by averaging those given by the member districts for comparable kinds of position, Flint said, a point that was underscored by board vice president Daniel F. Kysor, presiding in the absence of president Melynda Budd.
The board also heard Flint explain the contract with Seneca Highlands Wide Area Network (SHWAN) which the board will be asked to approve next month. It would bind the district to continued support of the system. The charge is $15,000 per school building.
The school district's addition of an assistant technology coordinator, this past year, has not meant that it does not consume its fair share of those services through SHWAN, Flint said, in reply to a question from board member Denise Buchanan.
In personnel matters, the board appointed Matthew Lawton English Department chairman effective Thursday. He will receive a supplemental salary of $956, prorated to reflect the portion of the school year he will serve.
The board accepted the resignation of Melinda Milford as Title I aide.
Melody Moses was transferred from a 6.5-hour instructional aide position to a 6-hour one. Mary Lashway was hired as a 4.5-hour elementary Title I aide at an hourly rate of $14.59, with fringe benefits according to the support staff contract.
Anthony Edgell and Jeff Schultz were approved for continuation as volunteer basketball coaches. Shane Martin was appointed a volunteer wrestling coach, and Randy Garzel was approved as a volunteer basketball coach subject to completion of paperwork.
Added to the district's substitute lists were Saree Frederick of Duke Center, Kristina Grove and George Horning of Emporium, and Willie Bova of Port Allegany, as substitute teachers; also, Thomas Brown of Smethport and Roxanne Taylor of Port Allegany as support staff subs. Bova and Horning have paperwork pending.
G.H. Harris, Inc. was reappointed collector of delinquent per capita taxes. There is no cost to the district. Business manager Judith Bodamer said that Harris's collection rate is 100 percent. The firm charges its collection fees to the delinquent taxpayers.
Flint made a statement recognizing the board members in connection with school board recognition month. He pointed out that the school directors spend much time in handling their board responsibilities, and "all of it is for the benefit of the students."
Public Forum Debate - A Public Forum Debate was held with the Port Allegany High School offering the Affirmative opinion and the Otto-Eldred High School taking the Negative. Speaking for PAHS were Jacob Stehle, Jordan Edgell and Michelle Armendariz with Note taker Hannah Wise. Their team members include Zach Elliott, Elliott Binder, Rebecca Culver, Sophia Riley, Rhiannon Riley, Zach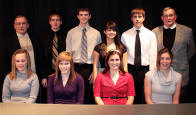 Sigafoes, Beau Shively, Megan Bishel, Jillian Edgreen, Charles Buchanan and Kyle Austin. Speaking for OEHS were Courtney Miller, Noah Jordan and Jeffrey Kronz with Note taker Audrey Johnston. Their team members include Dylan Bradt, Jamos Claypool, Dvan Cornell, Casey Cramer, Whitney Downey, Marybeth Edwards, Tristan Grimes, Shaina Hartzell, Lucas Kerr, Brandon Kudrick, Derrik States, James Thompson and Adam Wolf. OEHS took home the team trophy. Also speaking were Jim Clark, Extension Educator, Bob Veilleux, Community and Economic Development Educator and Representative Martin Causer. Resolved: Allowing natural gas drilling is in the best interest of the state of Pennsylvania. Teachers involved in the event were Naoma Hayden, OEHS; Aaron Clark, PAHS and Kelly Tarbox, IU9. Judging the event were Matt Splain, Shelly Carson, Cindy Murphy, Ron Caskey and Kaci Daniels. Pictured: (front row) Courtney Miller, Audrey Johnston, Hannah Wise, Jordan Edgell; (back row) OESD Superintendent Robert Falk, Jeff Kronz, Noah Jordan, Michelle Armendaiz, Jacob Stehle and PASD Superintendent Tony Flint. Pam Fischer Photo/Story
UMW Honors Boyer - Port Allegany United Methodist Women President, Susan Roboski, presented a certificate and pin to Connie Boyer during the morning worship service held Sunday, January 9. The UMW Special Missions Recognition was given to Boyer for her dedication and service to the church. Pam Fischer Photo/Story
Girl Scout Cookie Time - Hannah Troupe, Thea Petruzzi and Hailee Perkins are pictured with boxes of the yearly tempting treats offered through the Girl Scout Cookie Sale. The trio participated in a Cookie Rally held Thursday evening at the Moose Family Center. Cookies are on sale now at a cost of $3.50 per box.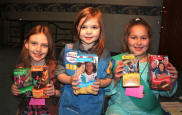 Cookie Sale Underway - The Girl Scout Cookie sale runs from Jan 7 through March 13. Orders are now being taken by local scout troops ranging from Daisy through Seniors. Those orders will end January 28. Cookie delivery is scheduled for the week of February 21. Various booth sales will be held during the weeks of February 25 to March 13. Cookies will sell for $3.50 per box.
There are eight varieties from which to choose including Thin Mints, Tagalongs, Samoas, Do-si-dos, Trefoils, Lemon Chalet Cremes, Dulce de Leche and Thank You Berry Much.
The Girl Scout Cookie Program helps girls develop five essential skills such as goal setting, decision making, money management, people skills and business ethics. A portion of the proceeds goes directly to the Girl Scout Troop treasuries which helps each troop reach goals such as community service projects and funding troop field trips.
The Girl Scout Cookie prograrm is an excellent way for customers to support girls in their own community and to get a great product.
To learn more, visit www.gswpa.org. If not contacted to purchase cookies, e-mail cookiechairman@yahoo.com Pam Fischer Photo/Story
Rotary Welcomes Students - Three Port Allegany students and their advisor George Riley, presented the program for the weekly Rotary meeting held January 6 at the Moose Family Center. Jordan Edgell and Becky Andrus, along with Exchange Student Fer Spallanzani attend the World Affairs Council held recently in Pittsburgh. Pictured (left to right) Fer Spallanzani, Haileigh McClelland, George Riley, Seth Lowery, Jordan Edgell, Becky Andrus and Rotarian Marty Moses.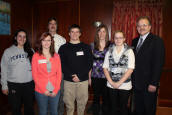 ROTARY REPORT - There were 20 Rotarians present for a reportable attendance of 67 percent at the January 6 meeting of the Port Allegany Rotary Club. Presenting the program were George Riley, Jordan Edgell, Becky Andrus and Fer Spallanzani who told of their experience at the World Affairs Council held recently in Pittsburgh.
Also visiting were Senior Guests Seth Lowery and Haleigh McClelland and Smethport Rotarian Troy Herzog.
There will be no lunch meeting on January 13. The Holiday Dinner will be held January 15 at the Moose Family Center.
Winner of the 50/50 raffle was Ki Bayline.
District Chorus Representatives - The following students will be representing Port Allegany High School at the Pennsylvania Music Educators Association District II Chorus Festival at

McDowell Intermediate High School in Erie this week: (front) Shane Whitney; (back) Wesley Caulkins, Anna McJunkin, Zach Sigafoes and Renee Edgell. The guest conductor for the event is Dr. John Goldsmith, Choral Director of the Henize Chapel Choir at the University of Pittsburgh. The honors choir will present two performances of the concert: Thursday, January 13th at 7:30 PM and Friday, January 14th at 7:30 PM. Tickets will be available at the door for both performances. Pam Fischer Photo/Story