PA Toy Maker, Patch Products, cuts 13 jobs
SMETHPORT, Pa. (AP) – A northwestern Pennsylvania facility that makes toys and games is cutting 13 employees.
Patch Products, based in Beloit, Wis., has owned the Smethport Specialty Co. since 2008. The company was founded under another name in 1923 and first produced a magnetic toy and later produced toys for discount stores.
Patch president Brian Maxwell tells the Bradford Era the parent company is doing well, but says its product mix and customer base is changing and that hurt the facility in Smethport, about 125 miles northeast of Pittsburgh.
Employees are getting a severance package and job search
assistance. It wasn't immediately clear how many employees remain and whether the facility will stay open.
Erie, PA – Hamot and Regional Partners Put Grant to Use to Improve Patient Care

Erie, PA- In just two months, significant progress has been made in providing greater access to advanced medical care to four regional hospitals thanks to a federal grant awarded to Hamot Medical Center in late summer.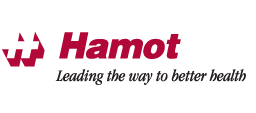 Then Representative Kathy Dahlkemper presented Hamot with the $99,000 Health and Human Services grant in mid-September, a grant for which Hamot applied with Charles Cole Memorial Hospital in Coudersport, Elk Regional Health Center in St. Marys, Kane Community Hospital in Kane and Bradford Regional Medical Center in Bradford. The grant was requested specifically to help facilitate transportation of critically ill patients.

The cache of equipment was ordered and was delivered Friday, January 21st to each of the rural hospitals, where it will be permanently located. The equipment includes an Alaris IV pump and tubing, CPAP and ventilators for EMS which feature bipap. Each of the hospitals received this cache of equipment so EMS units can borrow them from the regional hospital directly, which will help decrease the delay times when transferring patients. Currently, the transfer of critically ill patients from the rural hospitals can be significantly delayed as a result of several factors and the availability of this equipment will help eliminate that.

"The purchase of this equipment will help put an end to critically-ill patients having to wait for a hospital transfer," Dahlkemper said. "This equipment will save lives because it will give Hamot doctors the chance to provide the best care possible, as fast as possible. This grant is a great benefit for our rural communities."

Hamot Medical Center officials said that adding the equipment to rural hospitals will begin to reduce health care disparities in rural areas, improve hospital efficiencies and save lives.

"This grant, due to Rep. Dahlkemper's leadership, supports our philosophy of local care and provides patients with better access to advanced medical care when it is needed. It is providing essential medical equipment that is needed onsite to stabilize the patient and if necessary, transfer them to a higher level of care," said Val Jackson, the regional director of the Hamot Heart Institute.

This is what local hospital leaders had to say about this new equipment cache and the ability to offer increased access to high-level care:

J. Gary Rhodes, VP of Hamot Health Foundation and CEO of Kane Community Hospital noted, "We're happy about this grant and once again, through our partnership with Hamot Medical Center, we're seeing the excellent benefits of that affiliation."

"Thanks to Rep. Dahlkemper's leadership and our partnership with Hamot, Elk Regional has been able to take a very big step toward eliminating the delay in hospital transfers for critically ill patients," said Gregory P. Bauer, the president and CEO of Elk Regional Health Center. "This equipment is going to save lives by offering critically ill patients in our rural region greater access to advanced medical care."

Emily Myers, director of emergency services, at Charles Cole Memorial Hospital says, "This equipment enhances our ability to transfer patients, when needed, to a larger tertiary facility while helping to minimize delays. It will give us the opportunity to improve the level of care for our patients throughout the region."

David Kobis, Chief Operating Officer at BRMC, is excited about what the grant will mean for patients, who live in his community. "This grant will allow Bradford to secure an autoventitalor and IV pump that will expedite the transfer and treatment of acutely ill patients. This additional equipment will enable the hospital to enhance our service levels and quality of care to patients throughout the Bradford region."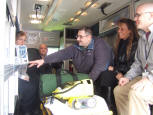 (pic 1, from left-right) Tameca Van Bergen, Chris Heimel, James Steiner, Medic 6; Val Jackson, Regional Director of Hamot Heart Institute; and Jason Chenault, Hamot Emergency/Truama Services Director. (pic 2, from left-right) Jason Chenault, Hamot Emergency/Truama Services Director; Val Jackson, Regional Director of Hamot Heart Institute; Ann Slotta, Director of Acute Care Services, CCMH; Linda Gee, Cardiopulmonary Coordinator, CCMH; James Steiner, Chris Heimel, Tameca VanBergen, Medic 6.
PHEAA Offers Free Help in Completing the FAFSA, Says Causer
Students preparing to file financial aid forms can get some help from the Pennsylvania Higher Education Assistance Agency (PHEAA), Rep. Martin Causer (R-Turtlepoint) said today.
PHEAA is offering students and their families free to complete the Free Application for Federal Student Aid (FAFSA). The FAFSA is used to determine eligibility for federal grants, the need-based Pennsylvania State Grant, many scholarships, reduced-cost federal student loans, work-study programs, and many school-based student aid programs.
Locally, PHEAA will hold the sessions at the following locations:
Community Education Council of Elk and Cameron Counties, 4 Erie Ave., Suite 200, St. Mary's – Wednesday, Feb. 2, 2 p.m. to 4 p.m. and 5 p.m. to 7 p.m. in the computer lab.
University of Pittsburgh at Bradford, 300 Campus Dr., Bradford – Wednesday, Feb. 9, 6:30 p.m. to 8:30 p.m. in the computer lab.
Kane Area High School, 6965 Rte. 321, Kane – Tuesday, Feb. 22, 5:30 p.m. to 7:30 p.m. in the computer lab.
Additional sites may be added. A schedule, which is updated weekly, is available at PHEAA.org/FAFSA.
Students and families will have the opportunity to ask questions related to the FAFSA or financial aid in general pertaining to their individual circumstances. If students are filing as a dependent, they and their parents will need to provide the following documents:
Social Security numbers.

Driver's license numbers.

2010 W-2 forms and 2010 Federal Income Tax returns.

Alien registration numbers or permanent residence cards (if not U.S. citizens).

2010 untaxed income records (welfare, veterans benefits, Social Security, Temporary Assistance for Needy Families).

Current bank statements and records of stocks, bonds and other investments.

Business or farm records, if applicable.
The Natural Gas Expo: Cameron-McKean-Potter is being held on Thursday March 10th, 10:00 am – 6:00 pm and Friday March 11th, 9:00 am – Noon at the Sports and Fitness Center at the University of Pittsburgh at Bradford. Education and industry seminars will take place on both days at Blaisdell Hall. A Wednesday evening networking event will be held for only exhibitors and their guests. You can register, get information and explore sponsorship, exhibitor, and advertising opportunities on the expo's website at www.natural-gas-expo.com.
The event will bring together the natural gas industry and local business entrepreneurs to explore the opportunities that are emerging out of the Marcellus natural gas play. The industry is raving about the quality and quantity of natural gas in Pennsylvania. Industry leaders are taking note and putting major resources into this region. Taking the opportunity to be part of expo in Bradford, Pennsylvania is a must if you and your business are interested in becoming part of this emerging industry.
The Natural Gas Expo is now also offering the following workshop prior to the Expo in March to exhibitors and anyone interested in being an exhibitor at a trade show.
Effective Marketing through Trade Shows
February 2, 2011: 9:00 – 11:00 AM
University of Pittsburgh at Bradford
Frame-Westerberg Commons Building
Mukaiyama University Room
300 Campus Drive
Bradford, PA 16701

Workshop Presenter: Ernie White, Exhibit Design Consultant, Skyline Displays.

Workshop Details:
The goal of this workshop is to help with all aspects of marketing effectively before, during, and after an expo or trade show. Some of the topics include:

- Understanding the show attendee and why they are at the show.
- How to use pre-show mailings.
- How to target market through trade shows
- Choosing and training booth staff
- How to sell on the trade show floor.
- How to qualify a lead.
- Following up after the show.
- Measuring the success of the show

This workshop is FREE to registered and paid 2011 Natural Gas Expo exhibitors. A $25 fee will be charged to general attendees.

To register for the workshop, call the Natural Gas Resource Center at (814) 260-5625 or register online at www.natural-gas-expo.com.

Ernie White is an Exhibit Design Consultant with Skyline Displays. He has more than 29 years of experience in both print and trade show design and marketing, and has developed corporate identity and branding packages for businesses ranging from mid-market firms to billion-dollar global corporations.
Registration is open! Sign-up today to reserve the best Expo spots.
Mark your calendars now and join us for the Natural Gas Expo in Bradford, Pennsylvania!
For more information contact the Natural Gas Resource Center at (814) 260-5625 or visit www.natural-gas-expo.com.
Blind Justice? New Window Dressing At Court House
By Martha Knight
SMETHPORT— Hammer and Nails of Smethport was the lone bidder on replacement of approximately 197 sets of blinds for Court House windows, when McKean County Commissioners conducted the bid opening Tuesday morning.

Most blinds in the Court House had become worn or defective over the years. (The windows were replaced last year with more energy-efficient and period-appropriate ones.) The commissioners agreed the bid was acceptable. The new blinds will cost about $48,088.
The McKean County Industrial Authority will apply for a Redevelopment Assistance Capital Program grant of $400,000 from the Pennsylvania Office of the Budget, according to an authorization voted by the commissioners in the regular session that followed the bid opening.
The enabling resolution notes that the commissioners' authorization is needed because McKean County is "a host municipality" to the multi-tenant facility to be constructed at the Bradford Regional Airport.
It also points out that during his administration former Governor Ed Rendell had authorized the McKean County Industrial Authority to seek funding for the multi-tenant project.
The measure also states that "the proper officers of the McKean County Board of Commissioners shall be responsible for providing any funds necessary to reimburse the Commonwealth of Pennsylvania for any expenditures made by the McKean County Industrial Authority pursuant to the Redevelopment Assistance Capital Program grant that are determined to be ineligible for funding by the Office of the Budget."
John MacGregor will be allowed to purchase the former Derrick City School property for $2,500, from the county repository. The property includes the brick building and about an acre of land.
Kathy Roche of the county tax claim bureau said Foster Township has approved the sale. The new owner has indicated that he will create a private residence and an art studio at the site.
In another purchase from the repository, David Johnston Jr. will be allowed to buy a mobile home at 258 Summit Road, Bradford, for $500. Roche said the offer is fair, and well over the minimum bid that had been set for the property.
The commissioners renewed an agreement with Erie County for part-time use of that county's forensic pathology services.
A service provider letter of agreement with Milestone Psyche Services was approved, adding that agency to the those used by the Department of Human Services for the Strengthening Families Program.
The McKean County Redevelopment Authority will continue to administer Community Development Block Grant funding for the county and Kane Borough, according to a renewal agreement approved by the commissioners. Commissioner Al Pingie noted that Bradford City's Redevelopment Authority is not included in the arrangement.
R.W. Larson Associates' proposal for architectural and engineering services for the 911 Center communications tower and other sites was accepted. Their fee will be $21,700.
Commissioners approved a change order requested by Kinley Corporation, adding $7,259.58 to the contract sum for the new Domestic Relations building. Commissioner chairman Joe DeMott explained, "When they poured the foundation for the building, they found it required them to use more concrete" than had been indicated in specifications.
The commissioners voted to allocate $125,000 of the county's Liquid Fuels Fund monies to the 22 municipalities for the year 2011, based on population and miles-of-road figures. Chief clerk Audrey Irons noted that population and mileage numbers have changed slightly in some municipalities, affecting allotments..
Melanie Clabaugh of Smethport was appointed to the North Central Pennsylvania Regional Planning and Development Commission Comprehensive Economic Strategy Committee. Commissioner Judith Church said the Kane Area Economic Development director will be an asset to the regional body.
Real estate tax exemptions were approved for two City of Bradford Office of Economic and Community Development properties, .06 and .05 acres of land, one at 97 State Street where a demolition is scheduled, one at 43 Pearl Street where a vacant house is to be renovated.
Payment of $13,135.21 to Northwest Engineering, Inc., in connection with the Galico Bridge Replacement Project was approved. Their invoice was for the period ending January 16.
The Bradford YWCA will be paid $3,667 for this month's administration of the Homeless Assistance Program, according to an approval by the commissioners. The funds come from a public welfare grant.
The Area Transportation Authority will be paid $340,598 for two quarters of the annual funding previously agreed upon, for medical assistance transportation, commissioners agreed.
Jail Income Sparse
By Martha Knight
SMETHPORT—A recent report by Elk County prison warden Gregory J. Grebauer included the information that the Elk County Prison generated more than $120,000 in housing and work-release income last year. But the McKean County Jail does not pull in that kind of income, according to county officials.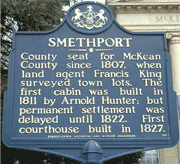 "Housing" income is not something the McKean County Jail can bring in, Sheriff Brad Mason, who is also the jail warden, pointed out. He did not mention the overcrowding at the jail, which is common knowledge. For years county officials have discussed the need of additional space just to house McKean County inmates—those who are serving jail time and others who are awaiting trial.
Not only are there no available spaces in which to house prisoners from neighboring counties, as was done in some past periods, but some McKean County prisoners must be housed in other counties' facilities, at whatever per diem rates those systems charge.
McKean County does receive a 20 percent cut of work release income, which added up to $157,000 last year, according to McKean County Controller Tom Ball. But operating the jail cost $2.4 million, he said. Using the 80-bed capacity of the jail as a divisor, he put the per-space cost at $30,000.
Ball also pointed out that the revenue numbers mentioned for the Elk County Prison would not be profit or net income, just the revenues. There would be expenses connected to the housing and work release operations there.
The commissary operation might bring in something like $12,000 to $15,000, Ball estimated, although those figures do not show up on the books in his office.
Mason said the jail complies with the Pennsylvania Department of Corrections regulations. Costs are considerable, to provide the required services—health care includes the services of a doctor, a nurse and a mental health professional. Dental care is available. Food service must provide a balanced diet and meet caloric needs.
The revenues from the inmate phone service and commissary should at least cover the costs of providing those programs, Mason said. Contractors provide the two services, and share their revenues with the jail on a percentage basis.
The phone system in use at the jail must provide for monitoring inmate phone calls. Inmates or others on their behalf provide the money for their calls, through the phone system. Inmates may have accounts with the phone service, with per-minute charges being deducted from account balances.
Inmates also can have commissary accounts, to cover purchases they make of items from snack foods to clothing and toiletries and stationery or mail supplies, Mason said.
It is no longer permissible for jail inmates' family members and friends to bring in items to prisoners, Mason explained. Even items that appear to be in in sealed, unopened original packaging must be rejected, because it is possible to smuggle in contraband that way.
The McKean County government website page concerning the jail states, "The only items that will be accepted from family members or friends are white underclothing, a watch less than $50 in value, and a wedding ring. The underclothing must be new and in the original packaging. Money will be accepted to be placed in the inmate's Commissary Account; no personal checks."
"It might look like a colored picture from a child, maybe, but it can contain a dissolved drug," Mason said, as he mentioned examples of elaborate smuggling schemes. Hiding places such as soles of shoes and books are used, when precautions are not taken to prevent it.
"The costs involved in inspecting things coming in would be considerable," Mason said. The commissary system eliminates much of that in-house effort.
The percentage of commissary income the contractor shares with the jail must be used for jail purchases or costs, Mason said, because of Department of Corrections rules. And there are always things that are needed at the jail, over and above the funding that is included in the county budget, he added.
Mason described his approach to the fiscal management at the jail as "taxpayer minded."
Although he considers the McKean County Jail to be humane in its treatment of inmates, Mason says he believes just the fact of being a prisoner would be hard to bear. "Being deprived of liberty is a serious punishment, one I would never want to have. I don't see how anyone could enjoy it."
Mason says he believes commissary and phone charges are fair. "Nobody is being taken advantage of," he said.
As for the crowding, with the jail housing more inmates than its rated capacity much of the time and having to "board them out" to other facilities, Mason says it will help when the new work release building is completed, easing space needs for the full-time prisoners.
That project had been scheduled for completion this past October, but due to a series of delays, it may be another month or two before the building will be ready for occupancy.
The same is true of the new food service area. Some officials mention contractor Lobar Construction as being behind schedule.
Dennison Speaks To Local Rotarians - Terri Dennison, Executive Director of PA Route 6 Alliance, spoke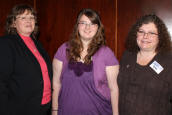 to the local Rotary Club at last week's meeting. Rotarian Debby Campbell (pictured left was the program chair for the day. They are pictured with senior visitor Alesha Shatley. There were 23 Rotarians present for a reportable attendance of 76 percent. Also visiting was Bud Keerps, a guest of John Mallery. Winner of the 50/50 raffle was Dave Fair. The Rotary Club is sponsoring a Multi-phasic Blood Screening Saturday at PAHS.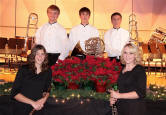 District Band Representatives
Pam Fischer Photo/Story
Several students were selected to represent Port Allegany High School at the PMEA (Pennsylvania Music Educators Association) District 2 Band Festival to be hosted by Cameron County High School February 9 - 12. The guest conductor is Shannon Kitelinger, director of bands at San Diego State University and formerly Otto-Eldred School District. A public performance will be presented on Saturday, February 12 at 12:00 p.m. PAHS students selected to participate in the festival are pictured (front row, left to right) Jordan Edgell (flute), Mary Rosenswie (bass clarinet); (back row) Wesley Caulkins (trombone), Jacob Stehle (French horn) and Kenneth Kysor (trombone), PAHS Instrumental Instructor is Brad Stewart.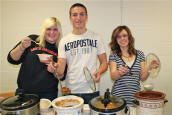 Music Boosters Fundraisers
Pam Fischer Photo/Story
Ashley Bandish, Sam Kysor and Haleigh McClelland are pictured at one of the two Souper Suppers sponsored by the Port Allegany Music Boosters, Upcoming fundraisers include the Sheetz coupon sale. Students are selling coupon books good for one free donut, one free breakfast sandwich, BOGO MTgo sandwich or parfait, one free six-inch MTO sub, sandwich or salad, two coupons for free hotdog, free bag of fryz with the purchase of any MTO, free specialty drink (coffeez, served hot, iced or frozen), BOGO Sheetz nuts, two coupons free self serve coffee or fountain drink, and BOGO Nova Bue bottle water. There will also be a hoagie sale on March 2. See your favorite music student to order. The Boosters have also created a Facebook account - Port Allegany Music Booster. Just go to that page and select like. It is kept updated and readers will be notified of any new posting.

District Jazz Band
Pam Fischer Photo/Story
Wesley Caulkins was selected through an audition process to participate in one of four PMEA (Pennsylvania Music Educators Association) District 2 Jazz Bands. The festival will be hosted at Meadville Area High School February 17-19. A public performance will be presented on Saturday, February 19 at 2:00 p.m.
Lady Gator Senior Night - Members of the Class of 2011 who participate in Lady Gator Basketball and their parents will be recognized during Senior Night activities Friday, January 28. The ceremony will take place prior to the varsity game between Port Allegany and Austin. The seniors to be honored will be (pictured, left to right) Bryanna Evens, Cora Bova, Kyley Mickle and Renee Edgell. Also being honored are managers Ashley Bernardi and Brittany Reinard. Pam Fischer Photo/Story
Gator Wrestling Senior Night - Port Allegany High School senior members of the Gator Wrestling team were honored in a ceremony held last Wednesday when the Gators hosted Johnsonburg. They are (front row, left to right) Cole Caulkins, Marcus Borowsky, Brad Goodeau, Bryan Lacher, Karissa Neal; (back row) Brittany Reinard, Nicole Lovell, Benn Baxter, Ryan Kio, Chester Tanner, Zach Manning, Dalton Warnick, Jorden Austin, Todd Bigley, Ashley Bernardi and Nikki Andrus. Senior Night photos will appear on this week's picture page.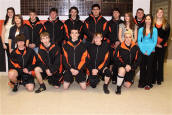 GATOR WRESTLING - The Wrestling Boosters sponsored Wrestling Senior Night 2011 when the Gators hosted the Johnsonburg Rams on January 19 at PAHS. The ceremony began with the introduction of senior cheerleaders Breanna Foster and Caryne Healy. Breanna is the daughter of Jared and Tracey Fowler. She has cheered for three years. Her accomplishments include being selected as a Big 30 Cheerleader. She plans to attend Penn State Behrend and major in pre-med. Caryne is the daughter of Luke and Susan Healy. She, too, has cheered for three years. She plans to attend Mercyhurst and major in education.
Managers were next on the program. They are Nikki Andrus, Jorden Austin, Ashley Bernardi, Nicole Lovell and Brittany Reinard. Nikki is the daughter of Joy Brown. She has been a wrestling manager for two years; played volleyball for six years; softball for three years; cheerleading for three years; Show Choir for two years and basketball for one year. She plans to attend Penn State Behrend and major in secondary education and accounting. Jorden is the daughter of Kelly and Jason Austin. She has been a wrestling manager for two years and has participate in Chorus for six years. She plans to attend DuBois Business College. Ashley is the daughter of Mindy and Dave Bernardi. In addition to wrestling manager, she is a member of the Spanish Club, has participated in basketball, Chorus, track, softball and volleyball. She plans to attend college to become a veterinarian. Nicole is the daughter of Dawn Lovell and the late Scott Lovell. She has managed for wrestling, played soccer for four years, basketball for two years and track for two yeas. Her future plans include attending college. Brittany Reinard is the daughter of Tammie Dalaba and Adam Reinard. In addition to being a wrestling manager, she also participates in Spanish Club, Show Choir, Chamber Singers, Student Council, Yearbook, SADD, Prom Committee, Peer Helpers, Basketball Manager, Volleyball statistician, Cheerleader, Chorus and Band. She plans to attend college and major in Business Administration.
The first wrestler to be honored was Benn Baxter. He is the son of Tim and April Baxter and wrestles at 145. He has been a Gator wrestler for five years, is a four-year lettermen, served as captain in his junior and senior years. He plans to attend college and major in mechanical engineering.
Todd Bigley is the son of Scott and Cindy Bigley. He wrestles at 285 and has wrestled for nine years. He is a golf and wrestling lettermen. Todd plans to join the work force after graduation.
Marcus Borowsky is the son of Jeff and Karen Borowsky. He wrestled at 125, has wrestled for five years and is a three-year lettermen. He plans to attend college.
Cole Caulkins is the son of Barb and Gary Caulkins. He wrestles at 160 and has wrestled for three years.
Brad Goodreau is the son of Mark and Kandi Goodreau and wrestles at 135 pounds. Brad has wrestled for 10 years. He is a member of the Spanish Club, Chorus, Student Council and has served as captain of the Wrestling Team. His future plans are undecided.
Ryan Kio is the son of Todd and Barb Kio. He also wrestles at 160 and he has wrestled for seven years. He took fourth place at wrestling districts in 2008, was a member of the Homecoming Court, Snowball Court, Varsity Club, Wrestling and Football lettermen and has served as two years as captain of the wrestling team. He plans to attend Penn State Dubois and major in physical therapy.
Bryan Lacher is the son of Al and Judy Lacher. He wrestles at 119 and is a three-year member of the team. He is a wrestling lettermen, a member of the academic team, has participated in golf, chorus and band. His college plans are undecided.
Zachariah Manning is the son of Dave and Darlene Manning. He wrestles heavy weight and has wrestled for nine years. He is a three-time PJW State Qualifier, district runner-up and has served as captain for 2 years, 2010 AML All-Star and was a member of the 2008 AML Championship Team. He plans to enlist in the Navy.
Karissa Neal is the daugher of Sheila and Michael Hults and Brian Neal. She wrestles at 171 and has wrestled for nine years. Her activities include basketball, volleyball, softball, chorus, has served as the Gator Mascot and is a member of SADD. She plans to attend Cal U, majoring in sports medicine.
Chet Tanner is the son of Chester and Kim Tanner. He wrestles at 130 pounds and has wrestled for 13 years. He was selected as an AML All-star in 2009-2009; Big 30 All-star in 2009-2009; placed third at Districts in 2008-2009; was selected as a 2009-2010 AMWL All-star and was honored after earning his 100th career win. His future plans are undecided.
Dalton Warnick is the son of Tina Warnick and Buddy Thompson, He wrestles at 171 and has wrestled for 8 years. He plans to attend a two-year technical school for motocross mechanics and join the National Guard.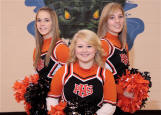 Gator Cheerleaders To Be Honored - Three Gator Cheerleaders will be honored during Senior Night Activities January 28 and February 7. They are Breanna Foster, Amber Fischer and Caryne Healy. Senior night ceremonies are held prior to the varsity game. The Lady Gators will host the Lady Panthers on January 28 and the Gators will host the Oswayo Valley Green Waves on February 7. Senior Night activities are sponsored by the Basketball Boosters. Pam Fischer Photo/Story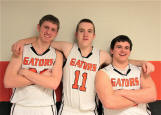 Gator Guys' Senior Night - Kody Taylor, Chad Barnard and Seth Lowery will be honored February 7 as the Basketball Boosters sponsor Senior Night 2011. The Gators will host the Oswayo Valley Green Waves. Senior night activities will be held prior to the varsity game. Also being honored are cheerleaders Breanna Foster and Caryne Healy. Pam Fischer Photo/Story