Pitt-Bradford Admissions Office To Add Evening Hours
BRADFORD, PA – The Office of Admissions at the University of Pittsburgh at Bradford is adding evening hours beginning Feb. 7 to better serve students and parents who can't contact the office during the day.

The extended hours will last until the end of April.

Admissions will be open for phone calls, instant messaging a counselor and walk-in services until 7 p.m. Mondays through Wednesdays.

"We wanted to make it easier for families to ask questions or come in to apply in the evening when it is more convenient for them," said Alex Nazemetz, director of admissions.

The admissions office has several other scheduled opportunities for prospective freshman and transfer students to visit campus.

The First Fridays program gives students a chance to see the campus during the week while students are in class. It includes a presentation from the admissions office, a campus tour and lunch in the KOA Dining Hall. First Fridays begin at 10 a.m. and will be held Feb. 4 and March 4.

An open house will be held starting at 1 p.m. Feb. 12, and include a chance to learn more about the school's academic and student life programs as well as tour campus and meet members of the faculty and staff and other prospective students.

Finally, Saturday information sessions are held for prospective students who cannot visit during the week. The next Saturday information session will be held Feb. 26 beginning at 1 p.m.

To register for an admissions event or schedule a visit, call (814)362-7528 or fill out an online registration at www.upb.pitt.edu/visit.aspx.
Flint Gets Three More Years
By Martha Knight
The Port Allegany School Board voted unanimously Monday night to give its chief executive, Martin A. "Tony" Flint, three more years after the end of his current contract.
The action came at a brief, six-o'clock meeting, on the last possible day the board could make that particular call concerning Flint's continued service at the helm of the school system.
Flint was not present. There was no discussion of the motion. Later board president Melynda Budd said the matter had been the topic of the executive session (closed meeting) last Monday night.

The motion did not include a salary figure for Flint. Board president Melynda Budd said that this would be decided in February, and would be discussed in a public meeting. The next regularly scheduled meeting of the board will be at 7 p.m., February 14.
Applicable law requires a board of education to notify a superintendent at least 150 days before the expiration of his current contract whether it plans to renew his contract. Contract renewals must be for periods not less than three years nor more than five.
Failing to decide on renewal or the length of term would mean that the contract would be renewed for another term the same length as the current one. Flint's current term is a four-year one.
Flint's present contract expires on June 30, 150 days later than January 31. Monday was the last day to either notify him of a decision to entertain applications from other candidates for the position, or to offer him a term of a different length.
The roll call vote was unanimous, with all seven members present.
The board acted on two other personnel matters. In one, David Morey was named head softball coach at a supplemental salary of $3,040, and William Daniels was appointed assistant softball coach at a supplemental salary of $1,549.
Board members Gary A. Hardes, often a critic of athletic program staffing policies and selection criteria, commented, "This is the third coach you have replaced." Seeming to address high school principal Marc Budd, he asked, "Why do we still have coaches that swear and throw chairs and that have DUIs?"
Marc Budd replied to the effect that attention to coaching style and methods is important to the program director and himself.
Hardes opined that coaching assignments can be a manifestation of "the Good Old Boy network." He seemed not to be mollified by Marc Budd's reply, insisting, "You people could monitor it a little better. Boy do I hear it, when I don't even ask." The last was a reference to comments to him by members of the public.
Amy Jo Raught of Eldred was added to the list of substitute teachers. Asked whether she can also fill in, in the junior-senior high school, Marc Budd said she can.
Replying to a question by Mensch concerning readiness to hire a new member of the guidance staff, to replace Kathy Jeselnick, Marc Budd said Jeselnick is still serving in the position because her retirement is not yet effective. The board is expected to be asked to act on a replacement next month.
Hardes offered praise to Marc Budd and to fellow board member Denise Buchanan for the recent National Honor Society induction ceremony.
Melynda Budd said that the unusual time of the special meeting had brought some comments from some board members that they might prefer meeting at that time, rather than the 7:30 p.m. time that has been in use for many years.
The idea seemed to be a non-starter, after board member Rikiya Tanaka declared vehemently that this would be impossible for him and he could never attend meetings on that basis.
He asked whether there is a provision for board members to meet using a speaker phone arrangement. Mensch said there is. Later he clarified that he is aware of a provision that would allow one or more board members to make prior arrangement to participate in a meeting that way.
Pitt-Bradford Names Murray Manager of Advancement Operations
BRADFORD, PA – The University of Pittsburgh at Bradford has named Shawn W. T. Murray the university's new manager of advancement operations.


Murray comes to Pitt-Bradford from Futures Rehabilitation Center Inc. in Bradford, where he had been the information systems coordinator, directing and supervising all technology projects. He replaces Michelle Buchholz, who is leaving the area.

A Pitt-Bradford alumnus, Murray earned an Associate of Science in information systems from Pitt-Bradford in 1998, followed by a Bachelor of Science in business management in 2001.

At Pitt-Bradford, Murray will maintain the university's fundraising database of more than 15,000 records. He will work in the Office of Institutional Advancement, reporting to Jill Ballard, executive director.

"We are thrilled to have Shawn as a member of our advancement team," Ballard said. "He has the right experience for the position and brings great enthusiasm to all of his work."

Outside of work, Murray has volunteered as treasurer for the McKean County Special Olympics and enjoys biking, boating and photography.

He owns Shawn Murray Photography in Bradford.

He and his wife, Lauren, live in Bradford with two sons, Evan, 5, and Owen, 3.

Named Co-Medical Director - Dr. Jason Tronetti has been named co-medical director at Lakeview Senior Care and Living Center located in Smethport. Welcoming Dr. Tronetti to Lakeview is Scott Christie, NHA, administrator of Lakeview, who made the announcement. Dr. Tronetti is a graduate of Port Allegany High School and received a bachelor's degree in biology from Gannon University. He earned his medical degree from the Philadelphia College of Osteopathic Medicine and completed his internship and residency at the Geisinger Medical Center in Danville. Dr. Tronetti has practiced medicine at CCMH's Port Allegany Health Center since 2002. He joins Dr. Fayez Roumani at Lakeview. Pam Fischer Photo/Story

CCMH Staff Reaches Patient Safety Milestone While Fighting Flu - The staff at Charles Cole Memorial Hospital recently reached a new patient safety milestone as over 95 percent of staff received a flu vaccine this season.

Reaching this milestone was part of a system-wide campaign aimed at providing a safe environment for patients. Over 700 CCMH employees voluntarily received annual flu vaccinations in accordance with the Centers for Disease Control and Prevention guidelines for healthcare workers. Shown is Valerie Tinder, RN giving David Hajzus a flu shot this fall.

"This vaccination rate sends a strong message to our patients and the communities we serve about our dedication to patient safety and disease prevention," said Cindi Hardesty, Vice-President and Chief Nurse Executive at CCMH.
"Considering that last year, we reached 87 percent and a couple years ago we had approximately 50 percent participation, we have taken major strides forward to proactively reduce potential harm to our patients, our families and ourselves," said Ed Pitchford, CCMH president and chief executive officer. "We believe that it's our responsibility to make such a commitment to safety for those who entrust their care to us. Our staff takes pride in the excellent care they provide to our patients and hold their health, safety and well-being in the highest regard."

Three years ago, Charles Cole embraced the Joint Commission's Flu Vaccination Challenge which encourages healthcare vaccination programs to prevent the spread of influenza among healthcare workers, patients, visitors, family and friends. This year, the hospital sought to reach the highest level of recognition, the Gold Level, which required at least 95 percent staff participation.
This year's campaign included an awareness initiative, "It's ok to ask to mask," to inform patients and visitors that employees who received a flu vaccine have a sticker on their name badges. Those who have not been vaccinated are required to wear a mask during flu season when in proximity to patients to further prevent the spread of the flu.
Last year, the Joint Commission reported that while most hospitals increased participation from the previous year, less than 20 percent of participating organizations nationwide reached the "Gold Level" which was set at 90 percent.

Charles Cole is a Joint Commission-accredited organization. Founded in 1951, The Joint Commission seeks to continuously improve health care for the public, in collaboration with other stakeholders, by evaluating health care organizations and inspiring them to excel in providing safe and effective care of the highest quality and value. The Joint Commission evaluates and accredits more than 18,000 health care organizations and programs in the United States. An independent, not-for-profit organization, The Joint Commission is the nation's oldest and largest standards-setting and accrediting body in health care. Learn more about The Joint Commission at www.jointcommission.org.
National Honor Society Members - National Honor Society members are
pictured following the 2011 Induction Ceremony held Sunday at Port Allegany High School. they are (front row, left to right) Renee Edgell, Breanna Foster, Caryne Healy, Kyley Mickle, Alesha Shatley, Bryanna Evens; (row 2) Sophia Riley, Rhiannon Riley, Harley Hobbs, Laura haggard, Michelle Armendariz, Harley Hobbs, Jordan Edgell, Rebecca Andrus; (third row) Wesley Caulkins, Charles Buchanan, Jacob Stehle, Elliott Binder, Kale Postlewait, Franklin Austin; (back row) Tyler Smith, Seth Lowery, Brock Bricker, Ken Kysor, Colleen Hardes, Julia Collver and Carli Johnston. Pam Fischer Photo/Story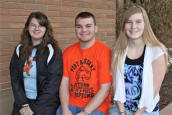 Horatio Alger Scholarship Winners - Tyler Smith, son
of Pam and Donald Keech and Steve Smith; Alesha Shatley, daughter of Stephanie and Troy Shatley: and Nicole Andrus, daughter of Joy Brown; are three of only 50 high school seniors selected as 2011 Horatio Alger Pennsylvania Scholars Winners. The trio will each receive a $5,000 scholarship from the Pennsylvania Scholars Program. They learned of the scholarship from their school counselor, Kathy Jeselnick. The Horatio Alger Association has one of the largest, privately funded college scholarship programs in the United States. Scholarships offered through the Horatio Alger Association include the National Scholarship, State Scholarships, the Dennis R. Washington Achievement Scholarship, and the Franklin Scholarship. The Pennsylvania Scholars Program annually awards $5,000 scholarships to 50 students in the state of Pennsylvania who have exhibited integrity and perseverance and who plan to pursue higher education. Pam Fischer Photos/Story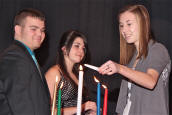 National Honor Society Induction Ceremony - The Induction Ceremony for the Port Allegany High School Chapter was held Sunday afternoon at the school. Guest speaker was Lynn Farber. Laura Haggard is pictured during the candle lighting ceremony while Tyler Smith and Julia Collver wait to present her with her membership card and pin. More photos from this event will appear on next week's picture page. Pam Fischer Photo/Story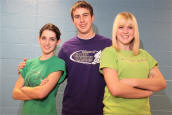 Centerstage This Weekend - CENTERSTAGE is being presented by the Port Allegany Music Department on Friday, February 4 and Saturday, February 5 at 7:30 p.m. each night. The program features the PAHS Chamber Singers, the Jazz Band, Percussion Ensemble, plus vocal and instrumental solos in an intimate "cabaret" type setting. Refreshments will be served by the Port Allegany Music Boosters. Tickets can be purchased at the Port Allegany School District office (general admission $4). Due to limited seating capacity, advance purchase of tickets is suggested. Pam Fischer Photo/Story
Singing Star Spangled Banner - The Senior High

Mens' Choir are pictured as they sing the Star Spangled Banner, under the direction of Kenneth Myers, prior to the Senior Night Lady Gator Basketball game with the Austin Panthers. The Port Allegany Music Department will present Centerstage 2011 Friday and Saturday nights at 7:30 p.m. in the auditorium at PAHS. Pam Fischer Photo/Story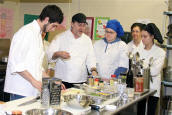 Cooking Demonstration - Matt Bernardi, PAHS Class of 2007, and a 2008 graduate of the Indiana University of Pennsylvania's Academy of Cooking Arts, visited the Seneca Highlands Area Vocational-Technical School's Culinary Arts shop Monday and offered a cooking demonstration to the students of Chef Paul Farmelo.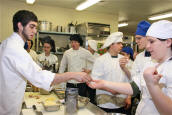 Bernardi (pictured left) prepared a herb-crusted pork tenderloin as he does at the Inn on Biltmore Estate in North Carolina. Winter vegetables and fresh corn polenta accompanied the pork tenderloin. The demonstration was given to both a.m. and p.m. students. Pam Fischer Photo/Story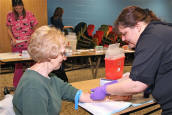 Blood Screening - The Port Allegany Rotary Club partnered with Charles Cole Memorial Hospital to bring a Comprehensive Blood Analysis to Port Allegany on Saturday, January 29. Marie Hobbs was one of over 250 people who took advantage of this service. More photos from this event will appear on this week's picture page. Organizing the event for the local club was Rotarian Ron Mickle. Pam Fischer Photo/Story

Snowball Royalty - Bryanna Evens and Chad Barnard were crowned Queen and King of the 2011 Snowball held Saturday night at Port Allegany High School. The event, sponsored by SADD (Students Against Destructive Decisions), featured the music of KARIZMA. Members of the Snowball Court included Ryan Kio, Seth Lowery, Camrin Stuckey, Brock Bricker, Breanna Foster, Caryne Healy, Cora Bova and Renee Edgell. Announcers for the evening were Lindsay Delacour and Charlie Buchanan. Pam Fischer Photo/Story
Rotary Report - Rotarians Ron Mickle and Marty Moses pose with senior guests, Mickle's daughter,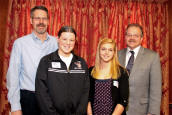 Kyley; and Carli Johnston. The club also welcomed Donna Kilhoffer and Jill Rend who presented a program on BC3@Upper Allegheny. Program Chair for the day was Bill Burleson.
ROTARY REPORT - The local Rotary Club learned about Butler County Community College and BC3@Upper Allegheny which opened in January of 2011. BCCC is Pennsylvania's fastest growing community college and is now serving 11 counties in the Northwest/Central Region of Pennsylvania. The main satellite location is Jefferson County Career Center at Reynoldsville. Branch satellite locations include Potter County Education Center at the SHAVTS (Seneca Highlands Area Vocational-Technical School) in Port Allegany; CEC of Elk and Cameron Counties in St. Marys; Warren-Foster Higher Ed Council in Warren; and Clarion County Career Center in Shippenville. BC3 Offers two Online Degree Programs. The first is Business Management, career option, two years and find a job, Associate in Applied Science Degreee. The second is General Studies - transfer option - two years/transfer to a four-year Institution - Associate in Arts Degree. Program chair for the day was Bill Burleson who introduced Donna Kilhoffer and Jill Rend who presented the program.
There were 22 Rotarians present for a reportable attendance of 72 percent.
Senior guests included Kyley Mickle introduced by her father, Ron; and Carli Johnston introduced by Marty Moses.
Kyley is the daughter of Ron and Amy Mickle. She is in the college prep course at PAHS. Her activities include basketball, softball, volleyball, band (clarinet), chorus, SADD, Spanish Club, Varsity Club, National Honor Society, Gator News and is a member of the Port Allegany Alliance Church. She plans to attend Penn State DuBois where she will play basketball and study to be an athletic trainer. Carli is the daughter of Eric and Lisa Johnston. She, too, is in the college prep course at PAHS. Her activities include Student Council where she serves as secretary, Varsity Club, Spanish Club, track, soccer, chorus, Show Choir, Class President and Peer Helpers. She is a student at the Sandy Johnson School of Dance where she also teaches the younger students. She is a member of the First Presbyterian Church Youth Group. Carli plans to attend college and has applied to St. Bonaventure, Penn State, Bucknell and Westminster. She plans to study psychology.
The winner of the 50/50 raffle was Scott Bayline.
Souper Bowl Sunday - The Junior Youth Group at the Port Allegany United Methodist Church are kicking off their 2011 Souper Bowl Sunday campaign on Saturday from 10 a.m. until noon at the Jubilee Store. The group is collecting soup, crackers, and other non-perishable food items as well as cash which will be donated to PACS (Port Allegany Community Services), The Souper Bowl of Caring began with a simple prayer, "Lord, even as we enjoy the Super Bowl football game, help us to be mindful of those who are without a bowl of soup to eat" which began a youth-led movement to help people who were hungry and hurting around the world. According to the Souper Bowl of Caring website, the prayer, delivered by Brad Smith, gave birth to an idea to use Super Bowl weekend, a time when people come together for football and fun, to also unify the nation for a higher good, collecting dollars and canned food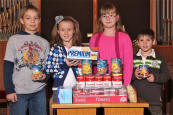 for the needy. The first year, 1990, youth raised $5,700. Since then, $70 million has been raised for soup kitchens, food banks and other charities in communities across the nation. Wayne Shelley, Madison Mahon, Kierra Keck and Ian Dynda are pictured as they make a display of items collected to date. In addition to the Saturday morning collection at Jubilee, donations may be left at the United Methodist Church located at 307 North Main Street any time during the week through Sunday, February 6. Pam Fischer Photo/Story

Cheering On The Gators - The Port Allegany Gator Cheerleaders are pictured during a recent game between the Gators and the Sheffield Wolverines. Flying high for the Gators is senior Breanna Foster. Pam Fischer Photo/Story

Gator Basketball Action - PAHS Gator Guys defeated Sheffield Wednesday night with a score of 58-48. Matt Bodamer had 17 points for the Gators. Beau Shively (pictured) had 15 points and 11 rebounds. The Gators will celebrate Senior Night February 7. Players Kody Taylor, Chad Barnard and Seth Lowery, along with cheerleaders Caryne Healy and Breanna Foster will be honored. Pam Fischer Photo/Story
Lady Gator Basketball Action - Three Lady Gators were in double figures as the
Lady Gators

hosted the Austin Panthers on Friday night. Renee Edgell (pictured) scored 17 points. Rachel Taylor and Bryanna Evens (also pictured) each scored 12 points. Edgell and Taylor each recorded a double-double. Edgell pulled down 15 rebounds and Taylor had 10. Port Allegany defeated Austin with a score of 52-41 as the Lady Gators celebrated Senior Night recognizing players Edgell, Evens, Cora Bova and Kyley Mickle, cheerleader Amber Fischer and managers Brittany Drabert and Ashley Bernardi. Pam Fischer Photo/Story
Lady Gator Senior Night Celebrated - The Lady Gator celebrated Senior Night 2011 Friday, January 28. The Lady Gator Junior Varsity team, coached by Tracy Kio, includes McKenna Johnson, Krista Miller, Ashley Woodruff, Amber Naylor, Gabrielle Drabert, Kayla Ford, Beth Ann Bernardi, Taylor Causer, Amber Lathrop and Renee Donnelly. The Varsity Team includes Seniors Bryanna Evens, Cora Bova, Kyley Mickle and Renee Edgell along with underclass athletes Jordan Edgell, Ashley Woodruff, Lindsay Delacour, Gabrielle Drabert, Fernanda Spallanzani and Rachel Taylor.
Junior Varsity cheerleaders include Brianna Buchsenschutz, Tori Miles, Bambi Barber, Barbara Pinchock, Demi Hobbs and Trisha Pelchy. Senior Cheerleader is Amber Fischer. The rest of the Varsity Squad includes Kelsea Kagarise, Alyssa Thomas, Caitlin Lindsay, Breanna Nichols, Jessica Baer and Shelby Dates. Gator Mascot is KrisAnn Raymo and their coach is Patty Babcock.
Dave Roae served as MC for the ceremony. Seniors were introduced beginning with Cora Bova. Cora is the daughter of Brad and Marti Bova. She participates in basketball and is a 2010-2011 team captain. She has participated in Gator Football Cheerleading and is a three-year Varisty letterwinner and two-year captain. She will represent PAHS as a Big 30 Cheerleader in this summer's Big 30 game. Cora has also participated in softball, is a four-year letterwinner and was a captain for the 2010 season. She is a two-year Varsity Golf letterwinner and was a captain for the 2010 season. She has participated in Chorus and Show Choir. Cora is a Varsity Club member and is currently the president; a member of Gator News, Wellness Committee, and SADD. She was president of the 2010 Prom Committee and was a member of the Snowball Court. She received the 2010 Wellness and the Women Award from the Seneca Highlands Area Vocational Technical School. Cora plans to attend college and major in nursing.
Renee Edgell is the niece of Dawne and Tony Edgell. She has participated in Gator basketball, is a three-year letterwinner and is a 2010-2011 team captain. She has also participated in Gator volleyball, is a three-year letterwinner, was a team captain for the 2010 season and was selected as a NTL Honorable Mention All-star. Renee has also participated in Gator track and is a two-year letterwinner. Renee was a member of the 2010 PMEA District, Regional and State Choirs. She was also selected to represent PAHS at the 2011 PMEA District Choir. She is a member of the Chorus, Show Choir and chamber Singers and is the President of the PAHS Chorus. Renee is also a member of the National Honor Society, Student Council, and currently serves as President; was the 2010 Homecoming Court, a member of the Varsity Club and serves as Parliamentarian and SADD, serving for two years as Parliamentarian. Renee plans to attend Penn State Behrend and major in Elementary Education.
Bryanna Evens is the daughter of Tammy and Hunter Conway and Tricia and Carl Evens. She has participated in basketball and is a two-year letterwinner and a team captain this season. Bryanna has participated in Gator soccer, is a four-year soccer letterwinner and was team captain for two years. She was a North Tier League All-star in 2009 and 2010. She also participated in Gator track and is a three year letterwinner and was a team captain in 2010. Bryanna is a member of the PAHS Chorus, the National Honor Society, currently serving as Vice-President, Student Council, serving as Vice-President; Senior Class Treasurer, Gator News, 2010 Homecoming Court member, 2011 Snowball Queen, represented PAHS at the 2010 Flaming Foliage; is a member of SADD and French Club, serving as Vice-President. Bryanna plans to attend Gannon University and major in pre-med to become a Physician Assistant.
Kyley Mickle is the daughter of Amy and Ron Mickle. She has participated in basketball, is a three-year letterwinner and served as captain this year. She was selected as a 2009-2010 NTL Honorable Mention All-star. She was also selected to the 2010 PAHS Christmas Tournament All- Tournament Team. She has participated in Gator softball, is a four-year letterwinner and was a team captain during the 2010 season. She participated in Lady Gator volleyball, is a three-year letterwinner and was team captain in 2010. Kyley participated in softball, is a four year letterwinner and was team captain in 2010. She was on the 2010 AML All-star team. Kyley is a member of the Chorus and Concert Band. She is a member of the National Honor Society, serving as Treaurer, a member of Gator News, the Varsity Club, SADD and Spanish Club. Kyley plans to attend Penn State Dubois, major in athletic training and play basketball for the Lady Lions.
Managers Ashley Bernardi and Brittany Reinard were unable to participate in the Senior Night activities. Ashley is the daughter of Mindy and Dave Bernardi. She participated in basketball, having lettered one year and serves as team manager and statistician this year. She has participated in Gator volleyball and is a one-year letterwinner. She played softball and was a member of the track team. She served as as a wrestling manager. She is a member of the PAHS Chorus and Spanish Club. Ashley plans to attend college and study animal medicine to become a veterinarian.
Brittany Reinard is the daughter of Tammie Dalaba and Adam Reinard. She has participated in basketball as a manager/statistician and is a two-year letter-winner. She is also a Varsity Gator Wrestling manager. She is a member of the PAHS Chorus, Show Choir and Chamber Singers. Brittany is a member of the Student Council, Spanish Club, having served as Secretary, a member of the Tiger Lily Yearbook Staff, SADD, Peer Helper, serving as Secretary for two years and was on the 2010 Prom Committee. She plans to attend college and major in business administration.
Senior Cheerleader Amber Fischer is the daughter of Charlene and Charles Michael Fischer, Jr. Amber has participated in Gator cheerleading and is a one-year letter-winner. She has participated in Gator Golf, is a four-year letter-winner and served as captain for the 2010 season. She participated in Lady Gator Volleyball as a player, manager and statistician. She participated in Chorus and is a Forrest and Emily Watkins Award Winner. Amber is a member of the Seneca Highlands Area Vocational Technical School Student Committee and serves as Secretary. Amber's goal is to be a teacher scholarship recipient for cosmetology and attend the University of Pittsburgh at Bradford to major in Management. She would like to gain cosmetology experience and in the future manage and own a salon.
Senior night activities were sponsored by the Port Allegany Basketball Boosters.