Causer Votes to Close Loopholes in PA's Megan's Law
Working to protect the safety of Pennsylvania's children, the state House this week adopted several reforms to Megan's Law, Rep. Martin Causer (R-Turtlepoint) said today.
"Having loopholes in a law designed to help keep children safe by notifying parents and community members if a convicted sex offender moves into their neighborhood is absolutely unacceptable," Causer said. "The sooner these bills get signed into law the better."
The problems with the law were brought to light by a trio of recent court cases.
The measures address the problems identified by the courts by outlining a process for homeless offenders (transients) to register every 30 days with the Pennsylvania State Police. They must be photographed and provide information about where they may be located, such as parks, public buildings, restaurants or libraries.
The measure also corrects a technical error in the original Megan's Law bill by ensuring the criminal penalties for failure to register apply to all registered sex offenders. It specifically addresses penalties for sex offenders required to register in their home states who subsequently move to Pennsylvania and are required to register for a lifetime.
House Bills 68 and 75 now go to the Senate for consideration.
Register now for Winter Pesticide Update Meeting

The McKean County Conservation District and the Penn State Cooperative Extension are sponsoring a Winter Pesticide Update Meeting being held on Friday, February 25, 2011, at the 911 Center in Smethport. The session will start at 1:00 PM and is targeted toward those individuals needing pesticide credits. This afternoon class will offer 2 category and 3 core pesticide credits.

Topics of discussion will include Organic Alternatives to Integrated Pest Management, Non-Native Invasive Plan Species: Identification, Cultural Aspects and Control, Integrated Pest Management Plans and Environmental Considerations for Schools and Other Campuses and Applicator Concerns Regarding the Role of Pollinators in the Landscape. There is a $15.00 fee, which includes refreshments and materials.

Participants are asked register by contacting the Penn State Cooperative Extension Office of McKean at 814-274-8540 by February 18, 2011.

Financial and other support for this project is provided by the Pennsylvania Association of Conservation Districts through a grant from the Pennsylvania Department of Environmental Protection under Section 319 of the Clean Water Act, administered by the U.S. Environmental Protection Agency.

Penn State is committed to affirmative action, equal opportunity, and the diversity of its workforce.
Emporium Church Distributes Cards - A representative from Emporium's Emmanuel Episcopal Church visited Charles Cole Memorial Hospital's Skilled Nursing and Rehab residents to deliver Valentine's Day cards this week. Program organizer Sissy Miller delivers the "sunshine cards" throughout the year and also visit residents at the Guy and Mary Felt Manor, Grove House, and Elk Regional Medical Center. Pictured, from left, are Harold Lias and Sissy Miller.
PennDOT Urges Motorists to Call 1-800-FIX-ROAD to Report Potholes on State Roads
Harrisburg – With the freeze-thaw cycle taking its annual toll on pavement, PennDOT urges motorists to call 1-800-FIX-ROAD (1-800-349-7623) to report the location of potholes on state roads.

Callers are asked to be as specific as possible when reporting pothole locations. For state routes, callers must report the county, municipality, street name, or preferably the state route (SR) number found on small, black-and-white signs posted along state roadways. Callers should also offer a description of any familiar landmarks that will help PennDOT find the problem area.

The hotline may be used to report any maintenance concern on state roads such as potholes, deer removal or signage issues.

Once notified, PennDOT will work expeditiously to address concerns when weather permits; however, winter services remain the primary focus of maintenance crews at this time of year.

To report potholes on local roads, motorists should contact the municipality in which the pothole is located.

Potholes develop when water seeps below the road through small cracks in the pavement surface. As the water repeatedly freezes and thaws, a cavity below the road is formed and larger cracks develop, causing the pavement to crumble.

The 1-800-FIX-ROAD hotline should not be used to report traffic accidents, disabled vehicles or other emergencies. Motorists should continue to call 911 to report those types of incidents.

Follow PennDOT on Twitter at www.twitter.com/PennDOTNews.
PennDOT Urges Motorcyclists to Enroll in Free Safety Courses
New Course Offered for 3-Wheeled Motorcycles

Harrisburg – Although Pennsylvania is still within winter's grip, now is the time for motorcyclists to plan to enhance their driving skills through the 2011 Pennsylvania Motorcycle Safety Program, PennDOT said today.

The program offers courses for new and experienced riders at approximately 70 locations across the state. Courses are offered March through October. A full schedule is available online at www.pamsp.com.

"Through the Pennsylvania Motorcycle Safety Program, we are committed to helping all riders improve their safety knowledge and operating skills," said acting PennDOT Secretary Barry J. Schoch, P.E. "By practicing proper riding techniques and learning how to handle their motorcycles in all types of road and weather conditions, motorcyclists can further reduce their chances of being involved in a crash."

New this year is a 3-Wheeled Motorcycle Basic Rider Course (3WBRC), which will be offered in Butler, Lehigh and York counties. PennDOT introduced the new course due to the increasing popularity of three-wheeled motorcycles and the unique safety concerns these vehicles present. The 12-hour course includes four hours of classroom instruction and eight hours of practical riding experience. Students must provide their own three-wheeled motorcycle and protective gear.

The 15-hour Basic Rider Course (BRC) consists of five hours of in-class instruction and 10 hours of practical riding experience. This comprehensive safety and skills overview provides valuable training for new riders and gives experienced riders the opportunity to polish their skills and correct any unsafe riding habits they may have developed. Students taking the BRC are provided a motorcycle and helmet; however, students are responsible for providing all other protective gear.

If a rider has completed the BRC, the six-hour Basic Rider Course 2 (BRC2), formerly known as the Experienced Rider Course, allows skilled riders to refresh their safety knowledge and hone their on-road skills. Riders taking the BRC2 are permitted to carry a passenger while practicing balance and steering techniques in a controlled environment. Students taking the BRC2 must provide their own motorcycle and protective gear.

All PAMSP courses, including the new 3WBRC, are free to Pennsylvania residents who have a motorcycle learner's permit or motorcycle license. All training courses are conducted on a riding range, under the management of certified rider coaches.

To enroll in a course, individuals must have either a motorcycle learner's permit or license. Motorcycle learner's permit holders who successfully complete a course will be issued a motorcycle license. Those who successfully pass their skills test on a three-wheeled motorcycle will be issued a motorcycle license with a "9" restriction, meaning they are prohibited from operating a two-wheeled motorcycle.

For more information and to enroll in a course, visit www.pamsp.com or call 1-800-845-9533, Monday through Friday, between 8 a.m. and noon.

Riders are also encouraged to visit www.LiveFreeRideAlive.com, an interactive website designed specifically for motorcyclists. The website challenges riders to take personal responsibility for their own safety.

The site allows visitors to view a documentary featuring several Pennsylvania riders, their family members and friends, and share their riding experiences and lessons about what they've learned. Riders also have the ability to take the "Be One Less" pledge, in which riders strive to be "one less" crash statistic in honor of motorcyclists who have been injured or killed in crashes.
Causer Supports Government Reform Measures
The state House overwhelmingly approved a package of bills this week aimed at making needed government reforms, Rep. Martin Causer (R-Turtlepoint) said today.
"As lawmakers, we have a responsibility to ensure state government is accountable for its actions," Causer said. "One of the best ways to do that is to bring transparency to everything we do, and these bills represent a first step in that direction."
Most notable among the reform measures is one that creates a searchable website of government contracts and expenditures called the Pennsylvania Web Accountability, Transparency and Contract Hub, or PennWATCH. The site would include information on appropriations and expenditures for Commonwealth agencies as well as the vendors receiving payment and the funding source for that payment. Under the bill, this information would be available on the website by the end of this year.
Additional information would have to be added by the end of 2013. The information would include hyperlinks to state contracts, a description of the program under which an expenditure is made and the expected outcomes of the expenditure.
"Dozens of states across the country offer this type of website so their citizens can be informed about how their tax dollars are being spent," Causer said. "The Corbett administration has already indicated its support for this measure, so I am hopeful it will become law very soon."
In addition to PennWATCH, other reform measures adopted by the House would:
Increase penalties for lobbyists who violate the state's Lobbyist Disclosure Act.

Extend whistleblower protections to employees of nonprofits and private sector companies with state contracts who report waste of public money obtained by their employer for services or work.

Enhance the state contracting process by allowing for public review of a contract not awarded by a competitive bid process prior to execution of the agreement and by prohibiting an employee of the administration who previously worked for a company bidding on a state contract from participating in the evaluation of that proposal.

Prohibit lawmakers from creating nonprofit organizations that receive public funds.
The bills passed the House unanimously and now await consideration in the Senate.

Commissioners Will Replace Blinds In-House

By Martha Knight

SMETHPORT—The McKean County Commissioners voted Tuesday morning to reject the lone bid for Venetian blind replacement, opened at their January 25 meeting. Rather than call for new bids, the commissioners decided to handle the project in-house.

As the sole bidder two weeks ago, Hammer and Nails of Smethport had been the low bidder on replacement of approximately 197 sets of blinds for Court House windows. Most blinds in the Court House have become worn, damaged or shabby over the years. (The windows were replaced last year with more energy-efficient and period-appropriate ones.)

The commissioners agreed at that time that the Hammer and Nails offer appeared to meet specifications. At this meeting though, they decided to exercise their option to reject "all bids" because the Hammer and Nails quotation of $48,088 is higher than project estimates. Maintenance supervisor Ken Bush agreed that the project can be done in-house.

"It was more than anticipated," said Joe DeMott, chairman of the board of commissioners. Commissioner Judith Church said the county could take a different approach and accomplish the desired upgrade.

Commissioners voted to enter into a maintenance agreement with Karpinski's Office Systems (KOS), Coudersport, covering a copy machine in the Department of Human Services. The cost will be .89 cents (under a penny) per copy.

The county will engage Standard and Poor's Ratings Services to prepare for possible refinancing of a bond issue which is callable this year. The long-term bond issue, sold by a previous board of commissioners, could be resold at a lower interest rate, commissioners believe, saving as much as $120,000 in amortization costs.

A supplemental agreement between the county and Northwest Engineering was approved. It increases from $24,000 to $28,000.the amount allotted for the waterway permit and hydrologic and hydraulic study, relating to the Galico Bridge replacement project. "They want more studies" was the comment by commissioner Al Pingie.

Commissioners voted to re-enact the City of Bradford Local Economic Revitalization Tax Assistance (LERTA) program. The action was taken at Bradford's request, following the city's own re-enactment of the program. The program will be in effect for five years.

Commissioners approved payment of $13,172.25 to the Area Transportation Authority, representing a portion of their budget allotment for the current quarter.

Three municipalities' payments for completed highway projects, were approved, with the money to come from the Liquid Fuel Fund. They are Liberty Township, $9,258; Port Allegany Borough, $14,511; and Sergeant Township, $1,150.

Commissioners also voted to pay the county $3,995 from the same fund, representing administration costs for the Liquid Fuel Fund program, in which those revenues are shared with the municipalities.

An aid application from Wetmore Township, for $6,135 this year, to chip and seal some roads, was approved.

Appointed to the McKean County Solid Waste Authority, for five-year terms, were Richard Kallenborn, Richard Tyger and Jeffrey Rhinehart.

Pingie announced that the commissioners had begun their 2011 round of visits to the meetings of the municipalities within the county, by attending the Port Allegany Borough Council meeting Monday night.

Fire Department $$ Crisis Looms, Officials Told
By

Martha Knight

PORT ALLEGANY—The Port Allegany Fire Department is approaching burnout, according to a presentation by its president, Mark Errick, to the Port Allegany Borough Council at its monthly meeting Monday night.

Traditional funding sources have become unprofitable, with former mainstay bingo recently discontinued. Costs have risen. The all-volunteer organization is forced to spend more and more time fundraising, but time demands discourage volunteers. Recruitment yields fewer and fewer new members.

As presented by Errick, the answer recommended by the fire department is to rely almost entirely on support from the municipalities served by the department, Port Allegany Borough, Liberty Township and Annin Township. Currently they pay about $44,000 generated by tax millage, with the borough paying about half, Errick said. A considerable increase is recommended.

Gary Turner and Chuck Safford of the Liberty Township Board of Supervisors were present, and they pointed out that that tax rates and township budgets have been set for the year. Also expressing doubt concerning Townships' ability to double support was Annin Township supervisor David McFall.

Errick said the fire department was bringing its concerns to the attention of the borough and other municipalities now, to open dialog and to allow time for the municipalities to discuss their role in the solution.

The fire department recommends a considerable raise in millage dedicated to fire protection. Volunteer fundraising is inequitable, Errick said, in that it is not borne by all those who benefit.

If funding and manpower shortage trends continue, the organization might have to disband, Errick warned. Contracted fire protection would be costly, and distances would be such that fire insurance rates would rise.

Council president Judy Taylor said council will discuss the matter and work toward a solution.

Also attending the meeting were McKean County Commissioners Joe DeMott, Al Pingie and Judy Church, in the first of the 2011 round of visits to meetings of the municipalities within McKean County, along with some other members of the fire department, and a supervisor from Annin Township.

DeMott, former long-time Port Allegany mayor, said the commissioners want to attend a meeting in each municipality so as to stay in touch with the issues and needs pertaining to each. All three invited those in attendance to attend commissioners' meetings.

Pingie, himself a former member of a professional fire department, wished the local force good luck in its endeavors to stay solvent and to maintain its excellent standing.

Taylor tendered her resignation as a member of the Port Allegany Planning Commission. Now that it meets monthly, Taylor said, its meetings present a time conflict.

Her fellow council members voted to accept her resignation and agreed to seek a qualified volunteer to appoint. It was noted that there can be two borough council members on the planning commission, so the replacement could be a member of council or not.

Borough manager Richard Kallenborn's report included the fact that the winter has brought numerous water main breaks, and necessitated repairs, to the sewer plant bar screen and to trucks. Snow plowing and use of salt already has equaled that for last winter, with more storms ahead.

Kallenborn mentioned that he thinks last summer's earthquake "may have jarred the water lines, resulting in many breaks" this winter. The ground is frozen now, but line breaks are occurring below the frost.

He recalled that borough secretary Susan Roboski had been aware of the unusual movement at the borough building and had told him she believed there had been an earthquake. "I was going to have her drug tested," he said. Turning to her, he asked something about her recollection of the event.

"I don't remember," she deadpanned. "I was too high." The council chamber erupted with laughter.

Kallenborn also reported that there had been no bypasses at the sewage treatment plant even during the recent flooding. The borough used to incur frequent fines for bypass events when too much fluid was delivered to the plant by the collector system, causing some to bypass the treatment system and be discharged untreated into the Allegheny River. The past several years of sewer line replacement projects have eliminated most of the hydraulic overload, Kallenborn has said.

The state Department of Environmental Protection fined the borough anyway, in January, Kallenborn added. DEP cited the borough for "heavy effluent during the flood the first of this year." He said this meant the effluent from the treatment plant was too "thick." The fine was $100. Kallenborn said the citation was "a joke," meaning that in the flood conditions the density of effluent would be undetectable, and beside the point.

Certain employees involved in water and sewage treatment work will be taking classes in the mandated ongoing training program pertaining to those functions, in March, Kallenborn said. The cost will be $200 per student plus expenses. The classes will be in the county "911 Building" in Smethport, which will mean less expense for travel and lodging, Kallenborn pointed out.

According to the resolution adopted approving Port Allegany Fire Department (Star Hose No. 1) activities for the next 30 days, Emergency Medical Technician (EMT) Basic instruction will be held on numerous dates extending through May 10, in the Mt. Jewett ambulance facility. Approval of such activities by the council has Workers Compensation
coverage significance.

Council voted approval of a previously announced and advertised change in the portion of Maple Street that is one-way. The amended ordinance defines the street from North Main Street to Willow Street as being one-way. Also, several parking slots will be eliminated.

Roboski distributed a report showing which elected borough offices are up for election this year. They are three borough council seats (with the terms of Lewis Duell, Lynn Farber and Kate Kysor expiring at the end of this year), one assessor (Barb Fink), and one constable (currently vacant).

Fire Protection Costs, Sewer Payments Are Liberty Topics

By Martha Knight

LIBERTY VILLA—Liberty Township Supervisors spent part of their Tuesday night meeting discussing Monday night's presentation by the Port Allegany Fire Department concerning a looming fiscal crunch it foresees.

The presentation was made at the Port Allegany Borough Council meeting, but members of Liberty Township and Annin Township government had been invited, because the Port Allegany Fire Department provides fire protection for those municipalities in addition to Port Allegany Borough.

As supervisors Gary Turner, Chuck Safford and Fred Ernst III see it, the fire department's suggestion that the three municipalities roughly triple their tax support to the department would be very hard for them to accomplish.

The value of the department to the township and its residents was acknowledged, with Turner noting that the monthly report from the department lists 17 events in Liberty Township. A good number were not fire protection related. The department helps out at accident scenes and sometimes assists with ambulance calls and other emergencies.

The presentation by Port Allegany Fire Department president Mark Errick had pointed out that should the department have to dissolve or curtail services for lack of funding, areas would have to seek other sources of fire protection.

Safford said that Roulette, Smethport or Eldred departments probably face many of the same pressures, such as difficulty in raising money and recruiting volunteers. However, he had the impression that the Roulette department is doing quite well with its gun show fundraiser.

Supervisors said they would continue to study the situation. Turner said he would favor holding a public meeting devoted to the topic of fire protection.

Sewer customers who have not paid their bills will be notified that the township will install shut-off valves on their sewer connections, if necessary, unless they bring their accounts current, supervisors agreed.

Turner said he had learned that it is possible and lawful to shut off sewer service in that way. For some time the supervisors have sought better enforcement methods, while some customers have become seriously delinquent in their payments. Secretary Cindy Speeth said the arrearages now total thousands of dollars.

The portions of the township where sewer service is available are served by the Port Allegany Sewer Authority, and are billed quarterly for their service. Many are not water customers. Port Allegany Borough sewer customers are water customers as well, and are billed for both services together. Nonpayment results in water shut-off, a measure not available to the township.

The supervisors voted to change the name of a section of road to Ladyslipper Lane, to avoid "emergency locator" confusion with another road.

Speeth was authorized to open a special account at the First National Bank of Port Allegany for the purpose of holding certain health coverage funds. She will manage the account, thus saving the township about $33,000.

Judith Bodamer was reappointed township representative to the countywide Earned Income Tax Committee, for 2011.

Cliff Frederick was appointed to the township vacancy board.

The positions to be filled by election this year are one supervisor, two auditors (for the purpose of setting wages) and one constable. Ernst's term expires at the end of the year. Supervisor terms are six years in length.

Haines and Company was appointed auditors for 2011, having served the county in that capacity for some time.

Keeping Your Winter Heart Healthy

This month for American Heart Month, set aside time to increase your awareness of heart health and heart disease. There are many steps that everyone can try implementing to work toward a more healthy heart lifestyle. Try a few or try them all and see the positive improvement in your life.

WINTER CHORES:
By the end of the winter season we are all sick of shoveling our driveways or paths day after day, but it's a good way to get some exercise in for the day. Some caution should be taken when doing this activity such as, don't overload the shovel so that it's too heavy to lift, squat down and lift with your legs (not your back), and if you are feeling too exerted take a break. For asthmatics, the cold can exacerbate symptoms and attacks, so keep up with medications and be prepared with acute attack medications. Make sure you wear proper cold weather protective clothing. It's easy to forget ear or finger protection and then suffer from frostbite at the end of an hour of shoveling.

Chopping wood is another chore that some of us have to do to keep ourselves warm during the winter, but we don't realize it can be an exercise tool to help keep us healthy. Remember to wear those safety goggles and aim well.

Try to walk more by parking farther away from your entrance or in one spot and then walking to all the shopping spots you need to go to. Getting in at least a half hour of walking every day can be very heart friendly. Find those small ways to incorporate exercise and gradually increase your activity level as you can tolerate it. And don't forget about winter sports such as skiing, snowshoeing or ice skating.
WELLNESS CENTER:

There are great indoor exercise opportunities at the Charles Cole Memorial Hospital Wellness Centers. They have very heart friendly exercise classes that are great fun as well. If you like to keep your schedule more open, then their exercise equipment provides a variety of cardio equipment to help with heart health. http://www.charlescolehospital.com/services_wellnesscenters.php
NUTRITION:

There is a great website (the link is below) that will help guide you with heart healthy grocery shopping and recipes. These recipes can be for sandwiches, soups, or big dinners for six.They have recipes broken down by ingredient such as steak, chicken, hamburger, tomatoes, etc, so that you can mold the recipe to what you already have in the kitchen or for your picky eaters. They also break it down into special needs such as low cholesterol or sodium recipes. This website will help you incorporate healthy nutrition choices into your life in an easy-to-understand way.


http://www.hearthealthyonline.com/healthy-rrecipes/index.html
HEART HEALTH 101:

One of the most common questions asked about heart health is: What should I be doing or What should my goals be? The answer is have a yearly physical, manage weight with exercise, eat a healthy diet, watch alcohol intake, avoid or quit all tobacco products, and effectively manage stress.

Another question asked is: What are these tests that my physician wants to order when I go in to see him/her for my yearly physical and why do I need them? Your physician will want to monitor your blood pressure. This is a strong indicator of how hard your heart has to work to pump the blood throughout your body. He/she is going to want to order a lipid panel. A lipid panel checks for good cholesterol, bad cholesterol, and triglyceride levels. These are important to help your physician assess your risk for artery-clogging diseases such as atherosclerosis. Your physician will also use your Body Mass Index score to evaluate your weight risks. This index takes into consideration personal facts such as height, weight, and age. One more test your physician may utilize is a fasting blood glucose level to screen you for diabetes mellitus. Use of this test depends on a patient's personal risk factors, but successfully diagnosing diabetes mellitus is important to maintaining a heart's healthy function, as well as many other organ functions.

On February14, the Lock Haven physician assistant students are going to be setting up a heart healthy table in CCMH's Irwin Medical Arts Center to provide free blood pressure screenings, Body Mass Index assessments, and heart healthy information.
Club Aniversary - Rotarian Lloyd Eastman is pictured with senior guests Mark Rees and Nicole Andrus following last week's Rotary meeting held at the Moose Family Center. It was noted that Eastman has a club anniversary to celebrate in February. He has 41 years of service and also 41 years of perfect attendance. That announcement was made during the fellowship and attendance report given by club secretary Joe Lashway.
ROTARY REPORT - Several people visited the Port Allegany Rotary Club at their weekly luncheon meeting held at the Moose Family Center. They were Troy Herzog, a visiting Rotarian from the Smethport Club; Al Pingie, a guest of Joe DeMott; Jean Stamilio and Rebecca Ehret, guests of Charlie Cox. They were welcomed by club president Jason Stake.
There were 20 Rotarians present for a reportable attendance of 67 percent. Rotarians Sue Barnett and Jim Plots will celebrate birthdays this month. Lloyd Eastman is celebrating a club anniversary having served for 41 years as a Rotarian. Eastman also has 41 years of perfect attendance.
It was announced that 266 people were served at the recent Multi-phasic Blood Screening; a host family is being sought for the 2011-2012 Rotary Exchange Student. Those interested should contact Charlie Cox; Port Allegany Rotarian Scott Bayline will begin serving as the Assistant District Governor on July 1.
Senior guests were Nicole Andrus, welcomed by Debby Campbell and Mark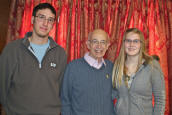 Rees, welcomed by Dick Kallenborn. Nicole is the daughter of Joy Brown. She has two sisters, Becky and Debbie. She is in the college prep course at PAHS and is an honor roll student. She also attends the Seneca Highlands Area Vocational Technical School in the Advanced Office Practice class. Her activities include volleyball, wrestling manager, softball, track and field, SADD, ROVA Representative, and was selected to receive the Horatio Alger Scholarship of $5000. Her hobbies include hanging out with her friends. Nicole plans to attend Penn State Behrend and major in accounting.
Mark is the son of Bob and Tina. He has one brother. Mark attends the Seneca Highlands Vocational-Technical School in the Heavy Equipment shop. His activities include go-cart racer and hunting and fishing. He works at Pine Valley Nursery. His hobbies include fixing up an old camero. He plans to be a heavy equipment operator.
Winner of the 50/50 raffle was Ki Bayline.

Gators Take On Green Wave - The Port Allegany Gators hosted the Oswayo Valley Green Wave Monday night as the Gators celebrated Senior Night 2011. The Green Waves defeated the Gators 57-43 in North Tier League action. Leading the Gators were Matt Bodamer (pictured) with 12 points and Chad Barnard with 10 points. Also pictured are Rickie Bova and Tyce Miller. The local team hosts Otto-Eldred tonight at PAHS. Pam Fisher Photo/Story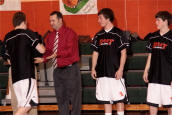 Gator Senior Night - Senior Chad Barnard is greeted by head coach Bob Raudenbush while fellow players Matt Bodamer and Beau Shively look on. The Gators celebrated Senior Night 2011 which was sponsored by the Basketball Boosters. This event will be featured on a future picture page. Pam Fisher Photo/Story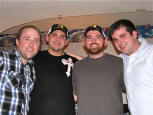 "Last Night" Raises Funds For Library - The boys of "Last Night", Zach Jennings, Dan Roche, Brian Williams and Mike Roche, performed one last time at the Moose Family Center to raise funds for the S. W. Smith Library Building Fund. "Last Night" along with DJ Kerry Hawver, raised over $1,000 to help get the new library built. Photo Submitted

Senior Night Singers - The female members of the Senior High Show Choir sang the National Anthem at the Port Allegany-Oswayo Valley basketball game held Monday night in Port Allegany. The group, under the direction of Kenneth Myers, performed as part of the Senior Night ceremony. More photos from the Gator Guys Senior Night will appear on a future picture page. Pam Fischer Photo/Story