HARRISBURG – Rep. Martin Causer (R-Turtlepoint) would like to let residents know that forms for the state's Property Tax/Rent Rebate program for 2010 are now available.

Eligible participants can receive a rebate of up to $650 based on their rent or property taxes paid in 2010. The program benefits eligible Pennsylvanians who are 65 years or older, widows and widowers 50 years or older, and those 18 years or older with disabilities.

Eligibility income limits for homeowners are set at the following levels, excluding 50 percent of Social Security, Supplemental Security Income, and Railroad Retirement Tier 1 benefits:

* $0 to $8,000, maximum $650 rebate (Homeowners and renters)
* $8,001 to $15,000, maximum $500 rebate (Homeowners and renters)
* $15,001 to $18,000, maximum $300 rebate (Homeowners only)
* $18,001 to $35,000, maximum $250 rebate (Homeowners only)

The Property Tax/Rent Rebate program is one of many initiatives supported by the Pennsylvania Lottery, which dedicates its proceeds to support programs for older Pennsylvanians. Since the program began in 1971, more than $4 billion has been paid to qualified applicants.

Residents are reminded to provide all the necessary income, property tax or rental information required to process claims quickly and accurately. Applications are due by June 30.

Property Tax/Rent Rebate claim forms are available at Causer's local offices: 78 Main St., First Floor, in Bradford (814-362-4400) and 107 S. Main St. in Coudersport (814-274-9769). Forms are also available online at RepCauser.com.
School Board Endorses IU9 Budget, Vo-Tech Rename
By Martha Knight

With a bare quorum of five members, the Port Allegany School Board voted Monday night to approve the 2011-12 IU9 General Operating Budget, totaling $1,225,834.
The members present also filled in their paper ballots, which are part of the voting process used by the Intermediate Unit.
Board member and IU9 Board representative Dave Mensch, who is also IU9 board president, undertook to explain the convoluted system of voting on the IU9 budget, at the request of board member Rod Howard.
Also approved was a change in the name of the "vo-tech school" from Seneca Highlands Area Vocational Technical School to Seneca Highlands Career and Technical Center.
In answer to a press question as to why the name change was being proposed to the vo-tech consortium schools, Superintendent Tony Flint said this was a recommendation by a consulting group from the Pennsylvania College of Technology.
A number of Kelly Tarbox's Enrichment Program students presented their projects which had been featured in the recent Invention Convention held in the Port Allegany Elementary School, and had included students from Otto-Eldred and Port Allegany. The board and administration members present, clearly impressed by the innovative product prototypes and the young inventors, applauded each presentation.
Shaylei and Isaac Burr demonstrated an edible dog bowl; Wayne Shelley showed his bean bag toy creation, Mr. Orange; Keely Tarbox displayed her auto-cling-free clothes dryer aid; and Ed Petruzzi's innovation was a sneaker tying system..
Debbie Parrish, a parent, spoke at some length concerning the school lunch program and changes she would like to see considered.
"My pediatrician looked at the lunch menus and said there are too many carbs put in," Parish said. She requested that a salad bar be offered, with fresh vegetables and fruit made available. Also, she said her children do not like grilled cheese sandwiches with one slice of bread white, the other whole wheat.
Cafeteria financial manager Judy Bodamer, who is also school district business manager and Wellness Program coordinator, said that a salad bar program as being considered currently, but it would be some time before it could be implemented because the configuration of the cafeteria line would have to be changed.
Parrish said she believes there used to be a salad bar at the high school. Board member Ron Caskey, a former high school teacher, said the salad bar program of many years ago "began to be misused by the students;…some students ruined a good thing."
Bodamer noted that the cafeteria menus follow the federal and state standards for nutritional content.
Flint pointed out that regulations require that the students be offered all the foods that make up the guidelines' nutritional balance for that meal, as they go through the line, and approach the check-out station only after completing the selection trip.
After the meeting Bodamer said that when state auditors go over all the school accounts and program records, they include the food service program and its menus. Their reports give cafeteria manager Judy Howard's menus the highest possible scores.
Board members also approved a two-year agreement for use of Seneca Highlands Wide Area Network technology services.
Erin Moran Jr. was named prom advisor at a supplemental salary of $747, and Sharon Daniels was appointed senior class advisor at a salary of $484.
Nicole Line was granted family medical leave from mid-April through June 30
Terrence Roys was approved as a volunteer softball coach, and Kelli Burgess was appointed a volunteer track coach, subject to appropriate clearances.
Cynthia Baxter and Victoria Borowski was removed from the list of support staff substitutes, at their request. Valerie VanNette was added to that list.
The calendar for the 2011-12 school years was approved. It shows the school term beginning August 29, and ending May 31, 2012. Marking periods will end November 1; January 18, 2012; March 23, 2012; and June 1, 2012. There will be 180 pupil days, including two classified as Act 80 days when there is no instruction. Staff will attend 185 days, including five in-service days.
Members present for the meeting were Mensch, Caskey, Rod Howard, Rikiya Tanaka and board president Melynda Budd. Absent were Gary A. Hardes, Denise Buchanan, Edward Babcock and Daniel F. Kysor.
The board is next scheduled to meet at 7:30 p.m. Monday, February 28.
Women Of Promise -
The Women's History Month Committee and the University of Pittsburgh at Bradford Staff Association will be honoring young women with significant achievements in Athletics,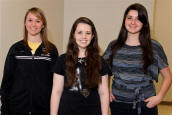 Community Service, Creative and Performing Arts. Thirty high schools from Pennsylvania and new York nominated students to represent each of the three areas. Port Allegany High School's nominations were Julia Collver for Creative and Performing Arts; Anna McJunkin for Community Service; and Bryanna Evens for Athletics. School Counselors, Dan Eskesen and Kathy Jeselnick nominated the three seniors based on each student's accomplishments in the chosen area. The Women of Promise selection committee from the University of Pittsburgh at Bradford will choose an overall winner for each of the three categories at the beginning of March. They will be honored for their accomplishments at a luncheon on Monday, March 21 at the University of Pittsburgh at Bradford. The nominees are pictured (left to right) Bryanna Evens, Anna McJunkin and Julia Collver.
Pam Fischer Photo/Story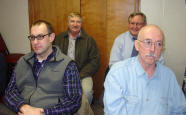 Fire Department Needs - Mark Errick, Port Allegany Fire Department president, front left, filled local government leaders in on department needs for volunteers and financial support, at the borough council meeting. Other municipalities' officials had been invited. Seated beside Errick is Liberty Township Supervisors chairman Gary Turner. Behind them are McKean County Commissioners chairman Joe DeMott, former mayor of Port Allegany, and commissioner Al Pingie, a former member and official of the Bradford City Fire Department. Martha Knight Photo/Story

Regional Finalist - Tyler Smith, son of Donald and Pamela Keech and Steve Smith, was recently informed that he has been selected by the PA Elks Northwest District Judging Committee as a regional finalist to move onto the Pennsylvania state level for the Elks Most Valuable Student Scholarship. Smith will be notified by late February 2011 if he has been selected as a national finalist. His school counselor, Kathy Jeselnick, informed him of this scholarship.
Pam Fischer Photo/Story
January Unsung Heroes - The first Unsung Heroes for the year 2011 were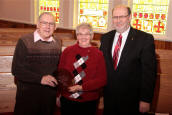 announced during Sunday's morning worship service at the Port Allegany United Methodist Church. Making the presentation to Ted and Connie Boyer was Sunday School student Jena Young. Pictured with the Boyers is UMC Pastor Randy Headley.
First Unsung Heroes For The Year - Sunday School student Jena Young announced the first UNSUNG HEROES for the year 2011. She read the following, "Our first UNSUNG HEROES for the year 2011 could have been nominated for many reasons. They are devoted parents and grandparents. They are active members of our church. They were nominated for the care they give the church building as they clean it each week. They were also nominated for going above and beyond in caring for the church…not only dusting and vacuuming, mopping and cleaning bathrooms, but organizing and decorating and seeing that things that need to be done in other areas are pointed out and completed. The wife of this couple sings in the choir and also has given many hours in the past few years helping to organize and wrap gifts for the Adopt-a-Family. The January 2011 UNSUNG HEROES are Connie and Ted Boyer." To nominate the UNSUNG HEROES in your life, call Pam Fischer at 642-7514 or e-mail pamdfischer@gmail.com Pam Fischer Photo/Story

For Lazy Lacers - Eli Petruzzi shows off the sneaker tying system he devised and entered in the recent Invention Convention for O-E and Port Enrichment students. Four of the entries were demonstrated for the school board Monday night. Members of the public and school officials were visibly impressed. Martha Knight Photo/Story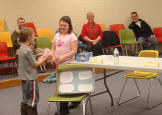 Enriched Bread Bowl - Isaac Burr, left, and "dog" help Shaylei Burr demonstrate Bon-app-tite, a new concept in dog bowls, at the school board meeting. The edible dog dish was unveiled in the recent Invention Convention for Port and O-E Enrichment students. Their teacher is Kelly Tarbox. Onlookers appear to be potential customers for the product, as soon as it becomes available in quantity.
Martha Knight Photo/Story

Mr. Orange Makes Debut - Wayne Shelley, one of Kelly Tarbox's Enrichment students, shows Port school board members the concept model of the beanbag toy, Mr. Orange, he invented for the recent Invention Convention of O-E and Port Enrichment students. Among the fine qualities of the product, as touted by the young inventor, is the fact that "if you hit yourself on the head with it you will not be injured." School board members Rod Howard, seated left, and Riki Tanaka would buy one in a Port A minute.
Martha Knight Photo/Story
Benefit Sunday - A soup and chili benefit will be held for Carolyn Hawver on Sunday, February 20 from 11:30 a.m. - 4:00 p.m. at the Veterans Memorial Building located on Route 155 in Port Allegany. Hawver is once again battling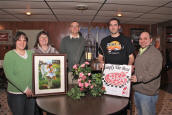 cancer and will need numerous trips to Pittsburgh and a special jacket. In addition to the meal, there will be a 50/50 raffle as well as a Chinese Auction. Janet Causer of Celebrating Home and Jamie Evens, Kerry Hawver and Josh McNeil from the Seneca Inn are pictured presenting Wynann Raymo with a few items for the Chinese Auction. Cost of the event is $5 for adults and $3 for children. The meal includes all-you-can-eat soup and chili, cornbread, crackers and beverage. Dessert will be available at a cost of $1.
Pam Fischer Photo/Story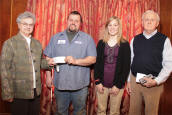 Rotary Guests - Judy Taylor (left) and Caryne Healy were guests at last week's Rotary meeting. Club President Jason Stake presented Mrs. Taylor with a check for PACS. Rotarian Frank Rackish (right) gave a program on Rotary's Four-Way Test.
Rotary Report - The Port Allegany Rotary Club held their regular weekly meeting Thursday at noon at the Moose Family Center. The meeting was called to order by President Jason Stake. He welcomed Judy Taylor, a guest of the club; and Troy Herzog, visiting Rotarian from the Smethport Club. Secretary Joe Lashway gave the fellowship and attendance report stating there were 23 Rotarians present for a reportable attendance of 76 percent.
The lone senior guest, Caryne Healy, was introduced by Debby Campbell. Caryne is the daughter of Luke and Susan Healy. She has one brother, Bryce. Caryne is in the College Prep class at Port Allegany High School. Her activities include varsity cheerleading, track, SADD (Students Against Destructive Decisions), Varsity Club, Yearbook Staff, National Honor Society and Spanish Club. Her hobbies include reading. Caryne plans to attend Mercyhurst College and major in Education.
Rotarian Frank Rackish was the program chair for the day. He presented a program on the Rotary Four-Way Test.
President Stake presented Judy Taylor with a check for $350 for PACS (Port Allegany Community Services). The money was raised through the recent poinsettia sale.
Winner of the 50/50 raffle was George Baxter. Pam Fischer Photo/Story

Gators Defeat Terrors - Chad Barnard goes up for two points as the Gators hosted the Otto-Eldred Terrors on February 10 at PAHS. Matt Bodamer had 16 points and Nick Conway (also pictured) added 13 to lead the Gators to a 52-40 win. Pam Fischer Photo/Story