Casey on The Ethanol Tax Reform and Deficit Reduction Plan
WASHINGTON, DC— U.S. Senator Bob Casey (D-PA), Chairman of the Joint Economic Committee, released the following statement on the Ethanol Tax Reform and Deficit Plan:
"Government spending and waste must be cut and ethanol tax reform is a good place to start. The Ethanol Tax Reform and Deficit Reduction Plan introduced by Senators Klobuchar (D-MN) and Thune (R-SD) is bipartisan legislation that would end the existing subsidy for ethanol within a month and use the savings to reduce the deficit and to invest in more diversified renewable fuel production. The existing subsidy is costly and in the current fiscal environment something we can no longer afford. While I believe it is important to support the next generation of biofuels, this expensive subsidy simply isn't getting us enough bang for the buck."
Casey, Pittsburgh Area Manufacturers Discuss Growth Strategies
WASHINGTON, DC— U.S. Senator Bob Casey (D-PA), Chairman of the Joint Economic Committee (JEC), today met with local manufacturers to discuss strategies to strengthen the manufacturing industry and help Pennsylvania recover jobs lost to foreign competition and unfair trade practices. At the meeting, Senator Casey announced a JEC hearing on manufacturing to occur later this month.
"Pennsylvania has added 15,000 manufacturing jobs since the end of 2009. That is a good start, but we have a long way to go to recover the jobs lost to foreign competition in the past ten years," said Senator Casey. "We need a comprehensive manufacturing strategy to help businesses expand, innovate and create jobs. My meeting today with small manufacturers from the Pittsburgh region gave me valuable insight that I will take to Washington to develop a strategy to revitalize our manufacturing industry."
At the meeting at Universal Electric Corporation in Canonsburg, Senator Casey discussed several of his priorities aimed at strengthening the manufacturing industry, including cracking down on China's currency manipulation, making the research and development tax credit permanent, investing in students and workforce training, and supporting workers who have lost their jobs to foreign competition.
Senator Casey heard from representatives from several local manufacturers, including All-Clad Metalcrafters and Accutrex in Canonsburg, Sima Products in Pittsburgh, Ace Wire and Spring Form Company in McKees Rocks, Industrial Scientific in Oakdale and Nokomis in Charleroi.
Representatives from the Pittsburgh Technology Council and the Washington Greene County Job Training Agency were also present to discuss the importance of an educated workforce and the need to combat unfair trade practices that cost Pennsylvania jobs.
At the meeting, Senator Casey announced a JEC hearing entitled "Manufacturing in the USA: Why We Need a National Manufacturing Strategy" to be held on Wednesday, June 22.
Senator Casey strongly supports the Workforce Investment Act to make job training programs more efficient across the country. He has also urged President Obama to halt free trade agreements for Colombia, Panama and South Korea until Congress agrees to a long-term extension of Trade Adjustment Assistance.
Causer Bill to Study Lottery Fund Earns House Approval
Lawmaker works to ensure sustainable funding for key senior citizen programs
HARRISBURG – A resolution sponsored by Rep. Martin Causer (R-Turtlepoint) calling for a comprehensive assessment of the state's lottery fund and the senior citizen programs it supports has been unanimously approved by the state House.

"The Pennsylvania Lottery pays for some very important programs to help senior citizens with housing, transportation and health care," Causer said. "My goal with this study is to make sure we have sustainable revenue in place to continue supporting these services."

Causer noted there has been no comprehensive study of the lottery fund since expanded gaming was legalized in Pennsylvania in 2004. In fact, no such study has been done since 1994.

"We need to know how expanded gaming is affecting the purchase of lottery tickets today and how that is impacting the fund," Causer said. "We also need to know what to expect in the future as far as lottery fund proceeds and demand for the programs the fund supports."

House Resolution 106 directs the nonpartisan Legislative Budget and Finance Committee to conduct the assessment and indicate whether any changes to law, regulation or policy may be necessary to maintain the future solvency of the fund. The committee is directed to report back to the General Assembly within six months.

The Pennsylvania Lottery was established in 1971 with the specific purpose of funding benefit programs for senior citizens. To date, the lottery has contributed more than $20.6 billion to the following programs:
Property Tax/Rent Rebate.
Free transit and reduced fare shared-ride services.
PACE, PACENET and PACE Plus Medicare.
Long-term living services.
Area Agencies on Aging.
Environmental Day
Kindergarten spent the day at Community Park where they took in a variety of activities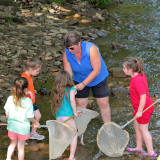 such as exploring the creek, finding and learning about bugs, worms and the like, taking a nature walk and enjoying their lunch at the picnic pavilion. Several Kindergarten students are pictured in the creek with "Miss Mindy" (Milford) during their fun/educational day at the park. More photos from this day will be featured on an upcoming picture page. Pam Fischer Photo
Board adopts budget, hold tax line
By Martha Knight
In their last scheduled meeting before August 8, the Port Allegany Board of School Directors Monday night adopted a general fund budget for the 2011-12 fiscal year totaling $13,201,319.
Wave after wave of cuts had been accomplished since the March draft of the budget, and there had been some recalculations of revenues. The remaining budget gap of $598,436 was closed by means of using $200,ooo from the designated health insurance fund balance and the rest from the undesignated fund balance.
Companion measures also adopted with unanimous votes of the six board members present were the real estate tax levy setting millage in the McKean County part of the district at $15.48, and $35.75 in Potter County; and the homestead-farmstead exclusion reduction at $203.38.
Also approved were the 2011-12 contracts with IU9 to provide the district's enrichment program at a cost of $40,298, and special educational services for $826,700. Board member Gary A. Hardes voted No on both.
Hardes also voted against renewal of a contract with Charles Cole Memorial Hospital for provision of the services of an athletic trainer, in the coming school term, at a cost of $25,500 for not more than 1,000 hours. Hardes objected to contract language that he said gave too much authority to the hospital.
A new contract with CARE for Children to continue providing occupational and physical therapy was approved unanimously.
Sixth grade teachers Kim Ball, Jason Luther and Nate Zitnik presented a video of a performance by the sixth grade class which represented a collaborative approach to the requirement that all sixth graders complete service projects.
The class, numbering more than 60 students, planned and then carried out a "lip dub," involving all class members in making props and lip sync-ing to a song, expressing hopes and aspirations in a long, continuous routine. By dint of intense preparation and 12 takes, with much encouragement and support from the teachers, the student produced the final lip dub, which was not edited.
The board and administrators present were visibly impressed, applauding heartily and praising the effort and its results. Elementary principal Terri Kriner said she is seeking grant funds based on the project's scope and success, so that more equipment and materials could be provided for future such efforts.
In personnel matters, the board accepted resignations by custodian Henry Fallenstein after 28.5 years of service, and Patricia Payne as head cook after 22 years of food service work for the district. The board later voted to allow the administration to fill vacancies during the board's summer hiatus, subject to later confirmation by the board.
The administration will also approve bill lists and payrolls in July.
Lisa Schwenk was hired to fill a five-hour instructional aide vacancy effective may 23. She had exercised recall rights under the support staff agreement, to claim the position when it became available.
Supplemental positions filled for the coming term were vocal and dramatics director and also show choir director, Ken Myers; National Honor Society advisor, Aaron Clark; assistant football coach, Dan Eskesen and Robert Rankin; assistant girls' soccer coach, Anthony Edgell; and cheerleader advisors, Deborah Bachman and Patricia Babcock.
Negotiations with the Port Allegany Education Association continue, with the board holding another contract discussion in a closed session after the public meeting was adjourned. Meanwhile, in a resolution adopted by the board, the teachers are being asked to continue serving under the terms of the contract which will expire June 30, until such time as a new contract has been approved or until they notify the district that they will no longer work under the extension.
The board approved the insurance package for the coming fiscal term, at a total maximum cost of $74,913.
Superintendent Tony Flint and business manager Judy Bodamer mentioned that the premium for student accident coverage had been increased by the carrier because of the past three years' claims history. Bodamer will discuss that cost further with the broker.
Airport Loans


McKean County Commissioners adopted a debt ordinance Tuesday to provide funds for the Bradford Regional Airport Authority's multi-tenant facility construction. Shown from left are chief clerk Audrey Irons; maintenance director Ken Bush; elections director Judy Ordiway; commissioners Judy Church (partially visible), Joe DeMott and Al Pingie; county solicitor Dan Hartle; and airport manager Tom Frungillo. Martha Knight Photo
Rail Siding

Rolling stock sits on the Pennsylvania General Energy siding on the company's compound north of Port Allegany, off Route 155, in the Two Mile area. Not yet extended to the PGE site are Port Allegany Borough water and sewer lines, although there had been talk of that a while back. Martha Knight Photo
PAO

News • Sports • Columns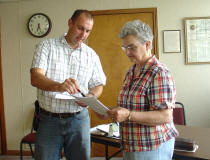 Talking Point - Star Hose Co. president Mark Errick points out the funding shortfall to Port Allegany Borough Council president Judy Taylor, after last Thursday night's discussion with council about the funding needs of the fire department. Martha Knight Photo
Township Supervisors Take Liberties In Good Way
By Martha Knight
LIBERTY VILLA—Liberty Township supervisors worked through a short agenda, fielded questions and comments and fairly basked in the approval of township residents in attendance, at their monthly business meeting Tuesday night. Good natured bantering livened the discussion and decisions.
It was clear that changes in road maintenance policies have brought good results, and township residents and highway users have been noticing. The hard winter and wet spring have taken a toll, but the highway crew, coordinated by Fred Ernst III, has accomplished an impressive amount of work thus far in the road work season, those present agreed.
Also, supervisors and the secretary said, there have been numerous phone calls expressing appreciation for the road improvements.
"We've got more praise this year than in past 10 to 12 years," supervisor chair Gary Turner said.
A major project undertaken this year is an end to end rehabilitation of the Upper Portage and Lower Portage Roads. Long a source of complaints, the road has been targeted for concentrated effort. Ditches are being cleared, overhanging and encroaching trees cut or trimmed back, and surfaces renewed.
When a resident asked that an urgent matter on Bemus Road be looked at soon, Ernst agreed to interrupt the Portage Road project long enough to attend to it. Also, he agreed that Freer Road would get some attention in two or three weeks.
Ernst said that the road has been signed up again for inclusion in the country road program, and it is Number 2 on the list.
"They will provide sluices; we have to provide machinery and labor," Ernst said. "We will try to dry it out some."
Also receiving attention is a sluice in Skinner Creek Road.
Resident Duane Gregg expressed concerns about the "road down by the bridge, that keeps going down,", referring to a stretch along Brooklynside. Turner summarized efforts by contractor Brad Greenman, Port Allegany crew and others to determine whether there was a water line leak contributing to the unstable conditions there. It was found that several hillside springs had sent water cascading down a roadway. Corrective measures have included digging a ditch and a pool, and application of cold patch.
Ernst reported that there is no water leak. He said, "I am not 100 percent sure (of the cause), but it had more water than it had in the last 30 years. The frost patterns were different. When the frost thawed, that pulled it apart." installation of a french drain, on a bed of gravel, will help correct the situation, it is believed.
The supervisors voted to advertise for bids for supply of sand, and sand and salt mix, to replenish supplies stored in the township barn.
A letter from a couple who own a camp on Scaffold Lick Road will be answered, informing them that this is not a township or public road, and the township has no involvement in maintaining it.
Those present were asked whether they use and like the zero sort recycling dumpsters at the township compound. The response was an enthusiastic affirmative. Casella Waste Services provides and services the dumpsters, charging around $60 a month.
Supervisors agreed to hold their July meeting a week later than usual because secretary Lucinda Speeth will be away. The meeting will be held at 6 p.m. Tuesday, July 19, at the township building.
Fire Protection Support Changes Urged
By Martha Knight
"Is the (Star Hose) company going to close down next year? No. Is it going to close down two years from now? No. But we need to plan now to make sure that it does not close down 10 or 15 years from now."
The company of which Mark Errick, its president, was speaking is Star Hose, also known as the Port Allegany Fire Department. He was addressing members of the Port Allegany Borough Council, at a discussion meeting last Thursday late afternoon, intended to advance the planning process both entities have committed to, in hopes of putting fire protection service on a better financial footing.
As Errick had said at a borough council meeting in February, the fiscal and operational approaches that once worked well for the volunteer fire department and the community can no longer be expected to sustain the department and its services indefinitely.
Traditional fundraising is less effective than it used to be. Costs are higher. There are fewer volunteers, and it becomes harder and harder to retain them and to fill the ranks longtime members must leave eventually.
Errick pointed out that the department had not always done long-range planning in a formal way, but the group has come to realize that it is essential to do so, so as to schedule major purchases (rescue vehicles and fire truck replacements). It is necessary to meet current funding needs every year, and also to save toward future needs in a more systematic way.
The linchpin of Errick's proposed solution is an increase in millage from the present .4 mills to 1 mill—a taxation levy two and a half times the present one, borough manager Richard Kallenborn pointed out. Star Hose treasurer Tom Johnson pointed out that this would still be less than a fifth of the borough's current millage. As for a 1-mill total, Errick mentioned that the state Borough Code includes authorization of dedicated millage up to a 3-mill limit, specifically for fire protection.
In 2004, with the opening of Native American run casinos in Salamanca, New York, income from the traditional mainstay of fire department fundraising, bingo, dropped precipitously, from nearly $80,000 to around $26,000 a year, for Star Hose. Since then, with increasing interest in casino gambling on the part of community members, bingo income has declined to almost nothing.
An annual direct mail appeal brings in about $17,000, at a low cost in volunteer time and expenses. The annual Firemen's Old Home Week is mostly a tradition rather than a source of significant income, Errick said.
Meanwhile costs have escalated, Errick said, using a printout from a PowerPoint presentation to provide detail. "Rolling stock" (fire trucks) is up to five time as costly as when some present fleet items were acquired. More and more training is required, and it is expensive.
Instead of using ever scarcer volunteer time in fundraising activities, "I'd like to see it used in service," meaning training and fire fighting, Errick stressed.
The annual shortfall of about $74,000 in government and non-government revenues to Star Hose, and what is needed to maintain the department in stable financial condition, could be met by the millage increase and a commensurate incline in support from the other municipalities served by Star Hose: Liberty and Annin townships.
A different approach to whittling down the shortfall would be "to decrease expenses to meet revenues," Errick pointed out. "If the manpower declines continue, we will start decreasing service." And not halting the shortfalls would mean "we are going to eventually become insolvent."
Another cost containment measure would be not to maintain and heat the present fire hall. It is in need of renovation, he and Johnson explained, but renting it for about 10 events a year, for $500 a time, no longer covers costs.
Concerning fire protection options the borough could fall back on, Errick did not see a realistic prospect of a paid department being established, or contracted with from outside the community. He estimated that purchasing fire protection on such a basis would cost the borough's taxpayers three mills of added taxation, while inserting distance and delay factors into response.
Having all residents bear part of the cost of fire protection is a fair and reasonable approach,, Errick said, with the additional millage costing between $30 and $45 per residence, or an average of $16 per capita.
Leading off the question and comment period because he had to leave for another event, Kallenborn said, "I disagree with a lot of the premises" contained in Erricks's proposed solution. He said the millage increase was not appropriate, and "I don't think the public would accept it."
Agreeing that the fire department is in need of additional financial support, Kallenborn suggested that a Marcellus Shale natural gas extraction fee could prove to be the solution. Several extraction fee proposals are under consideration in the state legislature, he said.
"I have met with the (McKean County) Commissioners. They are willing to make sure that the fire department in Port Allegany gets a share of these returns," the borough manager said.
Kallenborn predicted that the local economy will benefit from Marcellus Shale development "for the next 30 to 40 years" and that related operations would require good fire protection services.
Directing this remark at a reporter present, Kallenborn declared that he did not want to see anything in the newspaper indicating he had "said anything derogatory" about the fire department. He told Errick, "I will be glad to discuss this with you without the press."
Kallenborn is a former fire department leader, and was instrumental in the creation of a fire police unit.
Errick said inflation-adjusted revenues have been decreasing about three percent a year for twenty years.
Council member Dave Fair asked about some of the numbers used in the charts in the presentation. Council member Kate Kysor also wanted more information, as did council president Judy Taylor and council member Lynn Farber.
Taylor said she has had conversations with Errick and also with other Star Hose members since Errick's earlier presentation. "Some firemen (told me) that a certain group rules the roost." She also mentioned a need for a board of directors or similar body to help coordinate planning, presumably in collaboration with the borough.
Errick said that very few of the volunteers are interested in the somewhat tedious administrative aspects of the fire department. Attendance at meetings is sparse, with many members being more interested in actual fire protection activities, and in training and being certified. But it was well understood that some organizational changes are needed. In fact, those are in process, Errick said, partly in connection with efforts to gain IRS 501(c)3 status.
Johnson said that there are people in every organization who are critical of how things are being run.
Farber stated that all organizations in the community have experienced a decline in membership and contributions of volunteer time. At that, numerous organizations are sharing the same small cadre of dedicated members, and those are getting "burned out."
Taylor and Kysor wanted to know how volunteers are recruited. Errick said that anyone interested in becoming a member can contact the fire chief, Fred Roys, or visit www.starhose.com, or come to the fire hall. Women as well as men are welcomed as members.
Joining costs $20, of which $10 is used for the required background check.
"People are trying to support their families," Johnson commented. He, Errick and Fair quickly summed up the community's job losses, in just a few years, with one major employer going from around 800 workers to about 400, while another dropped from 400 or so to around 125. Many people who are employed have out-of-town jobs.
The "social club" aspect of volunteer fire departments has disappeared, what with the increased responsibilities for training and certification and records keeping, the Star Hose officers said.
Errick noted that there is no expectation that the borough will increase its financial support in the course of a fiscal year, or that the fire department's financial stress will be relieved quickly.
"We need to develop the collaboration and do the planning" to achieve stability, Errick said. He said some sort of fire protection authority or board could be created, with members drawn from the community, the borough council and the fire department.
Team Teachers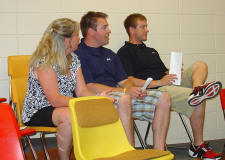 Sixth grade teachers coached 60-some students through a collaborative project in which they created a "lip dub." They presented the video for the school board Monday night. Shown are, from left, Kim Ball, Jason Luther and Nate Zitnik. Martha Knight Photo

Incentive Award Winners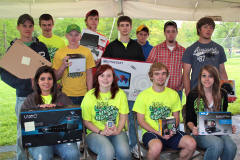 Several students were winners in the Incentive Awards Program at the Seneca Highlands Are Career Technical Center. They are (row 1, left to right) Bridgett Clingan, Wifi Blueray Player; Brandi LaCoss, 8G Ipod Nano; Jeremy Adams, Kodak Digital Camera with card; Jorden Austin, RCA 8 portable DVD player; (back) Derek Lyman, Acer laptop; Rick Baney, car from Bidwells; Mike Adams, JVC video camera with card; Mike Houghtaling, Sony Playstation 3; Kale Postlewait, 22 LCD HDTV; Travis Haupt, car from Kightlingers; Dan Richner, Nintendo Wii; and Kory Majot, portable CD player. Pam Fischer Photo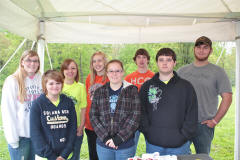 Career Technical Center SOM
The Seneca Highlands Career Technical Center announced Students of the Month for the A.M. and P.M. sessions as follows: Photo #1 - A.M. Students (front row) Kate Bosworth, Becky Andrus, Cole Afionis; (back) Nicole Andrus, Stacey Strait, Emileigh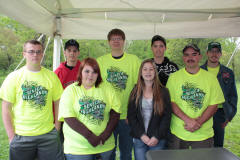 Carlson, Chad Austin and Mark Schweikart. In photo #2 are the P.M. students. (front row) Allan Lawrence, Nicole Wilson, Kayla Ayers, Joe Ayers; (back) Damian Lucas, Casey Shonts, Spencer Easton and Todd Morrison. Presentations were made to the students during the annual Awards Assembly held recently at the school. Making the presentation was Don Raydo. Pam Fischer Photos
PASD Banquet
The Port Allegany School District Banquet was held recently at the Moose Family Center. Some of the evening's honorees are pictured with School District Superintendent Tony Flint. They are Cyndee Smith who retired following the 2010-2011 school year; Denise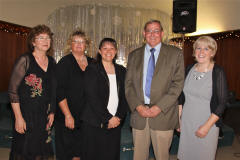 Dibble with 10 years; Latisha Howard with 10 years; and Annamaria Myers with 25 years of service.
Others honored include Kathy Jeselnick who also retired this year, Nathan Zitnik and Dan Eskesen with five years of service; Cristal Hepfner with 5.81 years; Kristina Francis and Judy Bodamer with 10 years; Scott Flexman with 15 years; Timothy Dynda with 15.75 years; and Judy Howard with 20 years. Serving as Master of Ceremonies for the evening was Mike Nasto. Pam Fischer Photo
Most Improved - The two Sixth Level Students who throughout the year displayed the desire to achieve at a higher level and to become a better student and person despite adversity were recognized at the Sixth Level Promotion Night held recently at the Port Allegany Elementary School. They are Ali Taylor and Kennedy Dates. Pam Fischer Photo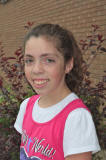 Academic Excellence - Mira Terette scored Proficient/Advanced in Reading and Math on the 4-Sight exams that are given four times a year and received no checks all year. The checks are the classroom management system used in Sixth Level. Mira was recognized at the Sixth Level Promotion Night at Port Allegany Elementary School. Pam Fischer Photo