Casey, Gillibrand Introduce Bill to Encourage Job Creation
WASHINGTON, DC - U.S. Senators Bob Casey (D-PA) and Kirsten Gillibrand (D-NY) today introduced legislation to create jobs and spur economic growth. The Small Business Job Creation Tax Credit Act would encourage businesses to add jobs and to reverse cuts in salaries and worker hours.
"We have taken important strides toward an economic recovery, but far too many Americans remain unemployed or underemployed," said Senator Casey. "This legislation would help businesses hire workers, the most effective way to quicken the recovery and return prosperity to our communities that have suffered through the recession."
"The best way to cut the deficit is to put people back to work," Senator Gillibrand said. "We can't afford tax breaks for the wealthiest few Americans who are doing just fine in this tough economy. We need to put the middle class first with smart tax policy that can actually benefit this country – by creating jobs and putting Americans back to work."
The legislation creates a one-year, quarterly payroll tax credit for small businesses that is equal to 20 percent of the total increase in employee wages, either from new employment or an increase in payroll.
Because a firm's benefit is based on its increased payroll, businesses will have an incentive not only to hire new workers, but also to increase the hours of workers whose hours were cut or who were asked to take reduced pay as their company navigated difficult economic times.
Studies conducted by the nonpartisan Congressional Budget Office and the Economic Policy Institute confirm that among all payroll tax proposals, a tax credit linked to an overall increase in payroll offers the greatest economic impact and will create the most jobs for our nation's economy.
Casey Calls High Unemployment Rate Among Post-9/11 Veterans Deplorable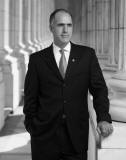 WASHINGTON, DC—U.S. Senator Bob Casey (D-PA), Chairman of the U.S. Congress Joint Economic Committee, today released updated statistics on the employment situation for Post-9/11 veterans. Currently, 232,000 veterans who served in the aftermath of September 11, 2001 are unemployed with Post-9/11 veterans now facing an unemployment rate of 12.1 percent.
"The high unemployment rate among recent veterans is deplorable. These men and women have made innumerable sacrifices in defense of our country, yet many are struggling to find employment in today's labor market, despite their training and experience," said Chairman Casey. "Making investments to ensure that existing federal programs are helping our veterans succeed in today's labor market will strengthen the economic security of veterans, their families, and the nation."
Nearly 2.5 million veterans have separated from active-duty service since September 2001, and many more will follow in the immediate future. The JEC recently released a report, Meeting the Needs of Veterans in Today's Labor Force, that examines the challenging labor market facing these veterans and underscores the need for effective job search and training programs that will help servicemembers transition to the civilian workforce once they have separated from the military.
"The JEC report highlights the unacceptably high jobless rate among men and women who have served our country since September 2001," said Senator Casey. "These courageous servicemembers who have served in Iraq and Afghanistan are still feeling the effects of the Great Recession. This report shows that current federal efforts to help veterans shift from military life to civilian employment are falling short, and Washington needs to do more to educate and train our returning military so they can fully participate in the workforce and help strengthen our economy."
For the first time, the Joint Economic Committee's monthly publication, Understanding the Economy: State-by-State Economic Snapshots (most recently released in June), includes a table of the unemployment rates in 2010 for the total veteran population in each state, and for Post-9/11 veterans in each state. The table also includes data on the number of Post-9/11 veterans in the labor force in each state, as well as the number of those veterans who are unemployed.
Last year, Post-9/11 veterans faced higher unemployment rates than the overall veteran population in 35 states and the District of Columbia, with Post-9/11 veterans in Michigan experiencing the highest unemployment rate (29.4%). Nationally, Post-9/11 veterans had an average unemployment rate in 2010 almost 3 percentage points higher than the overall veteran unemployment rate, 11.5% versus 8.7%. In addition, the JEC has prepared a chart that showcases the most recent data from the Bureau of Labor Statistics on veterans' unemployment.
Added Casey, "As we observe Independence Day, we must keep in mind those who have fought for the security of our country and we must ensure that we are doing everything possible to help veterans finds jobs when they return home and begin the next chapter of their lives."
Casey Honors Service Members and Veterans