HEARING SPEAKING
A delegation from Beacon Light Behavioral Health Systems was at Monday night's public hearing called by the Port Allegany Borough Council to explore Beacon Light's application for a conditional use for its alternative education and partial hospitalization facility on Mill Street, where an expansion is planned. Shown from left are council members Kate Kysor, taking some notes; borough manager Richard Kallenborn; Beacon Light building committee chair Ralph Detweiler; COO James Wiseman and vice president of resources John Pockey. Martha Knight photo/story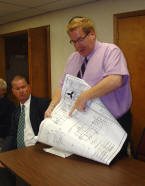 ALT-ED ALTERATIONS John Pockey, right, VP of resources for Beacon Light Behavioral Health Systems, shows the Port Allegany Borough Council plans for an expansion of its alternative education facility on Mill Street. Also pictured is Beacon Light's COO, James Wiseman. The presentation came during a public hearing on the corporation's application for a conditional use permit to allow the program to operate in the Residential-2 zone. Martha Knight photo/story
LADY GATORS WIN - The Lady Gators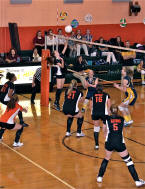 defeated the Northern Potter Lady Panthers 3-0 at Tuesday's competition. The team defeated Austin with scores of 25-10, 25-18, and 25-18 during Thursday's match. Leading the Gators were Rachel Taylor with 12 kills, one block and four points; Kyley Mickle with 11 assists, five kills and 12 points; Jenn Shelley (pictured sending the ball over the net) with 20 assists, three kills, one block, six digs and seven kills; and Renee Edgell with six kills and seven digs. After Thursday's contest, the Lady Gators are 5-4. They will host the Lady Hubbers Thursday evening. Pam Fischer photo/story
GATOR BAND ROCKS - Drum Major Jacob

Stehle is pictured during the Marching Gator Band's half-time show during the Port Allegany-Smethport football game. The 2010 marching band show features the music of Journey. The band is the under the direction of Brad Stewart and band front advisor Sara Bishel. Pam Fischer photo/story
SOCCER SENIOR DAY - The Port Allegany
Gators will celebrate Senior Day 2010 Saturday morning when the local team hosts Johnsonburg. Seniors include (front row) Ryan Michelitsch, Franklin Austin, Tyler Smith, Cole Caulkins; Sam Shaffer, Ken Kysor, David Hurd, Max Morris and Ben Osani. Game time is 11:00am. Pam Fischer photo/story
Borough Council Approves Conditional Use For Bridgeport Academy By Martha Knight
Bradford-based Beacon Light Behavioral Health Systems presented its plans for expansion of its alternative education facility on Mill Street at a public hearing in the Port Allegany Borough Building Monday night.
The hearing had been called as part of the process for acting on Beacon Light's application for a conditional use permit. The need for such a permit came up months ago as part of the corporation's quest for a building permit so as to build onto the residential-type building that houses the program it calls Bridgeport Academy.
Although Beacon Light had been operating alt-ed in the facility for 12 years or more, no point had been made of the fact it would need borough permission to do so in the R-2 (residential) zone where it is located.
After the hearing the Borough Council voted 6-0 to grant the conditional use permit.
Appearing in support of the Beacon Light application were its chief operations officer James Wiseman, its vice president of resources John Pokey and its building committee chair Ralph Detweiler.
The hearing was conducted by borough solicitor Michael Alfieri. A court stenographer was on hand to keep an official record of the proceedings.
Alfieri reviewed Beacon Light's quest for a conditional use grant, beginning with its application in June and including its presentation to the Port Allegany Planning Commission in July.
The planning commission had voted to recommend a conditional use for the facility, attaching some conditions.
Pockey reported that Beacon Light had met the condition of acquiring additional land to bring the site up to the one-acre minimum required, had been working with a neighbor as to whether the "screening" between the properties would be a hedge or a fence, and would develop parking to accommodate the number of spaces required under local zoning.
Asked by Alfieri to describe the program at Bridgeport Academy, Wiseman said it is "alternative education, predominantly." He said it can accept up to 36 students. Of that number as many as 25 can receive partial hospitalization, meaning therapy blended with the instructional program.
At the planning commission presentation, Beacon Light spokesmen had said the maximum number of students would be 25, and that the addition to the building was being undertaken so as to provide more space for the program without expanding the number of students served.
Students are drawn from Port Allegany, Otto-Eldred and Smethport school districts. Cameron County School District was a sending system until recently, the delegation said.
Enrollments are arranged through the participating school districts' personnel, Wiseman said, and parents are "on board" on the assignments.
Beacon Light's alternative education program is for "students who have had difficulties in public school," Wiseman said. The smaller classrooms and help with such skills as anger management provide such students with "more of a chance."
As council members and a reporter asked questions, other information was provided: students receive 3.5 to four hours of instruction, there are no extracurricular courses but there is a basic course of study, students stay two years or sometimes more, and fewer than half of the students who are assigned to the alt-ed school return to the sending school.
Partial Hospitalization is the current term for what Beacon Light used to call Intensive Treatment Program, or ITP, which students receive while in alt-ed. Wiseman said licensed therapists provide it.
Sending school districts pay tuition to Beacon Light for their students assigned to Bridgeport Academy. Beacon Light receives medical fees, typically from Medicaid, for the therapeutic services students receive.
Wiseman said there is an activity period, and students can go outside then, but "it is not gym." Beacon Light is seeking an emergency certification in special education for a teacher, since they recently lost a special education teacher. Some alt-ed students have IEPs, or individualized education programs.
Currently the alt-ed students are being accommodated in part of the former North Penn building on West Mill Street in the business district. Pockey said they expect to be able to occupy the expanded facility in January.
GOLDEN ANNIVERSARY FOR CLASS OF 1960 - The Port Allegany High School Class of 1960 celebrated their 50-year high school reunion on September 24 at the Moose Family Center. Class members present are pictured (front row, left to right) Kay Raymond, Bev Brown, Ingrid Johnson, Carol Hardes, Marylou Cady, Nancy Watkins, Betty Doan, Barb Doan, Eileen Smith;
(row 2) Bonnie Sawyer, Barbara Jordan, Faye Blood, Sue Hermanson, Bonnie Fryer, Carol Lee, Janice Chilson, Sally Amell, Carolyn Lewis, Gail Asel, Sally Ness; (row 3) Tom Findley, Pete Ernst, Arnie Chase, Roger Patton, Ed Grimes, Alice Carlson, Janice Cochran, Gail Gregory, Marilyn Walker, Sara Garthwaite, Marianne Neely; (row 4) Joel Anderson, Jim Anderson, Ron Radlinski, Duane Olson, Barry Benjamin, Denny Hoak, Don Bova, Tom Hardes, and Al Dwyer. Pam Fischer photo/story
SERVICE WITH A SMILE!
- That is what the

2010 Football team, managers and coaches received during the annual Spaghetti Dinner hosted by the Gator Cheerleaders... service with a smile, not to mention a delicious spaghetti dinner with brownie sundaes for desert. Posing for the R-A camera are cheerleaders Alyssa Thomas, Justine Miller, Harley Hobbs, Caryne Healy, Breanna Nichols and Debbie Andrus.
Pam Fischer photo/story
Relations With DEP Thawing? by Martha Knight
Years of jousting with the Pennsylvania Department of Environmental Protection may be a bad memory, following a recent meeting between borough representatives and DEP staff, the Port Allegany Borough Council heard at its monthly meeting Monday night.
Barring unforeseen circumstances, that is.
The powerful regulatory and enforcement agency has taken note of the strides the borough has made, largely through upgrades in water and sewer lines, reducing infiltration and inflow of non-sewage water to its sewer collector system and delivery to the treatment plant.
Also, a major water using and sending customer, Saint-Gobain Glass Containers, has installed a recycling system that significantly lessens its water use and discharge to the borough. DEP took note of the positive combined effect of such measures, in a recent sit-down with the borough.
As borough manager Rickard Kallenborn noted in his monthly report to borough council, these changes have made for far fewer hydraulic overloads at the plant, and thus fewer "bypass events," or times when more fluid reaches the sewage treatment plant than it can process, with some bypassing treatment and being discharged into the Allegheny, untreated.
(DEP continued) These violations, which used to occur quite frequently, brought $500 fines levied by DEP, over and over. Worse, the draconian corrective measures DEP mandated carried multi-million-dollar price tags: plant expansion, construction of an enormous holding tank, use of polymers, all in addition to comprehensive upgrades in sewer lines.
A September 14 meeting attended by Kallenborn, the borough's consulting engineers and DEP officials resulted in a commitment by DEP to withdraw demands for a sewer plant expansion.
Also, the borough must complete replacement of the next section of sewer collectors, those in the Hillside Avenue area, on schedule (next year).
The borough's Act 537 plan, covering its strategies for complying with all applicable environmental laws and regulations, may be amended as to its sewer plant expansion provision. Borough staff will draft proposed plan changes and engineers and an attorney will review them before they are submitted for DEP approval.
There are some "howevers," Kallenborn conceded. The current compliance order will not be removed until a full year passes without any bypass incidents. He and council members expressed doubts as to that being achieved, given that torrential rainfalls, equipment failure or rapid snow thaws can create overload conditions which the borough cannot prevent, even after enormous improvements achieved in the past several years.
Also, a consent agreement between the borough and DEP is still in place, following an infraction some years back. Its effects have eased with borough progress, but fines will still be imposed for violations of its terms.
One kind of violation will be sanctioned much severely, in fact. The penalty for each future bypass event will be a $10,000 fine.
All in all, however, Kallenborn said the meeting with DEP was much more cordial than some past ones.
Other good news came in a report from auditor Melanie Meyer, of Howell and Company, St. Marys. She said there are some library funds remaining for use this year, there are positive fund balances for all the different accounts, and "the budgets are pretty good, ongoing, for the way the economy is."
One gain was shown in the sewer fund, which had an increase of $107,071 in net assets, resulting in a current total of $2,835,211. The water fund dropped $3,858, to $902,890.
Under committee reports, council member Lynn Farber noted that the library dinner-auction fundraiser, coming up October 23, will have a Find the Treasure theme. She said donations of auction items are still being accepted—"good donations, not junk," as are "library supporters" to attend the annual fundraiser.
Mayor Don Carley announced that trick-or-treat hours will be from 5 to 7 p.m., Sunday, October 31, The parade will form up at 7 p.m. on the parking lot of First Presbyterian Church. The parade destination will be at the Moose Family Center, sponsor of the festivities for community youth.
FIRE PREVENTION WEEK -

Port Allegany Fire Department Chief Kevin Ernst is pictured showing his mask to children at Weakland's Wee Care. Allowing young children to become familiar with the fire fighters and the equipment they use will help ease a child's fear if they encounter firefighters in their homes. Monday was the beginning of Fire Prevention Week. Fire department personnel will visit area schools, day care centers, senior housing and the Senior Center to promote Fire Safety. More photos from this event will appear on a future picture page.

ON THE JOB - Port Allegany fire fight-ers were on hand to start, control and put out the bonfire held Friday night in the Gator football field parking lot. The bonfire, sponsored by the PAHS Cheer-leaders, was held at the conclusion of the parade and prior to the Junior High Homecoming Dance. In this photo, Dave Hobbs ignites the mountain of cardboard boxes to get the bonfire started. More photos from the bonfire will appear on this week's picture page. Pam Fischer photo/story

SUGAR AND SPICE AND EVERYTHING NICE - One of the floats in the Candyland-themed Homecoming parade was entered by Daisy Troop 22117. Troop members are pictured with Leader Tish Howard. Assisting Mrs. Howard are Traci Budd and Sheila Miller. More photos from this parade can be found on this week's picture page.
Pam Fischer photo/story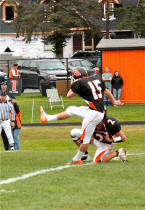 GATOR VICTORY- Senior kicker Ken Kysor (15) booted a 40-yard field goal and added five extra points in Port Allegany's 44-6 Homecoming win over Otto-Eldred Saturday afternoon at Gator Field. The Gators will host Smethport Saturday. Kick-off is 1:30 p.m.
Pam Fischer photo/story
GATOR PEP ASSEMBLY - Senior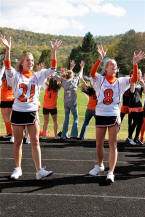 cheer-leaders, Caryne Healy and Breanna Foster, are pic-tured during the pep assembly held Friday at Gator Field. All sports teams were recognized, the band performed their half-time routine, and winners were announced for various Spirit Week contests. The pep assembly was sponsored by the Gator Cheerleaders. For more pep assembly photos, turn to this week's picture page.
Pam Fischer photo/story

ON THE JOB - Port Allegany fire fight-ers were on hand to start, control and put out the bonfire held Friday night in the Gator football field parking lot. The bonfire, sponsored by the PAHS Cheer-leaders, was held at the conclusion of the parade and prior to the Junior High Homecoming Dance. In this photo, Dave Hobbs ignites the mountain of cardboard boxes to get the bonfire started. More photos from the bonfire will appear on this week's picture page.
Pam Fischer photo/story

HOMECOMING COURT - The 2010 Home-coming Court is pictured follow-ing the crowning ceremony held Saturday night at PAHS. Pictured (left to right) Benn Baxter, Carli Johnston, Ryan Kio, Colleen Hardes, King Brock Bricker, Queen Renee Edgell, Caryne Healy, Seth Lowery, Bryanna Evens and Camrin Stuckey. Photos from the Homecoming Dance will appear on next week's picture page. Pam Fischer photo/story
GATOR HOME-COMING KING AND QUEEN - Renee Edgell and Brock Bricker were named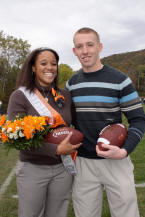 Home-coming Queen and King during a half-time ceremony of the Port Allegany/Otto-Eldred football game. Presenting the royal pair with personalized footballs was the 2009 Homecoming King Adam Greenman. Renee is the niece of Tony and Dawne Edgell. Brock is the son of Jeff and Karen Bricker. Theme for this year's Homecoming was Candyland.
Pam Fischer photo/story
SEPTEMBER UNSUNG HEROES - The Port Allegany Borough Council members were named as Unsung Heroes for September by the Port Allegany United Methodist Church Sunday School. Also honored was Borough Manager Dick Kallenborn. On hand for the presentation were

(pictured left to right) Council President Judy Taylor, Kallenborn, and Council member Lynn Farber. Also pictured with Taylor and Kallenborn are members of the Borough Crew. Kallenborn credits

them with keeping things running smoothly. They are (pictured left to right) Glenn Drabert, Cory Thomas, John Boyd, Mike Kio and Tom Cochran. Missing from the photo are Wade Elliott and Neil Binder.

SEPTEMBER UNSUNG HEROES NAMED - The UMC Sunday School has announced that members of the Port Allegany Borough Council were named as Unsung Heroes for September 2010. Also selected was Borough Manager Dick Kallenborn. Members of the Council include Judy Taylor, Lynn Farber, Lewis Duell, David Fair, Andrew Johnson, Sam Dynda and Kate Kysor.
The Council Members were nominated for their volunteer service to the community. According to the Borough Council Handbook, "Council serves as the legislative body of the borough, setting policy, enacting ordinances and resolutions, adopting budgets and levying taxes.

Council also perform executive functions such as formulating the budget, enforcing ordinances, approving expenditures and hiring employees."

Reader of the day, Cheryl Brown, announced the Unsung Heroes, reading the following, "Today we honor a group of people who serve on the Port Allegany Borough Council. Their responsibilities are many, yet they serve without pay. Members of the Borough Council include Judy Taylor, Council President; Lewis Duell, Sam Dynda, David Fair, Lynn Farber, Andrew Johnson and Kate Kysor. Also nominated was Borough Manager, Richard Kallenborn. Although Mr. Kallenborn is not a volunteer, he was nominated for his work as Borough Manager, his work with the Borough Council; and for his involvement with the Rotary Club. We would also like to give a round of applause to one of our own - Borough Secretary, Susan Roboski. Susan and her husband, Leonard, were selected as UNSUNG HEROES earlier this year."

Custom engraved plates were presented to those present by SS Superintendent, Pam Fischer.
PORT ALLEGANY ONLINE