BUILDING FUND GROWS
Marg Healy, Chairman of the S.W. Smith Library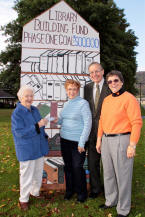 Building Fund, accepts $3,795.34 from representatives of the PAHS class of 1960, Marylou Erway, Joel Anderson and Eileen Smith. That amount is the net proceeds from the musical revue, "Moments to Remember" performed in Port Allegany on September 23, 2010. A DVD of the revue is in the works and will be advertised for sale when it is ready. Pam Fischer photo/story
DISHING IT OUT - Assemblyman Marty Causer served hundreds of his constituents hot dogs at an Expo he sponsored in Roulette Friday. In addition to the main course there were chili and potato salad, snack food and ice cream. Those who attended were able to discuss issues with Cause

r and staffers, get pneumonia and tetanus shots, and pick up information on topics from health insurance to home safety to health care to emergency preparedness to services available through Causer's offices. There were vendors on hand too, lending a fall bazaar atmosphere to the event in the Roulette fire hall. Martha Knight photo/story
BEWARE! - Port Allegany residents Beware! Ghosts and Goblins (a.k.a. area Girl Scouts dressed in their Halloween costumes) will be going door to door to gather goodies (non-perishable food items) for PACS (Port Allegany Community Services) on Sunday, October 24 from 2-4 p.m.

GATOR BAND ROCKS - Drum Major Jacob Stehle is pictured during the Marching Gator Band's half-time show during the Port Allegany-Smethport football game. The 2010 marching band show features the music of Journey. The band is the under the direction of Brad Stewart and band front advisor Sara Bishel. Pam Fischer photo/story
GATOR CHEERLEADERS WOW THE

CROWD - Port Allegany High School Gator Cheer-leaders wowed the crowd Saturday afternoon as the Gators hosted the Smethport Hubbers. The Gators defeated the Hubbers with a score of 20-12. The cheerleaders are coached by Deb Bachman, Patty Babcock and volunteer coach Lora Rankin. Pam Fischer photo/story
ROTARY DICTIONARY PROJECT
Local Rotary Club representatives, led by Charlie Cox, distributed personalized Webster dictionaries to

Third Level students at the Port Allegany Elementary School. Several Rotarians had family members in the class including (pictured, left to right) Tori Campbell with her grandmother, Debby Campbell; Madison Preston with grandpa, Norm Preston; Dave Fair with grandsons Eli Petruzzi and Robert Landry; and Sue Barnett with nephew Gavin Gustin and granddaughter Cailey Barnett. Other Rotarians making presentations were Joe DeMott and Christa Schott. Also on hand to meet with the students was Rotary Exchange Student Fer Spallanzani. A distribution of dictionaries is also made by the Port Allegany Rotary Club to Third Level students in the Otto-Eldred School District.
SOCCER SENIOR DAY - The Port Allegany Gators will celebrate Senior Day 2010 Saturday morning when the local team hosts Johnsonburg.

Seniors include (front row) Ryan Michelitsch, Franklin Austin, Tyler Smith, Cole Caulkins; Sam Shaffer, Ken Kysor, David Hurd, Max Morris and Ben Osani. Game time is 11 a.m. Pam Fischer photo/story
LADY GATOR SOCCER SENIOR DAY - Five Lady Gator Soccer players and their parents will

be recognized Friday at their soccer game with DuBois CC. The players are pictured (front) Nicole Lovell, Colleen Hardes; (back) Julia Collver, Carli Johnston and Bryanna Evens. The team will travel to Genesee Valley Saturday morning and will host Elk County on October 19 to end regular season play. Pam Fischer photo/story
JH HOMECOMING ROYALTY - Prince and

Princess winners were announced at the Junior High Homecoming Dance. They included McKaila Daniels and Jordan Seefeldt (left) from 7th grade; Rikki Rennells and Chris Lashway from 8th grade (right); and Monica Crawford and Tyler Shaffer, from 9th grade (middle). Music for the JH Dance was provided by KARIZMA. More photos from the dance will appear on this week's picture page. Pam Fischer photo/story
Rustick Landfill Bought By Casella by Martha Knight
KANE—The deadline for bids came and went last week, as Rustick LLC, operator of the former McKean County Landfill near Mt. Jewett, sought to dispose of its assets in a Chapter 11 bankruptcy proceeding.
If multiple bids had been received by last Wednesday's deadline, an auction would have been conducted by the Bankruptcy Court (part of the U.S. District Court for Western Pennsylvania). But the sole bid was from Vermont-based solid waste giant, Casella Waste Systems.
Bidders were to have qualified to court-defined standards, and submitted earnest payments, and parties of interest were to have had opportunities to examine bidder qualifications and register objections, prior to the deadline.
Because there were no competitors in the bidding and because Casella had been found qualified to bid, it was not necessary for the court to conduct an auction.
Now that Rustick's major asset appears to have been disposed of for about $3.8 million, some creditors will receive a portion of what Rustick owed them when it filed a voluntary bankruptcy petition under Chapter 11 in May.
Judge Thomas P. Agresti of the Bankruptcy Court in Erie, who has been assigned responsibility for the case, said his acceptance of the Casella bid was tentative, "subject to final conditions that may be imposed at confirmation." (continued)
(Rustick Landfill purchase continued)
An asset purchase agreement is being readied.
Rustick bought the landfill from the McKean County Solid Waste Authority in 2005, for $17 million.
Permits for a rail line and for expansion, still in the future, will go with the landfill to its new owner, according to statements made when the bankruptcy filing was announced.
Casella has a transfer station in Olean, N.Y., and considerable activity in the area. Casella is the garbage collection contractor for Port Allegany Borough and provides service to customers in Liberty Township. It also has a landfill in Allegany County, N.Y., and a single-stream recycling compound in Western New York.
It remains to be seen which Rustick creditors will receive how much of what is owed them. One creditor thought to be low in the list is McKean County, particularly as to the unsecured loan of $500,000 made to Rustick at the time it bought the facility.
This week McKean County Commissioner Joe DeMott said, "I'm glad that somebody bought it. I hope they intend to operate it. We're familiar with the company, and it provides some services in our area."
DeMott said it was "good news, that there is going to be a resolution to the situation" surrounding the landfill. He expressed hope that this would mean that there would continue to be appropriate solid waste services provided here.
Commissioners' solicitor Dan Hartle was in discussions with the Solid Waste Authority attorney, Tony Alfieri, concerning various matters relating to the landfill that affect the county. One is the status of a loan the county made to $500,000 loan., and its guarantee by Richard Welch, himself a major Rustick investor and one of its creditors.
Delinquent taxes owed to the county were $31,303.57 as of this past January 11.
Another local government entity which was owed some money was the host municipality, Sergeant Township. Also, Smethport School District has relied on receiving some revenues from the landfill.
LIBRARY DINNER AUCTION DISPLAYS Peggy Majot and Nancy Hardes pose for the R-A camera with the display of Library Dinner

Auction items in the lobby of Citizen's Bank located on Maple Street. Other displays can be seen in the windows of Port Pharmacy and Bill Lake Real Estate. "Find Your Treasure" is the theme for the annual dinner auction to be held at the Star Hose Banquet Room. Doors open at 4 p.m. Dinner will be served at 6 p.m. with the live auction beginning at 7:30. Auctioneer will be Dan Carter. Donations are still being accepted. Tickets are on sale now at the library, Port Pharmacy or from board members. Enjoy a night out while raising funds for the operating expenses of the S. W. Smith Memorial Public Library and Bookmobile. Pam Fischer photo/story
GATORS DEFEAT HUBBERS - The Port

Allegany High School Gator football team defeated the Smethport Hubbers in Allegany Mountain League play Saturday afternoon at Gator Field with a score of 20 - 12. Pictured are Charlie Buchanan
bringing down Kevin Lord. Tyce Miller (#20) caught a 19-yard pass from Matt Bodamer

which led to a Ken Kysor field goal. In the third photo, Matt Bodamer intercepts the ball. Pam Fischer photos/stories
LADY GATORS WIN - The Lady Gators defeated the Northern Potter Lady Panthers 3-0 at Tuesday's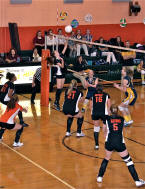 competition. The team defeated Austin with scores of 25-10, 25-18, and 25-18 during Thursday's match. Leading the Gators were Rachel Taylor with 12 kills, one block and four points; Kyley Mickle with 11 assists, five kills and 12 points; Jenn Shelley (pictured sending the ball over the net) with 20 assists, three kills, one block, six digs and seven kills; and Renee Edgell with six kills and seven digs. After Thursday's contest, the Lady Gators are 5-4. They will host the Lady Hubbers Thursday evening. Pam Fischer photo/story
ROTARY REPORT - Debby Cambell is pictured with the first senior guests of the 2010-2011 school year. They are Tyler Corneilus and Kyle Hunt. Club Assembly was held. Following the meeting, several Rotarians traveled to the Port Allegany Elementary School to distribute dictionaries to Third Level Students.
ROTARY WELCOMES SENIOR GUESTS - The local Rotary Club welcomed the first of their senior guests for new school year. They were Tyler Cornelius and Kyle Hunt. Also visiting was Rotary Exchange Student, Fer Spallanzani.
The meeting was called to order by President Jason Stake. Joe Lashway gave the attendance and fellowship report stating there were 21 Rotarians present for a reportable attendance of 70 percent.
Club anniversaries will be celebrated in October by Marty Moses with 28 years of service; Joe Lashway with 12 years of service and Bob Hartle with 23 years of service. Celebrating birthdays this month are George Baxter, Merle Johnson, Norm Preston and Ki Bayline.

The Club will meet at 5 p.m. on Route 6, Thursday, October 14 for their second road cleanup of the year. There will be no noon meeting that day. Following the cleanup, the club will gather at the Moose Family Center for food and fellowship.
The program schedule is as follows: October 21 - Keith Kelley; October 28 - Ron Mickle; November 4 - Club Assembly; November 11 - Merle Johnson; and November 18 - Randy Headley. There will be no meeting on November 25 due to the Thanksgiving Holiday.