Niece Suspends Garbage Service Plans by Martha Knight
The garbage pickup service Bill Niece outlined to Liberty Township Supervisors earlier this month is on hold, Niece told the Reporter Argus this week.
Niece had told the supervisors and members of the public at the meeting that his garbage pickup service would be one of several undertakings he planned, which would fit together to form a new business. The first service he would launch was the garbage collection one.
A week later a key component of Niece's venture had fallen through, and he realized he would not be able to carry out the rest of the plan, he said.
Niece said he was anxious to get the word out to people who might be wondering whether to plan on continuing using their present garbage pickup service, and to those who expected to see his "stickers" in the Jubilee grocery store.
A quantity of stickers had been ordered, for sale to his customers in books of five. Stickers were to have been priced at $3 each, less than the amount charged by Casella for the by-the-bag service many township residents use now. Niece said he was able to get the printing order cancelled.
Liberty Township has not contracted with a single garbage service through a public bidding process, but leaves it to residents to make their own arrangements. Casella Waste Services has been a major provider of pick-up service, but its large packer trucks are over the weight limits on some roads and bridges. During some parts of the year, when certain roads are especially subject to damage, Casella customers are asked to bring their bags to the closest intersection with a sturdier road.
Niece planned to use a pickup truck, thereby eliminating the over-weight-limit problem.
Meanwhile, recyclables may be brought to the large zero-sort dumpster at the township office and depot site south of Port Allegany on Route 155. All acceptable recyclables (plastics, metals, paper, cardboard, plastics with the recycling symbol) may be deposited, unsorted, but plastic bags must not be put in with the materials because they foul the sorting equipment at Casella's single-stream processing facility. The dumpster is emptied every two weeks by Casella, and the township pays $90 a month for the service.
Niece planned to haul the garbage to the former McKean County Landfill at Hutchins. Its owner, Rustick, is in Chapter 11 bankruptcy, and the landfill recently was bid in by Casella. The acquisition details are being worked out, and its plans for the landfill's future also have yet to be determined, according to Casella regional management.
Niece said his business plans may be revisited later. He said he is sorry he will not be able to follow through right now, because he had been looking forward to providing fellow township residents with a service by "somebody local."
Historical Society To Meet by Martha Knight
The Canoe Place Historical Society will meet at 7 p.m. Wednesday, November 3, in the Fellowship Wing of the Free Methodist Church.
The business meeting will include election of officers.
There will be consideration of an amendment to the bylaws to add a Museum Committee as one of the standing committees.
Attendance is open to all who are interested in the history of Port Allegany and surrounding townships, villages and hamlets.
Anyone with some historical items and information to share, or a favorite topic of historical inquiry, is welcome to attend and initiate discussion.
SIXTY YEARS FOR UNICEF - Ian Dynda, Henry Kisler, Makayla Alcorn and Owen Kisler are getting their little orange boxes ready for the Port Allegany United Methodist Church Sunday School's annual Trick-or-Treat for UNICEF collection which will take place Sunday, October 24 beginning at 12:30 p.m. Sunday school students will canvass the town to help make a difference in the lives of their peers around the globe.
UNICEF - Trick-or-Treat for UNICEF, the annual campaign that empowers children in the United States to make a difference in the lives of their peers around the globe, will take place Sunday afternoon in Port Allegany. The Halloween tradition that is beloved by generations, is often the first introduction of raising funds by children for children. For many kids, it is the first time they have been exposed to the countless hardships children endure every day as they struggle to survive in the face of disease, disasters and other hardships. Trick-or-Treat for UNICEF also introduces many children to the idea that they can make a difference in the world by volunteering in service to others.
Now celebrating its 60th anniversary, collections from hundreds of millions of orange Trick-or-Treaters for UNICEF boxes total nearly $160 million to bring lifesaving relief to millions of children worldwide.

In many parts of the world, kids drink unsafe water from a river or stream that often makes them very sick. Many kids have never seen a doctor or had the immunizations they need to protect against deadly diseases. Some kids don't learn to read or write, because they don't have access to school or must work to support their families.
UNICEF builds wells so kids can have access to clean water. UNICEF provides 56 percent of the children in developing countries with their immunizations and also helps build schools, train teachers and provide school supplies to kids around the world.
To learn more about Trick-or-Treat for UNICEF go to
www.trickortreatforunicef .org
. Please give generously when the UMC Sunday school students knock at your door.
GATOR GUYS WIN - Senior soccer player, Frank Austin, attacks the ball

during the Gators' senior day game Saturday morning at the Saint Gobain Field. Also pictured is Ken Kysor, Ben Osani (partially hidden), and Sam Kysor. Sam Shaffer score three goals for Port Allegany who defeated Johnsonburg 3-0. Tyler Smith had four saves for the Gators. More photos from Soccer Senior Day will appear on an upcoming picture page. Pam Fischer Photo/Story
P.A.O.
Port Allegany Online
Online AND Free Every Week
PAWC HEARS ABOUT ACUPUNCTURE - Shaune Ralph, MAc, LAc, presented a program about acupuncture to the Port Allegany Women's Club at their monthly meeting held at the Port Allegany Senior Center. Ralph is pictured here doing a demonstration on PAWC Secretary, Mary Mensch.

PAWC OCTOBER MEETING - The Po rt Allegany Women's Club met October 11 at the Port Allegany Senior Center. After a soup supper, Shaune Ralph gave a presentation on Acupuncture. Ralph, a licensed acupuncturist, has her practice at 201 W. Main Street in Smethport.


Ralph told the club that the goal of acupuncture is to treat imbalances before they become serious conditions. She explained that treatment of illness is more expensive than wellness care. The effectiveness of acupuncture is recognized by the National Institutes of Health, the World Health Organization, and many people worldwide. Acupuncture has far fewer side effects and risks compared to medical interventions and additional healthcare options are good for everyone.
She explained that scientific research has focused on changes in nerve impulses, brain chemistry, connective tissue and bioelectric cellular communication in order to provide partial explanations for acupuncture's effectiveness.

According to east Asian medical theory, the body is animated by Qi, or vital energy. Qi flows through channels that connect the body in a web-like matrix. When the Qi becomes deficient, blocked, or otherwise imbalanced, pain and illness can result. Acupuncture can reinforce and unblock the Qi to restore health.
Wi connects with various energetic systems that are usually named after associated organs. These energetic systems have characteristics that affect and are affected by specific categories of emotions, climates, seasons, and colors.

Things that can cause imbalances include injury, accident or other illness; emotional upsets or shocks; lifestyle; environmental factors including pathogens, toxins, home conditions, and weather; diet, lack of movement or heredity.
For further information about acupuncture or to contact Shaune Ralph, call 814-558-8513.

Upcoming events for the club, include the Birthday Banquet which will be held November 9 at the SHAVTS Culinary Arts area. The program will be provided by Simple Faith.
The club ill also make a donation to the Library Dinner Auction that will be held October 23 at the Star Hose Banquet Hall.
Hostesses for the October 11 meeting were Becky Mingo and Peggy Kallenborn.
PAWC is currently sponsoring a raffle. Tickets are being sold for $1/chance for a Holiday Food Gift Basket. The drawing will be made on December 5. Proceeds will be given to the S. W. Smith Memorial Library to benefit the Bookmobile Operations Fund. Pam Fischer Photos/Stories
LADY GATOR SENIOR NIGHT - Four seniors and

their parents will be honored during the 2010 Lady Gator Volleyball Senior Night. Members of the Class of 2011 who participate in volleyball are (pictured left to right) Kyley Mickle, Nikki Andrus, Renee Edgell and Ashley Bernardi. The ceremony, sponsored by the Volleyball Boosters, will take place prior to the varsity competition with Coudersport on October 26. Pam Fischer Photo/Story
SENIOR GOLFERS TO BE HONORED - The PAHS Lady Gator

Senior Golfers will be honored with the volleyball seniors on October 26 when the Lady Gators take on the Coudersport Falcon volleyball team. The golfers to be honored will be Cora Bova, Amber Fischer and Alesha Shatley. The golfers are coached by Dave Roae. Pam Fischer Photo/Story
SCOUTING FOR TREATS - Northern Star Service Unit of Girl Scouts with girls from kindergarten through high school age will be scouting for treats Sunday afternoon from 2 - 4 p.m. The neighborhood Girl Scouts will be trick-or-treating for PACS, collecting non-perishable food
items. If you would like to make a donation prior to this date, you may do so in the designated boxes located in Jubilee or the Progressive (Independent Associates of PA) Insurance office located on Willow Street. The Scouts would like to thank the community, in advance, for your generous donations. Daisy Scouts (front row, left to right) Leigha Nelson, Maycie Howard; (back row) Thea Petruzzi, Makayla Alcorn and Gillian Treat pose for the R-A camera with non-perishable food items such as cranberry sauce, spaghetti, canned fruit, instant mashed potatoes and coffee. Supplies at PACS (Port Allegany Community Services) are typically even more in demand as the holidays get closer. Pam Fischer Photo/Story
GIRL SCOUTS THANK SAINT GOBAIN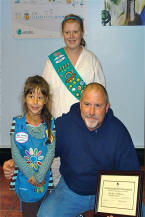 - Girl Scouts from the Northern Star Service Unit presented Saint Gobain Containers and former plant manager, Ed Stewart, with a certificate of appreciation for all the contributions given to the local Girl Scouts in the 20009-2010 year. Representing the Girl Scouts were Jocelyn Decker (front) and Brandy Lathrop (back). They are pictured with Ed Stewart. Photo submitted
FOOTBALL SENIOR DAY
- The PAHS Gator Football Boosters are sponsoring Football Senior Day Saturday, October 30. Senior football players, cheerleaders and band members, along with their parents, will be recognized prior to the Gator-Falcon game. The Senior Day Ceremony will begin at 1 p.m.

Senior football players include (pictured left to right) Dalton Warnick, Ken Kysor, Seth Lowery, Zach Ramadhan, Zach Manning, Camrin Stuckey, Benn Baxter, Ryan Kio and Garret Kio.

Senior Cheerleaders to be honored will be (front row) Cora Bova, Renee Edgell, Laura Haggard; (back row) Caryne Healy, Jennifer Swick, Breanna Foster and Carli Johnston.

The Marching Gator Band has three seniors - Kellie Hinchey, Tyler Payne and Ryan Michelitsch. Pam Fischer Photos/Stories
LADY GATORS WIN - Nicole Lovell is pictured going after the ball in high school action Friday night as the Lady Gators hosted DuBois CC. Fer Spallanzani made the lone goal for the day as Port Allegany defeated DuBois 1-0. It was the first win

of the season for the Lady Gators. Senior Day activities were held during half-time, recognizing the members of the Class of 2011 and their parents. Pam Fischer Photo/Story