For more information, call the library at 642-9210 or visit their website, www.swsmithlibrary.org.
Stormwater Plan Revised Again For DEP Nod - Smethport - Two revisions requested by the Pennsylvania Department of Environmental Protection (DEP) were approved by the McKean County Commissioners at their meeting Tuesday morning, thus clearing the last hurdle to DEP approval.
Commissioner chairman Joe DeMott mentioned that the plan as submitted three months ago had contained some changes from the consultants' version based on discussions with officials of the county's municipalities. "They (DEP) did not approve that plan as written. There are two main changes DEP wanted."
Where the county's version had stated that the size of the area for which stormwater management provision must be made would be placed at 10,000 square feet, up from the 5,000 in the model document, DEP has said the trigger area must be set at 5,000 square feet.
However, the requirement that certain forms must be filed for any area over 2,500 square feet, as stated in the model plan, could be eliminated if the action area is dropped to 5,000 square feet.
Commissioner Pingie said the commissioners had met with municipality officials Monday night in the 911 Center to discuss the DEP requests, and "explained our efforts to go to the 10,000 square feet."
DeMott said there had been general agreement that the requested revisions be made. It was understood that "should this be passed it (the plan) would be approved (by DEP) and we would have a plan in place."
Counties were required to develop stormwater management plans under a state measure called Act 167. Once a county's plan has been accepted by DEP, the county's municipalities are asked to adopt the plan.
Chief assessor Angela Tennies and Kurt Barclay of the North Central Pennsylvania Regional Planning and Development Corporation presented recommendations concerning sharing of the county's Geographical Information System (GIS) data.

The sharing conditions and policies have been in place for several years, and experience and some changes in demand and uses indicate that the policies should be updated.
"The county has made a substantial investment (in developing the data) and brought it to be more current," Barclay pointed out. There is increasing demand for GIS data, sometimes for specific "tiles" and groups of tiles, due to oil and gas activities and various studies.
The commissioners indicated that they would want to continue to share the data without fees to municipalities and educational institutions, while charging commercial firms for the data they request.
When companies are performing services for municipalities, the municipalities should make the requests for GIS data, Tennies said.
It was agreed that a proposed application form and policy be brought to the commissioners for approval. Meanwhile, the commissioners voted to provide the data requested for use in Wetmore Township by the township code enforcement officer, and also the data requested by Alexander Metcalf of the Penn State School of Forest Resources, waiving the fees.
The commissioners voted to approve a new contract with Vineyard Oil and Gas Company under which it will continue to supply natural gas for the Court House and the McKean County Jail. DeMott said rates for the fuel are significantly lower than those charged by "the gas company." Vineyard purchases natural gas from area wells and handles pipeline transport.
Excel, Inc. of Eldred will provide project management services for the construction of the new Domestic Relations Building, under a contract covering the period from October 4, 2010 through June 3, 2011.
Pingie said, "I am very impressed with the work we have been getting out of them."
Another resolution authorized the county to enter into a subcontract agreement with the YWCA under which it will administer the emergency shelter grant and provide services for the period from August 5, 2010 through August 4, 2012.
Commissioners approved the sale of four properties from the county repository: a vacant lot at 11 Leigh Street, Bradford, to Wade and June Robertson, for $300; a vacant lot at 115 West Corydon Street, Bradford, Dennis Vandusen, $475; a mobile home at 729 Barnum Road, Eldred, and another at 2354 Prentisvale Road, Eldred, both to Jeffrey Galloway, for $610 and $251 respectively.
Among invoices approved for payment was one from the Area Transportation authority (ATA) for $418,750 representing the second quarter advance payment for fiscal year 2010-11 for the medical assistance transportation program they administer for the county under a Public Welfare grant.
ATA also will get a payment of $13,172.25 as a portion of their budget allotment for October 1 through December 31.
$10,890 will be disbursed to Bradford Township, and $1,191 to Lewis Run Borough, in payment for their completed Liquid Fuel Fund projects for 2010.
Northwest Engineering will receive $2,057.61 for professional services in connection with the Galico Bridge replacement project, with the funds coming from the eponymous project fund.
Hamlin Township's application for $3,263, for a future project, was given the commissioners' approval.
Twenty-three more machine inspectors were appointed to serve in the upcoming general election.
The commissioners voted authorization to proceed with securing a tax revenue anticipation note in an amount not to exceed $3.5 million, to ease the cash flow pinch that occurs in January and February before real estate taxes are in hand, and to be paid in the same fiscal year.
Also approved were five contracts with service providers used by the county Department of Human Services. Commissioners' solicitor Dan Hartle said he had reviewed the contracts and found them to be in order; however, he would appreciate it if such contracts were sent in earlier, in the future, allowing more time for review. The DHS memo listing the contracts was dated October 20. Martha Knight Story
Fall Bazaar - A Fall Bazaar will be held November 6 from 9 a.m. - 2 p.m. at the Port Allegany United Methodist Church located at 307 North Main Street. The bazaar will feature several vendors, a bucket auction, baked food sale, and soup luncheon. The Bazaar is being sponsored by the UMC Sunday school.
Robbins Honored - Bob Robbins was honored during the morning worship service and at a reception that followed for his many years as Choir Director at the Port Allegany United Methodist Church. Making presentations to Robbins was Susan Roboski (pictured) and Jim Petzold. Robbins has retired as the choir director, but remains as a member of the choir. Taking over the director's spot for Robbins is Barb Headley. New members are always welcome!
SS and Community Support UNICEF - Students from the Port Allegany United Methodist
Church Sunday School collected over $200 as they went "Trick or Treating" for UNICEF. Participating in the effort were (pictured left to right) Justin Young, Julia Young, Jena Young, Henry Kisler, Owen Kisler and Ian Dynda. Participating, but not pictured were Jocelyn Dekcer and Kierra Keck. Organizing the event was Sunday School teacher, Heather Dynda. Assisting her were Patty Fabish, Laurie Schultz, Mary Grace Kisler, Laura Decker and Pam Fischer.
Boy Scout Troop 560 Receives Grant



Troop 560 has received a Grant From the George A. and Margaret Mee Charitable Foundation.

The Troop had applied for the Grant, hoping to buy a trailer to use for camping trips. They were surprised and very pleased to learn that they had been awarded the Grant.
Pictured, left to right: Dave Bressan, Troop Committee Chairman; Kirk McDowell, Recycling Coordinator; John Mallery, Director, Mee Charitable Foundation; Les Richner, Asst. Scoutmaster; Larry Bigley, Scoutmaster; Bill Johns, Asst. Scoutmaster; Byron Sutton, Asst. Scoutmaster.
Engagement Announced - EASTMAN - IAPALUCCI - Mr. and Mrs. Lance Eastman of Allegany, NY are pleased to announce the engagement of their daughter, Alana Eastman, to Tony Iapalucci, son of Michael and Pamela Iapalucci of Carrollton, TX.

Ms. Eastman and Mr. Iapalucci met at and graduated from the University of Pittsburgh at Bradford.
Ms. Eastman earned her Masters' degrees from Carnegie Mellon University and Indiana University of Pennsylvania and is currently employed as a high school English teacher in the Southern Tioga School District in Liberty, PA.
Mr. Iapalucci earned his Masters' degree from Indiana University of Pennsylvania and is employed as a school psychologist in the Warrior Run School District in Turbotville, PA. An October 8, 2011 wedding is planned.
Miss Eastman is the granddaughter of Lloyd and Dolores Eastman of Port Allegany. Pam Fischer Photo

Gators Lose In Overtime - Gator Fans who traveled to Emporium Friday night and braved the cold for the Gator/Red Raider football game may have been disappointed in the Gator's overtime loss to the Red Raiders, yet they were treated to one of the best games of the season. In the photo, Matt Bodamer is handing off to Seth Lowery. Pam Fischer Photo/Story
Powder Puff Football - The Senior Girls were victorious when then took on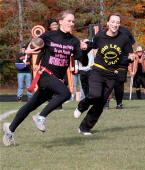 the Junior Girls in Powder Puff action held Saturday at Gator Field. Coaching the seniors was Dave Morey. The Juniors were coached by Barb Delacour. Also participating were referees Nate Zitnik and Bob Haskins. Announcer for the event was Nicole Line and score keeper was Dave Roae. The fundraiser was sponsored by the Port Allegany Year Book Staff led by Kim Bowser and Lisa Bizarro. Pictured taking the ball down the field is Bryanna Evens. Pam Fischer Photo/Story
Port Allegany Online