Using ground game, Port Allegany rallies to defeat Redbank Valley
BROCKWAY, PA - Port Allegany never really has been known for a potent aerial attack. Yet the Gators brought sophomore field general Matt Bodamer into Week 12 of 2010 with 1,770 passing yards and 20 touchdowns.
But to get itself into the District 9 Class A championship game, Port Allegany returned to its roots - a punishing, physical ground attack.
Port Allegany (7-4) used grinding second half scoring drives of 90 and 89 yards and the Gator (7-4) defense stuffed Redbank Valley (6-6) on a critical 4th-and-goal from the 1 with 4:06 left to claim a hard-fought 24-17 victory from Frank Varischetti Field in a District 9 Class A semifinal Saturday afternoon.
The Gators finished the day with 265 rushing yards on 43 carries and surprisingly, the passing game yielded a staggeringly low 36 yards.
But Port head coach Mike Bodamer wasn't surprised.
"Seth (Lowery) and Zach (Ramadhan) have run the ball well the last three years," Bodamer said.
The duo combined to gouge 130 of Port's rushing yardage this day - Lowery with 48 yards on 16 totes and Ramadhan with a team-best 82 yards on 10 carries, including the winning touchdown with 45 seconds left in the game.
The Gators' winning drive - 16 plays, 89 yards in all - drained 8:12 from the clock and capped a 17-point outburst in the second half. The orange and black entered the second half down 17-7 and with just 104 yards of offense to its credit (and just 2 yards passing). The Gators' lone first half score came via a faked punt which senior multi-purpose athlete Camrin Stuckey ran 57 yards.
"That play was by design," Bodamer explained. "Their guy was following our motion guy and we said to Cam, 'If you see that guy following our guy, you keep it.' And he did.
"We had nothing to lose at that point, so we said, 'Hey, we'll go for it,'" Bodamer said.
But in the first half, Redbank Valley came out with all the momentum. With junior Kyle Lee making big runs and big receptions, the Bulldogs built a 10-point first half lead. Lee ran for 78 first half yards and pulled in two catches for 66 yards, including a 49-yard touchdown with 8:40 left in the half to give RV a 14-7 lead. Lee also helped set up the Bulldogs' initial touchdown (a Keaton Delp 6-yard run) with runs of 19 and 2 yards.
"We threw in a couple little wrinkles we hadn't shown before," said RV head coach Frank Fabian.
And, even though Port's Stuckey registered a safety just 16 seconds into the second half to slice RV's lead to 17-9, the Bulldogs still had a chance to put the game away.
Brandon Bain (8-of-18, 170 yards, TD, 2 INT) hooked up with Lee for 68 yards to the Port 28 yard line after the Bulldogs forced Port's Bodamer (4-of-11, 36 yards, 3 INT) into his third interception. RV got to the Gator 1 yard line, facing fourth down with 4:06 left in the third.
And that fateful play saw Lee stuffed for a nine-yard loss, setting up Port's tying touchdown drive.
"We signal in our plays from the sideline," Fabian explained. "And we had a miscommunication on that play. The play got checked to the wrong side (and they stuffed it).
"And once we lost the momentum," Fabian continued, "it was hard to get it back."
Lowery's 4-yard run with 34 seconds left in the third quarter cut RV's lead to 17-15 before Bodamer hit Tyce Miller on the tying 2-point pass. After forcing RV to punt (Bain boomed the kick 60 yards to the Port 11 yard line), that set the stage for the Gators' game-winning march.
Beyond Ramadhan and Lowery, Bodamer finished with 78 yards on 14 carries and Stuckey finished with 58 yards on two totes. Port finished with 302 yards of offense and 16 first downs despite four turnovers and five penalties for 51 yards.
Lee paced the Redbank Valley offense with 85 rushing yards on 16 carries and caught three passes for 134 yards. Bain was limited to minus-8 yards on seven carries and the Bulldogs finished with 266 yards of offense, 12 first downs and also committed eight penalties for 52 yards.
Source: PennLIVE.com
Editor's Note: Curwensville will face Port Allegany (7-4), a 24-17 victor over Redbank Valley next Saturday, Nov. 27, at 1 p.m. in the District 9 Class A championship game, which will be played at Brockway.
PennDOT to Partner with Police for 'Operation Safe Holiday'
Harrisburg – PennDOT will again partner with police agencies across the state for "Operation Safe Holiday" from Thanksgiving through the New Year's holiday.

Police will use sobriety checkpoints, roving patrols and regular traffic safety patrols to watch for motorists exhibiting dangerous behaviors, including speeding, aggressive and impaired driving. Pennsylvania will also conduct Click It or Ticket seat belt enforcement from Nov. 19 – Dec. 3.

"The holidays bring increased traffic to our highways," said PennDOT Secretary Allen D. Biehler, P.E. "We're asking all motorists to be smart about safety by buckling up, obeying speed limits and avoiding distractions behind the wheel."

According to PennDOT, Thanksgiving continues to be the leading holiday for traffic crashes. There were more than 4,500 crashes and 41 fatalities last year during that period, which includes the weekends before and after the holiday. More than 500 of those crashes were alcohol-related.

To increase safety on long trips, PennDOT encourages motorists to make sure they are well-rested and alert. It is also a good idea to rotate drivers and take frequent breaks, stopping to rest for 10 minutes every 100 miles.

Motorists should also plan for traffic delays and allow extra time for travel.

"Getting there safely is more important than being on time," Biehler added. "Your family and friends would rather see you arrive late than not at all."

PennDOT reminds motorists that weather and road conditions can worsen quickly at this time of year. Motorists should always check the weather forecast before traveling and make sure their vehicle is equipped with a winter emergency kit.

Information on travel delays, road conditions and weather forecasts is available by calling 511 from a landline or cell phone, or visiting www.511pa.com before leaving home.

Learn more about Operation Safe Holiday by visiting www.DriveSafePA.org. Follow PennDOT on Twitter at www.twitter.com/PennDOTNews
PA Bear Season Opens Saturday, November 20th
Pennsylvania's statewide firearms bear season opens Saturday and continues Monday and Tuesday of next week. The Game Commission says Pennsylvania's bear population covers more than three-quarters of the state, and includes a number of world-class trophy bears which has has earned Pennsylvania recognition as one of the top states for bear hunters. Every year there have a number of bears exceeding 500 pounds included in the harvest. Since 1992, six bears with an estimated live weight of 800 pounds or more have been taken in Pennsylvania.

The 2009 bear harvest of 3,512 is second only to the 2005 bear harvest, in which hunters took a record 4,164 bears. Other recent harvests were: 3,075 in 2000; 3,063 in 2001; 2,686 in 2002; 3,000 in 2003; 2,972 in 2004; 3,122 in 2006; 2,360 in 2007; and 3,458 in 2008. Over the past ten years, hunters have taken more black bears than in any other decade since the Game Commission began keeping bear harvest records in 1915.

"Conditions this year are favorable for another record harvest," said Mark Ternent, Game Commission black bear biologist. "Bear populations are up in many parts of the state relative to past years; hunter participation is expected to be good, based on the number of bear licenses being purchased; and acorns are plentiful, which tends to keep bears out of dens and active through the fall hunting season.

Bears were taken in 54 counties last year, which was the same as 2008, but an increase from 2007, when bears were taken in 49 counties. The state's top five counties -- all from the Northcentral Region – along with the 2008's harvest results in parentheses, were: Clinton, 295 (139); Lycoming, 280 (252); Tioga, 217 (236); Cameron, 214 (75); and Potter, 181 (294).Hunters will need to have a general hunting license and a bear license. Bear licenses are not part of the junior or senior combination licenses, and must be purchased separately. All hunters who harvest a bear must immediately tag it with their field harvest tag that is part of the bear license, and, if during the statewide three-day season, transport the carcass – minus entrails – to one of the Game Commission bear check stations within 24 hours, and present it along with their general hunting license and bear license.
BEAR CHECK STATION HOURS OF OPERATION

Hunters who harvest a bear during the three-day statewide season (Nov. 20, 22-23) must take it to one of the Pennsylvania Game Commission's check stations within 24 hours. Check stations will be open from 10:00am to 9:00pm on Nov. 20; from 10:00am to 8:00am on Nov. 22 and 23. In addition, all check stations will be open on Sunday, Nov. 21, from 10:00am to 2:00pm. One of the check stations is being held at the Coudersport Fire Hall on Route 6 West. Kitchen will be open. Information about other check stations can be found on page 38 of the 2010-11 Digest. The Game Commission says it has made several operational changes at check stations, including the use of handheld scanners, to expedite the process
Licenses and Vouchers on Sale December 1
Harrisburg, PA – The holiday shopping season is quickly approaching and that means it's time for anglers to get a jump on the 2011 sporting season. Anglers can purchase a 2011 license beginning December 1, which gives them a bonus month for free.

Fishing license vouchers also make great holiday gifts and stocking stuffers. Purchasing vouchers for family members and friends is easy and convenient. Vouchers – and licenses - can be purchased online through the Pennsylvania Fish and Boat Commission's (PFBC) Outdoor Shop at www.theoutdoorshop.state.pa.us. A voucher may be redeemed at any of more than 900 issuing agents across the state.

"We sell about 4,000 vouchers each year," said Bernie Matscavage, director of the PFBC's Bureau of Administration, which oversees sales. "They are easy to purchase and require only a method of payment. It's just like a gift certificate. The recipient then redeems the voucher for a fishing license.

"A resident annual fishing license can be purchased for $22.70," said Matscavage. "Add in a typical trout-salmon permit for $9.70 and an angler can enjoy more than a year of fishing for $32.40 – less than a typical dinner for two and about the price for two people to see one movie."

In addition to online and at more than 900 issuing agents, fishing licenses and vouchers can be purchased at county treasurers' offices, and at PFBC regional offices:

* Northwest Region - Meadville (Crawford County), 11528 State Highway 98, Meadville, PA 16335;
* Walnut Creek Access Area – Fairview (Erie County), 241 Manchester Road, Fairview, PA 16415-1710;
* Linesville Visitors Center – Linesville (Crawford County), 13300 Hartstown Road, Linesville, PA 16424;
* Southwest Region - Somerset (Somerset County), 236 Lake Road, Somerset, PA 15501;
* PFBC Headquarters - Harrisburg (Dauphin County), 1601 Elmerton Avenue, Harrisburg, PA 17110;
* Northeast Region – Sweet Valley (Luzerne County), 5566 Main Road, Sweet Valley, PA 18656;
* Southeast Region – Elm (Lancaster County), Brubaker Valley Road and Lakeview Drive, Elm, PA 17521;
* Southcentral Region – Newville (Cumberland County), 1704 Pine Road, Newville, PA 17241.

The PFBC also sells a number of angling and boating-related products through the Outdoor Shop, including caps, books, posters and the flagship publication Angler & Boater magazine. Customers can also renew boat registrations and purchase launch permits for un-powered boats online.

For more information about fishing and boating in Pennsylvania – including a calendar of upcoming Family Fishing Programs - please visit our website at www.fishandboat.com. To help plan your next outdoor trip in Pennsylvania, visit www.visitpa.com and select "Outdoor Recreation" under Things To Do.
High court won't hear Rigases' evidence suppression case
The U.S. Supreme Court has rebuffed a bid by ex-Adelphia Communications Corp. officers John Rigas and his son Timothy to overturn their lengthy prison sentences for defrauding investors by "systematically looting" their now-bankrupt cable television company.
Adelphia's founder/CEO and its former CFO failed to convince the high court to review their appeal and decide whether federal prosecutors violated their rights under Brady v. Maryland, 373 U.S. 83 (1963), by withholding evidence in their case.
Under Brady, the government has a Fifth Amendment due-process obligation to turn over material evidence in its possession to the defense.
However, federal and state appellate courts have split over the scope and application of that decision, and the Rigases unsuccessfully argued that the Supreme Court should use this appeal as the occasion to settle that dispute.
Adelphia collapsed in 2002 after auditors reported that off-books companies the defendants controlled had run up nearly $2.5 billion in undisclosed bank loan debt, which was hidden through allegedly fraudulent accounting practices.
When the red ink was revealed in March 2002, Adelphia's stock price plunged by 25 percent in one day, and three months later the company was in bankruptcy, resulting in $3 billion in losses for blindsided investors.
In a criminal lawsuit the government alleged that much of the money was diverted to the Rigas family or used to fund questionable purchases of other cable companies.
The Rigases "systematically looted the company's assets and deceived investors … concerning Adelphia's operations and finances," the government said in court papers.
The father and son were convicted in July 2004 on securities and bank fraud charges following a jury trial in the U.S. District Court for the Southern District of New York. John was sentenced to 15 years in prison, and Timothy drew a 20-year sentence.
The 2nd U.S. Circuit Court of Appeals affirmed their convictions but remanded for resentencing, and the trial court reduced each defendant's sentence by three years.
In their petition for certiorari the Rigases said the withheld evidence in their case involved the government's 2004 pretrial questioning of Adelphia's outside counsel, Pittsburgh attorney Carl Rothenberger.
Rothenberger told prosecutors that neither defendant had committed fraud, but the government concealed the interviews, the Rigases said.
That statement and others in the government's interview of Rothenberger could have been important to their case, the Rigases claimed.
In opposition to the appeal, the government argued that prosecutors were not obligated to produce Rothenberger's testimony because it was in the possession of the Securities and Exchange Commission.
Moreover, the testimony would not have made a difference in the result of the case, so there was no requirement to turn it over under Brady, the government contended.
The Supreme Court denied the Rigases' petition Oct. 4 but did not notify the 2nd Circuit until Nov. 9.
Rigas et al. v. United States, No. 09-1456, cert. denial notice sent (U.S. Nov. 9, 2010).
92-year-old Man Remains Missing in Allegany State Park

SALAMANCA, N.Y. (WIVB) - The mystery has deepened over a retired pastor who's been missing for a week in Allegany State Park.
New York State Park Police say the massive search for 92-year-old Thomas Hamilton will continue through Thursday. Hamilton's daughter claims she and her father got lost while hiking last Wednesday. She was able to eventually find help, but says her father was too weak to follow her.
Police say they haven't found a single trace of him since and are urging anyone who may have information to call (716) 278-1777.
UPDATE (11/18/10): ALLEGANY, N.Y. (WIVB) - The massive search for a missing retired pastor will end Thursday. Thomas Hamilton, 92, has been lost in the wooded wilderness of Allegany State Park for more than one week. He was hiking with his daughter when they got lost, she hiked on to find help, leaving him behind. Volunteers have scoured hundreds of acres over the past week, but have found no trace of Hamilton.

Tanner Recognized for Quarter Century of Service
Penn State Cooperative Extension Director Don Tanner has been honored for 25 years of service to the organization. Tanner, who serves Potter, McKean and Cameron counties, was recognized during a ceremony at the Nittany Lion Inn, State College. Dr. Bruce McPherson, dean of the College of Agricultural Sciences, presented him with a plaque from Penn State President Graham Spanier.
A native of Turtlepoint, Tanner was an extension educator in Schuylkill County and came to McKean County in 1989 to serve as 4-H youth development coordinator. He has been involved in economic and community development, strategic planning, leadership development and youth education.
"I have one of the best jobs there is, because I can see first-hand how we are helping people to learn, achieve and meet new expectations," Tanner said. Despite budget limitations and consolidation, he said, local branches of Cooperative Extension have found a way to broaden their mission and adapt to changing times.
Scarnati Re-nominated as President Pro Tempore
HARRISBURG - Senate Republicans today elected their leadership team for the 2011-12 legislative session.
Senator Joe Scarnati (R-25) has been nominated once again to serve as President Pro Tempore. The full Senate will vote on Scarnati's nomination when it reconvenes on January 4. As President Pro Tempore, he will be responsible for appointing the chairpersons and members of the standing committees of the Senate. He will also play a significant role in negotiations with the Administration and House of Representatives.
A native of Brockway in Jefferson County, Scarnati was elected to the State Senate in 2000. A graduate of the Pennsylvania State University at DuBois, the Senator was a third-generation small business owner and served in local government.
"I am honored and humbled by the support of my colleagues in electing me President Pro Tempore of the Senate to a third term," Scarnati said. "Working with the basic premise of less taxes and less regulation, promoted by the Senate Republican Caucus, has given the Commonwealth a solid foundation moving forward."
Measure Ensures The Right To Defend Oneself From Intruders
HARRISBURG - Rep. Martin Causer (R-Turtlepoint) is pleased that legislation reinforcing a person's right to defend himself or herself in the face of an intruder is on its way to the governor's desk.

"In current law, a person under attack in his or her own home has to retreat before taking action in self defense - that simply does not make sense," Causer said. "I hope the governor will sign this measure into law, further solidifying our citizens' Constitutional right to keep and bear arms."

The so-called "Castle Doctrine" creates in law a presumption that an attacker or intruder intends to do great bodily harm and therefore force, including deadly force, may be used to protect oneself, one's family and others in the face of an attack while at home or in an occupied vehicle. The presumption also applies if a person is trying to unlawfully remove an occupant, against the occupant's will, from a home or vehicle.

The presumption would not apply if the person entering a home was:

· Another resident of the home.
· A law enforcement officer.
· A parent, grandparent or other guardian removing a child from the home or vehicle.

In addition, the presumption would not apply if a person was using their home or vehicle to further criminal activity. The bill also offers specific protection against civil liability for the lawful use of force in self-defense.

House Bill 1926 also makes changes to the state's Megan's Law, outlining requirements for the registration of sex offenders who are homeless and applying criminal penalties for failure to register to sex offenders who were required to register in their home states and subsequently move to Pennsylvania and are required to register for a lifetime.

The bill passed by a vote of 161-35 and now awaits the governor's signature.
Causer Announces Share Program
HARRISBURG - The Pennsylvania Game Commission and Rep. Martin Causer (R-Turtlepoint) invite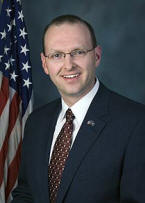 area hunters to participate in the Hunters Sharing the Harvest (HSH) program. Since 1991, the HSH program has coordinated the processing and distribution of donated wild game from hunters to Pennsylvanians in need. An average-sized deer will provide enough highly-nutritious, low-cholesterol meat for 200 meals.

In an average hunting season, the HSH program will channel about 100,000 pounds of processed venison annually through the state's 21 regional food banks, which then redistribute the meat to more than 3,000 local provider charities such as food pantries, missions, homeless shelters, Salvation Army facilities, and churches, in addition to families.

Hunters donating their harvest voluntarily pay a $15 tax-deductible fee toward each processed deer. The remainder of the processing fee is covered through HSH sponsors and donations.

Anyone interested in donating venison to the HSH program should call 1-866-474-2141.

Information can also be found www.RepCauser.com under "Hunters Sharing the Harvest."
Deadline to Apply for Property Tax/Rent Rebate Program Nearing, Says Causer
Rep. Martin Causer (R-Turtlepoint) reminds residents that the deadline to apply for the state's Property Tax/Rent Rebate program for 2009 is Dec. 31, 2010.
Eligible participants can receive a rebate of up to $650 based on their rent or property taxes paid in 2009. The program benefits eligible Pennsylvanians who are 65 years or older, widows and widowers 50 years or older, and those 18 years or older with disabilities.
Eligibility income limits for homeowners are set at the following levels, excluding 50 percent of Social Security, Supplemental Security Income, and Railroad Retirement Tier 1 benefits:
$0 to $8,000, maximum $650 rebate (Homeowners and renters)
$8,001 to $15,000, maximum $500 rebate (Homeowners and renters)
$15,001 to $18,000, maximum $300 rebate (Homeowners only)
$18,001 to $35,000, maximum $250 rebate (Homeowners only)
The Property Tax/Rent Rebate program is one of many initiatives supported by the Pennsylvania Lottery, which dedicates its proceeds to support programs for older Pennsylvanians. Since the program began in 1971, more than $4 billion has been paid to qualified applicants.
Residents are reminded to provide all the necessary income, property tax or rental information required to process claims quickly and accurately.
To obtain a Property Tax/Rent Rebate form, contact one of Causer's local offices in Bradford (814-362-4400) or 107 S. Main St. in Coudersport (814-274-9769). They are also available online at www.RepCauser.com.
Community Health Center Renovations
- The Port Allegany Community Health Center renovations was the topic of the program at the November 18 Rotary meeting. Program Chair for the day was Randy Headley. Pictured with Headley (far right) are Patrice Levavasseur, Executive Director, Patient and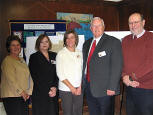 Community Relations; Sue Pascarrella, Facility Manager, Port Allegany Community Health Center; Janene Dunn, Director, Public Relations; and Tom Noe, Executive Director, Corporate Support Services.
Jim Plotts Photos
ROTARY REPORT - Randy Headley, program chairperson for the day, introduced Tom Noe, Executive Director, Corporate Support Services for Charles Cole Memorial Hospital, as the guest speaker at the November 18 Rotary meeting. Mr. Noe gave a presentation on the Port Allegany Community Health Center and the 4800-square foot addition and renovation to the present building which is scheduled for the spring of 2011. The redesign of the present rooms and the new addition are much needed due to overcrowding. There are over 14,000 visits per year. Telemedicine in partnership with Hamot Hospital in Erie will be added. The 1.8 million dollar project should take 240 days from start to finish.

There were 22 Rotarians present for a reportable attendance of 70 percent. In addition to Mr. Noe, other guests included Patrice Levavasseur, Sue Pascarrella, Janene Dunn; senior guests Renee Edgell and Anna McJunkin; and Paula and Haley Bayline, guests of Scott Bayline.
Also pictured are senior guests Renee Edgell and Anna McJunkin. Renee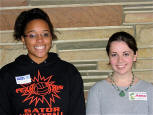 is the niece of Anthony and Dawne Edgell. She is in the college prep course at PAHS. Her activities include Student Council President, Spanish Club, SADD Parliamentarian, Varsity Club, National Honor Society, Basketball, Volleyball, Track, Gator Mascot, Show Choir, District Choir and Chamber Singers. Her hobbies include playing volleyball and being with friends. Her future plans are to attend penn State Behrend and major in Elementary Education.

Anna is the daughter of Evon and Paul McJunkin. She is a member of the Senior High Show Choir, Chamber Singers, Concert Choir, Drama Club, French Club and French and Fine Arts. She plans to attend college and major in French and minor in Fine Arts.
Winner of the 50/50 raffle was George Baxter.
Rabies Alert
Port Allegany resident Barb Spencer wanted to share an alert issued by Alexis R. Snow, DAHI from the Pennsylvania Department of Agriculture. It reads as follows: Please be advised that a skunk found on North Brooklynside Road just west of Port Allegany in McKean County has tested positive for rabies. This is the second rabid skunk found within the last three months on North Brooklynside Road. The homeowner found the skunk attacking her dog in the middle of the day. The dog was bitten several times. After the attack , the owner brought the dog into the house and cleaned its wounds. The homeowner will be consulting her family physician about rabies post exposure prophylaxis. The dog's rabies vaccine was not current and the dog will be quarantined to the owners home for 180 days.
Pennsylvania law requires that all dogs and non-feral cats three months of age and older are rabies vaccinated and that booster vaccinations are administered periodically to maintain lifelong immunity. Rabies vaccine is also available for other species.
As it is not possible to determine if this skunk may have exposed other wild or domestic animals prior to its arrival at this location, please consult your private veterinary practitioner to determine your animals' needs. This is of great importance, as you need to assure that your pet is not a potential source of rabies for your family and neighbors.
Permits Key To Landfill Deal by Martha Knight
HUTCHINS—Last year Rustick LLC announced that it had received permits that would be immensely useful in the company's future operations, at the former McKean County Landfill.
The permits were from the Pennsylvania Department of Environmental Protection (DEP) and had required a long and arduous application process.
Now those same permits are just as critical to future operations of the landfill by its putative future owner, Casella Waste Services. In early October Casella was the sole qualified bidder on virtually all the assets of Rustick, and seemed on track to become owner of the landfill facility.
On track, yes; but Casella has made it clear that it is not a fast track. The transfer of ownership process, or the finalizing of the acquisition by Casella, must be worked through step by step, for up to a year. The federal bankruptcy court and the committee that have overseen the bankruptcy process to date and the sale of Rustick's assets are still involved as the sale/acquisition process unfolds
As for the DEP permits, the fact that Rustick and the court and the committee were willing for them to be transferred to Casella does not make it automatic that they will be. Legal notices have been published noting the proposal that the permits be transferred. The public is entitled to know; presumably interested parties could raise objections, but that is not considered likely.
Larry Shilling, Casella's regional vice-president with responsibility for matters relating to this acquisition, says, "The transfer of ownership is contingent on the transfer of the DEP permits into our name. The notices and letters that were sent out are for that purpose and were sent in front of us submitting our official application to the DEP."
Shilling continued, "Our application simply transfers the permits that exist today into Casella's name. This transfer will likely take several months. Until that transfer is complete and the closing on the purchase of the facility occurs, Rustick remains the owner and operator and any changes in the operation will be up to them."
The permits DEP granted last year include one for construction and operation of a rail siding that would enable shipments of garbage and trash, including recyclables, to the landfill via railroad. This would open up the market for the facility's disposal and recycling to more distant senders.
Another permit pertains to acreage across the road from the currently developed and active landfill cells, and would allow the owner to create additional landfill cells there, prolonging the "life" of the facility many years.
Responding to questions about Casella's plans concerning recycling services for the McKean County area, Shilling said that Casella is working on a comprehensive recycling plan for the area.
"As we move closer to the closing date, we will make known our thoughts on what that should look like and what we will be able to offer."
Unstoppable Excitement - An R-A photographer caught up with Ariana Barnard, the day after the (just-
turned) nine-year old attended the opening night of Unstoppable at the Carmike Theater. Ariana and almost 20 of her biggest fans shared in the celebration. Last year, when Ariana was a month shy of her eighth birthday, she spent the day filming her part in Unstoppable at the crossroads near Carlson's store. She reports thinking that it was "very cool" meeting a famous producer and the stunt doubles for Chris Pine and Denzel Washington.

Ariana is the young lady who "stops, looks, and listens" in the trailer of the film. She first saw that trailer when her grandpa, Michael "Buck" Barnard, sent the link to her dad's (Jeremy Barnard) phone. Her reaction was, "How cool is that?"
Ariana was given a VIP pass and invited to sign the movie poster located in the theater. The poster was signed by all in attendance who took part in the movie. It's been a "very exciting" time for the local lass who is pictured here with one of the movie posters, one of which she "autographed" for the photographer. Pam Fischer photos/story
Open House At SHAVTS - Thursday evening found the Seneca Highlands Area Vocational-Technical


School full of students, parents, other family members and friends in attendance at the Open House. Demonstra-tions were given in various shops. Brittany Warnick is pictured taking a blood pressure in the Health Assistant Shop and Kirstie Nichols is pictured giving a manicure in the Cosmetology Shop. SHAVTS director Don Raydo gave a short talk to those present before awarding door prizes, many made by the students. Students in the Culinary Arts shop prepared and served refreshments. Pam Fischer photos/story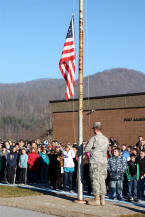 Veterans' Day Service
At PAES - What has become a wonderful tradition of uniting young and old is the Veterans Day Service held each year at the Port Allegany Elementary School. Pictured in photo one are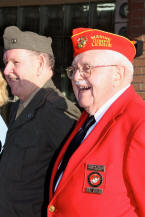 Gene Lewis and Dek Kanally as they listen to guest speaker, Mike Hadden; in the second photo, Lawrence Kelley raises the flag as the PAES student body and staff watch; and students in Ruth Shidner's glass present the Veterans with hand-crafted remembrances. More photos from this celebration appear on this week's picture page. Pam Fischer photo/story

Singing Waitresses - The wait staff of the annual Thanksgiving Dinner for Seniors sang to their guests, at the event held in the Moose Family Center Sunday afternoon. Members of the Port Allegany and Roulette Girl Scout groups served the sumptuous feast. Martha Knight photo/story
To Top It Off - Aimee Darrah, left, and Brandy Lathrop offer Dee Jones some more whipped topping on
her pie, at the annual Thanksgiving Dinner for Seniors, put on at the Moose Family Center Sunday afternoon. Port Allegany and Roulette Girl Scout organizations and their families and leaders prepared and served the traditional turkey dinner, at no charge. The girls made place mats and take-home mobiles, and sang to the guests. Martha Knight photo/story

Honored - Veteran Joe Knell was honored during the annual Veterans Dinner held at the Veterans Memorial Building Saturday night. Veterans Memorial, Inc. President, Earl Stromberg presented a certificate to Knell which read, "As an expression of sincere appreciation and full praise the Board of Directors of the Veterans Memorial Home of Port Allegany thank you for your dedicated service to the Association." The certificate was signed by Stromberg and Vice-President Gregg Tauscher. The dinner was sponsored by the Auxiliary. Pam Fischer photo/story

Toys For Tots - Missy, Mallory and Morgan Causer pose for the R-A camera in front of the First National Bank Branch to remind members of the community of the Toys for Tots campaign. The Toys for Tots bins will be located at the bank and also at Jubilee. Toys will be collected through the Thanksgiving Holiday. Pam Fischer photo/story
Lions Club Broom Sale - Dan Schott of the Port Allegany Lions Club is pictured by a display that was placed in the S. W. Smith Memorial Public Library on Saturday afternoon. The display features brooms the local service club is selling to raise funds for the library to help them purchase large print books.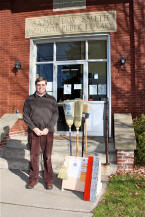 The Port Allegany Lions Club is selling brooms with the proceeds going to the S. W. Smith Memorial Public Library. A display is now set up at the library. Other displays will also be placed around town. There are six brooms from which to choose. The first is a household broom with hanger clip. It's a standard broom great for the home. There is a heavy duty janitor broom which is a sturdier broom for use in more soiled areas, decks, garages, entrances and walkways. This broom is great for snow! The third choice is a large angle broom with angled heads to get under cupboards and radiators. Flagged bristles are used for picking up small articles. This broom would be great for the kitchen. The fourth choice is a whisk broom which makes quick work of countertops and work benches. The heavy duty push broom can be used for heavily soiled areas and rough surfaces. This one is great for outdoors. The last choice is the fine sweep push broom for heavily soiled areas and smooth surfaces. Flagged bristles pick up smaller dirt and dust particles which is good for basements and garages!
Prices range from $5 to $19. Order forms may be picked up at the displays or contact any Lions Club member.
PAWC Birthday Banquet - The annual Port Allegany Womens' Club Birthday Banquet was held

November 9 at the Seneca Highlands Area Vocational Technical School Eagles Nest. Culinary students, under the direction of Chef Paul Farmelo, prepared and served a delicious buffet to the local club. Musical entertainment was provided by Simple Faith. Pictured at the banquet are JoAnn Tyson, Felicia Culver, Marlene Brown, Mary Ellen Lewis and Virginia Cherrington. More photos from this event will appear on next week's picture page.
The Community Thanksgiving Service will be held this year at the Port Allegany United Methodist Church on Sunday, November 21 at 7 p.m. Member churches of the Port Allegany Ministerium will be represented in the service by their pastors or lay members. There will be an offering taken for PACS as part of the service. You many participate in one of two ways - bring non-perishable food items to donate or make a financial contribution in lieu of food items. Refreshments will be served following the service.
Veterans' Dinner - Veterans Memorial, Inc. VFW Commander Chuck Smith and John Borowski talk with

Retired Major Don Martin following the annual Veterans Dinner held at the Veterans Memorial Building Saturday evening, while Earl Stromberg, VMI President looks on. Martin was the guest speaker for the evening. The dinner was catered by the Auxiliary. For more photos of this event, turn to this week's picture page.
October Unsung Heroes - Richard and Dian Lewis were honored Sunday morning at the Port Allegany

United Methodist Church. Making the presentation was Junior/Senior High Sunday School teacher Laurie Schultz.

The couple is well-known for their volunteer work selling tickets for Old Home Week's carnival. They are life members of the fire hall and auxiliary. They are active at their church - The First Baptist Church - having served as Deacons, Sunday School teachers, ushers and greeters.
Mr. Lewis is also known for taking those who need a ride where they need to go such as grocery shopping or to medical appointments.
The couple could have been nominated for any of their volunteer efforts listed above, but they were honored Sunday for their work at the Blessing Room located on Main Street in Port Allegany. The Blessing Room offers low-cost and sometimes no-cost items to those in need.

2010 PAHS All-Stars - Port Allegany Head Football Coach Mike Bodamer is pictured with the Port Allegany High School Gators who were selected the to 2010 Allegheny Mountain League Football All-stars. They are (left to right) Matt Bodamer, Seth Lowery, Camrin Stuckey, Zach Ramadhan and Tyler Burr. The Gators will travel to Brockway Saturday afternoon when they take on Red Bank Valley. Pam Fischer photo/story
N

TL Volleyball All-Stars - Three members of the Lady Gator Volleyball Team were honored with selections to the North Tier League Volleyball All-stars. They are pictured (left to right) Rachel Taylor, Jenny Shelley and Renee Edgell. Shelley was selected to the first team; Taylor to the second team; and Edgell to the Honorable Mention team. Pam Fischer photo/story

AML Football All-Stars - The AML (Allegheny Mountain League) Football All-stars (Offense) have been announced as follows: (front row, left to right) Aaron Burnside, Zach Austin, Jason Blose, Mark Schweikart, all from Cameron County; (row 2) Tyler Burr, Seth Lowery, Camrin Stuckey, Matt Bodamer, all from Port Allegany; (row 3) George Fitch, Sheffield; Tony Farrell, Caleb Cooper and Ryan Wells, all from Smethport.

The AML All-Stars (Defense) have been announced as follows: (front row) Zach Ramadhan, Port Allegany; Andrew Fragale, Damien Barton, Ryan Grimm, all from Cameron County; (row 2) Mike Martin, Otto-Eldred; Thomas Mack, Kolin Strawcutter, Brian Zetwick, all from Smethport; (row 3) Nate Bair, All Lawrence, both from Otto-Eldred; Skyler Blumer, Tim McCusker and Kevin Wolfinger, all from Coudersport. Pam Fischer photos/stories