Federal, State Ag Departments to Conduct Census of Farming Community, Causer Says
Farmers in Cameron, McKean and Potter counties may be contacted early next year when the U.S. Department of Agriculture, in cooperation with the state Department of Agriculture, begins the process of conducting its Agricultural Resource Management Survey (ARMS).
"This study gives farmers the opportunity to provide data and information that will be used to guide the state and federal governments in addressing the issues affecting the agriculture industry," Causer said. "Participation is optional for anyone who is contacted for the survey."
The survey will be conducted between Jan. 28 and April 14, 2011, and will include input from nearly 35,000 farmers nationwide, of which 673 will be randomly selected from Pennsylvania. Producers will be asked to provide data on their operating expenditures, production costs and household characteristics.
Causer also noted that the Pennsylvania Field Office of the National Agricultural Statistics Service (NASS) will be surveying cattle farmers for its largest cattle survey from Dec. 30 to Jan. 11, 2011. Estimates will include the total number of cattle and calves as of Jan. 1, 2011, as well as the total number of heifers, steers, milk cows and beef cows.
Results of the cattle survey will be made available on Jan. 28, 2011, and the data gathered in ARMS will be published on Aug. 2, 2011. Both reports will be accessible by visiting the NASS website at www.nass.usda.gov.
For questions or concerns regarding both surveys, farmers may contact NASS by calling 1-800-727-9540.
Pennsylvania will get an additional area code Pennlive.com
Area code 582 is coming soon to a phone near you. The Pennsylvania Public Utility says 582 will be the new area code for much of northwestern Pennsylvania starting in 2012.
Last week, the commission approved a plan to divide the 814 area code. The change will affect Erie, Crawford, Warren, Venango, Forest, Clarion, Jefferson, Elk and McKean counties. Parts of Clearfield, Armstrong, Mercer and Indiana counties will also get the new area code.
The commission said the new code is expected to take effect on Feb. 1, 2012. The 814 code will work for affected numbers for about six months after that. The commission says the change is necessary because it's projected to run out of telephone numbers for the area by early 2013.
Pennsylvania will have a total of 12 area codes following the split.
County Officials, Employees Pay Upticks By Martha Knight
SMETHPORT—A major component of each McKean County budget is personnel costs, scattered through the various departments and operations of county government. Here are those allocations for 2011.
The pay for elected officials is governed by rules concerning when it can be changed and how it can be adjusted. In general, changes decided during a term of office can be applied only in the next term of each affected office. During current terms consumer price index (CPI) adjustments may be made. The adjustment used to set 2011 salaries was 1.1 percent, with one exception.
The President Judge of the Court of Common Pleas has the highest salary, $165,602 (up from $162,850 in 2010), but it is paid by the Commonwealth of Pennsylvania, as are the salaries of the four District Judges, $82,303 each ($80,927).
The President Judge is responsible for 38 employees. Each District Judge directs two employees.
Officially, there is a vacancy on the McKean County Court of Common Pleas, which is supposed to have two judges. Since the retirement of then-President Judge John Yoder over a year ago, the cases President Judge John Pavlock can't preside over (by reason of conflict, or because his calendar is too full to schedule them) are heard by Senior Judges, whom the state pays about $460 a day.
Senior Judge appointments are available to jurists at all levels, in Pennsylvania, upon retirement. Rules adopted this past March limited eligibility to those retired judges who have never lost an election or retention vote and whose age and years of service add up to 80. Those who had retired from the bench and applied for appointment as senior judges prior to the rule change were "grandfathered."
The heavy use of Senior Judges has been seen as a cost-saving measure for the state, where vacancies on the bench in various courts have been prolonged awaiting action by the governor and the legislature. The governor nominates appointees and the Pennsylvania Senate votes on them. Appointments have been few in the past year, with Governor Ed Rendell not submitting names of nominees and the senate making it clear appointments were unlikely to be affirmed.
Senior Judges may serve 13 days a month in a judicial district (area served by a single Court of Common Pleas—typically a county) while retaining their state retirement benefits. They do not receive additional benefits, other than their per diem remuneration. This results in lower court costs for the state. There are about 12 common pleas vacancies in the state. Those are scheduled to be filled by the voters in next year's elections.
The District Attorney's salary is calculated as a percentage of the president judge's, and is $163,601 ($160,852). The state is supposed to pay 65 percent of the salary of every DA. Like the salaries of judges, DA salaries are also set by the state.
Pennsylvania has been slow to reimburse counties for the salary money fronted by counties to pay DAs. The original legislation calling for the state to bear a major portion of DA salaries called for the cost to be funded through surcharges levied on convictions on certain crimes. Also, salaries of district judges would be supported in part by surcharges relating to district judge court matters.
When those funds have been insufficient to cover the reimbursements to counties for judicial costs, additional funds are needed from state coffers, but legislative action to provide those funds has been slow.
The DA's office is responsible for seven employees.
After judge and DA salaries, the next highest is that of Sheriff, $52,794 ($52,220). Sheriff Brad Mason also serves as Emergency Services Coordinator, with an additional stipend of $25,000 (unchanged). In the latter capacity, as in that of Jail Warden, he is not elected but is appointed by the commissioners.
The Sheriff is responsible for 41 employees.
Each of the three County Commissioners is salaried at $52,349 ($51,779). Together they are responsible for 86 employees.
The county Treasurer, Controller and Prothonotary are salaried at $49,865 ($49,322). They direct four, two and four employees respectively.
The Recorder of Deeds is paid $49,754 ($49,213), and directs two employees. The Register of Wills and Clerk of the Orphan's Court (a combined office with related functions) makes $48,539 ($48,011), and directs a staff of two.
The Coroner's salary was increased more than others, based on a plan adopted before the present term, aimed at bringing remuneration for that office into line with that for comparable positions. It is $40,109 ($37,803).
The two Jury Commissioners, one from each major party, are paid $7,838 ($7,753) each.
The Coroner and Jury Commissioners are not responsible for any county employees.
The above are elected officials. The county has a number of other officials who are appointed, most of them by the county commissioners; those appointed by the commissioners serve at the pleasure of the commissioners.
There are 13 officials designated as directors of departments or of offices within departments.
The Tax Claim Director will be paid $39,591 in 2011 ($38,438 in 20110). There is one employee to supervise.
The Assessment Director's salary is $41,260 ($40,058). There are five employees.
The Emergency Management Agency Director's salary is $48,997 ($47,570). There is one employee.
The 911 Director is paid $49,640 ($48,194). There are 15 employees.
The Mental Retardation Director's salary is $51,519 ($50,018).
The Director of Soil and Conservation is salaried at $40,379 ($39,203), with three employees.
The Director of Maintenance is paid $44,798 ($43,493). He is responsible for three employees.
The Director of Budget's salary is $42,496 ($41,258).
The Director of Economic Development and the Director of Veterans' Affairs are salaried at $32,806 ($31,850) each. The latter supervises one employee.
The Planning Director's salary is $41,298 ($40,095).
The Director of Voter Registration is paid $39,909 ($38,747) and directs one employee.
The Director of Food Service, who is in charge of the food service at the jail, is paid $32,136 ($31,200).
The County Detective and Coordinator of the Drug Task Force and DUI Program (a combined office) is paid $72,934 ($70,810).
The Chief of Adult Probation and Director of Director of Domestic Relations, currently a combination office, is paid $72,685 ($70,568), and is responsible for 16 employees.
The Chief Juvenile Probation Officer is paid $54,130 ($52,553), with nine employees to supervise.
The Family Law Master is paid $66,155 ($64,228), and is listed as supervising two employees.
The Juvenile Law Master's salary is $25,963 ($25,207).
The Solicitor for Human Services is paid $81,766 ($79,384), while the County Solicitor is paid $45,549 ($44,135).
Three elected "row officers" have solicitors, each paid $650. They serve the Treasurer, the Controller and the Sheriff.
Last year Court House and Children and Youth Services employees and those of the 911 Center, represented by the PSSU (Pennsylvania Social Services Union) and some other wage workers not in unions received 2.5percent raises last year, and 3 percent hikes for 2011.
Jail employees represented by AFSCME (American Federation of State, County and Municipal Employees) received 3.5 percent last year.
This year union and waged employees received raises of 3 percent across the board.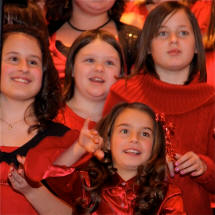 Another Great Night Of Winter Songs - Wintersongs 2010 was presented Friday and Saturday nights at Port Allegany High School to standing room only audiences. Students from the Port Allegany School District Music Department grades four through 12 were featured . The program was under the direction of Kenneth J. Myers and Annamaria Myers. Students from the Fifth and Sixth Grade Chorus are pictured. More photos will appear on this week's picture page. Pam Fischer Photo/Story
Thank you for viewing Port Allegany Online ...Merry Christmas!!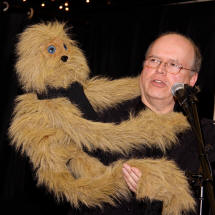 CARE For Children Christmas Party - Garen Smith and his friend Hairy Harry provided the entertainment for the CARE for Children Christmas Party sponsored by the local Rotary Club. The party was held Thursday at the Moose Family Center. More photos from this event will appear on a future picture page.
ROTARY REPORT - The Port Allegany Rotary Club held their annual CARE for Children Christmas Party at the Moose Family Center. Providing the entertainment for the day was Garen Smith. Also visiting were Maria Fernanda Spallanzani: Rotary Exchange Student, Mike Barnard, guest of Bob Hartle; Cortney Barnett, guest of Sue Barnett; Paula and Haley Bayline, guests of Scott Bayline; Kathie Bayline, guest of Ki Bayline; Barb Headley, guest of Randy Headley and Lindsay Burns, guest of the club. Also visiting as guests of the club were members of the CARE for Children Staff including Valorie Coast, Finance and Office Manager; Mandi Davis, Development and Marketing; Kim Murphey, Community Relations Coordinator; Tina Martin, Executive Director; Ashley Carlson, MOT-OTR/L Supervising Occupational Therapist and her son, Ryan; and Marsha Blessing - COTA Occupational Therapy Assistant.
Santa Claus and his Elf appeared following Smith's magic and ventriloquist act. Arrangements for the jolly duo's visit were made by Dick Kallenborn and Hayley Bayline. Gifts were distributed to all the children and CARE staff.

Joe DeMott is the program chair for December 23 and Lloyd Eastman will hold that spot on December 30.
There was no 50/50 raffle drawing during the party. Pam Fischer Photo/Story
Fun With Santa - Santa Claus and his elf, Haley Bayline, are pictured with Rotary Exchange Student Maria Fernanda Spallanzani. The Rotary-sponsored CARE for Children Christmas party was held at the Moose Family Center. More photos from this event will be featured on a future picture page. Pam Fischer Photo/Story