Shop AVON at home or office. Personal delivery and a 100% Satisfaction Guarantee. Brianne Riblet, AVON Independent Sales Representative. Call: 814-642-2326 or 814-203-1424. Visit my Website: www.youravon.com/briblet
----------------------------------------------------------------------------
Looking for AVON representatives in the Port Allegany area! Do you want to be your own boss? Do you have $10.00? That's all it takes to start your own AVON business! I'm looking for women (and men) who have a desire to sell top-quality products at reasonable prices. For more information, contact Brianne Riblet at 814-203-1424 or you can get more information on my website: www.youravon.com/briblet
Enjoy a relaxing spa in your own home for free. You will receive a relaxing facial, hand massage, foot treatment, and much, much more for you and your friends by having a spa escape today. Please call Gretchen Daugherty at 814-558-0100 or email jgdaugherty1@verizon.net to learn more. You can also order these great spa products on my website at www.beautipage.com/happyspa/ (posted 7/17/08)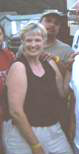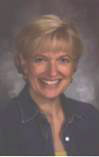 Lose Weight and feel great!! I lost 34 lbs. and 46" Ask me How!!
www.firstfitness.com/mjbinder...Use preferred customer number # BI053414
http://www.zavita.com/mjbinder
Listen to this prerecorded message: 1-641-715-3900 code 40924# It is changing people's lives!! Ask me how!! Mary Janette Binder 814-558-5291 (posted 3/24/08)
Boarding Facility in Port Allegany -- Outdoor runs enclosed with chain link fence for your dogs, a room for your cats, and box stalls for your horses. We are located a mile and a half up East Mill Street at the first farm outside the Port Borough line on Lillibridge Creek Road. Owned and operated by Steve and Jean Bonser. Call for your reservation. 814-642-9166.
Premier Designs Jewelry - Host a home show and earn $100's in FREE JEWELRY!!! How would you like to stay at home and work when you want? Career opportunities available. E-mail me to book a home show or to get more information. Patty Jones, Independent Distributor. Email: jewelrybypatty@comcast.net or call: 610) 291-5779. Do you do what you love and love what you do? I do and you can too....Bejeweled with Premier! What could you do with an extra $1000 a month? Interested – call me!
This And That Store (24 North Main St): We have a lot of kids toys in, like kick sack balls, water guns, wooden blocks, pinwheels, crazy string, etc. We also have summer flowers in and beginning next week you can start paying your bills here; phone, cable, Sears, electric and many more. We have angels that light up and many neat things. Memorial Day flowers are available or, have Judi make flower arrangements right there. Come in and take a look!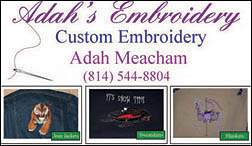 Adah's Custom Embroidery: Custom embroidered items, personalization and/ or designs on sweat-shirts, t-shirts, jackets, blankets or towels. Makes for that special Christmas gift. (814) 544-8804
The Blessing Room (44 North Main St, Port Allegany) We are open Monday thru Friday from 9:00am to 2:00pm. We sell used clothes, dishes, knickknacks, shoes, etc. Cost is a dollar a bag every day. We take donations.
Tatouage Designs: Decorative wall art; Hand-painted rub-on wall transfers. You can create an entire mural or randomly place art/designs wherever you wish. Visit www.tatouagedesigns.com for more product information, design ideas and ordering. New designs monthly. When prompted upon ordering, enter the savings code TamRob28 for 10% savings. Questions?E-Mail Tami at robinsx4@yahoo.com

In today's society we are all looking for a way to be come healthier and wealthier. Are you looking for the one spot you can do both? Arbonne International is a company who strives off of pure, safe and beneficial products made from natural ingredients that won't harm you. All of Arbonne's products are 100% vegan as well. If you are looking for some products that will change your life please visit my website at http://kacielfischer.myarbonne.com There is a lot of product information and testimony here. Also, could you use an extra $500 or $1000+ per month? Ask me how kacielfischer@gmail.com "Making a difference one life at a time" (10/24/10)