Port Allegany Online - News Page 4
August 18, 2011 Edition
---
Pitt-Bradford Engineering Professor Presents Paper In Czech Republic

BRADFORD, Pa. – Dr. Ronald Mattis, associate professor of engineering at the University of Pittsburgh at Bradford, presented a paper this summer at the International Journal of Arts & Sciences conference in Prague, Czech Republic.
Mattis's paper, "Using Spreadsheets to Develop Problem-solving Skills in an Introductory Chemical Engineering Course," explained how he uses Excel spreadsheets and data to teach students the mathematical processes behind popular chemical process simulators.
"The use of Excel as a teaching aid helped the students to develop their problem-solving skills and gave them confidence in the use of a familiar tool that they can use in future courses," he said.
Mattis, director of the engineering program, came to Pitt-Bradford in 1985. His main research interests include parallel processing, particle transport theory, arms control and national security issues.
He holds both a doctorate and bachelor's degree in nuclear engineering from Pennsylvania State University and a master's degree in nuclear energy from the University of Michigan.
Mattis lives in Kane and enjoys mountain biking, cross-country skiing, weight training and reading.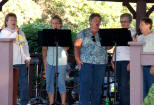 COTS Continue - The Praise Team from the Church of God entertained the crowd on the Town Square as the COTS series continues. The Walt Miles Band will be featured tonight (August 18) and Years Gone By will perform on August 25. The concerts are sponsored by the Port Allegany Women's Club. Pam Fischer Photo

Splash Parties Held - The Port Allegany Youth Counselors sponsored two splash parties last week featuring swimming, DJ Karizma and Fox's Pizza. The first party was held Wednesday night and was for area youth who completed grades Kindergarten through 6. The second party was held the following night on Thursday and was for kids who completed grades seven through twelve. In the above photo, Erin Stauffer, Allison Preston, Jordan Shaffer and Meleigh Daniels are pictured having fun in the turtle pool. More photos from the splash parties will appear on an upcoming picture page. Pam Fischer Photo

Get Him to The Church - Jerry Bailey and cast mates are determined that they will get him to the church on time, as they rehearse for the upcoming Broadway on the Allegheny show, set for September 16 and 23 in Coudersport and Port Allegany. Martha Knight Photo

Lola Wants Him - Watch out when Lola takes the gloves off. Here she rehearses a famous number from "Damn Yankees," part of the Broadway on the Allegheny production set for September 16 and 23 at the Consistory and Port Allegany HS respectively. Martha Knight Photo
Checking Entries (Vocal and Horse Racing) - Joel Anderson, musical director, left,

checks the score while "tinhorns" work on the precision required by a brilliant piece of counterpoint included in the upcoming Potter-McKean Players production, Broadway on the Allegheny. Carey Boyer is rehearsal pianist. Performances will be September 16 and 23, at the Consistory and Port Allegany high school aud respectively. Proceeds will benefit swimming pool improvements in both communities. Martha Knight Photo
---
More News... Page 1 ~ Page 2 ~ Page 3
---