Dear Honorable Senators and State Representatives:
The recent dismissal of the Unified Sportsmen's of PA's (USP) lawsuit against the PA Game Commission (PGC) for capricious and arbitrary management of our deer herd was an obvious breech of integrity of the Commonwealth Court of PA. Established in 1968 our Commonwealth Court system is unique in the nation having jurisdiction when lawsuits are filed by or against the Commonwealth. Standard procedure is for cases to be heard by a three-judge panel.
After three and one-half years of litigation and $60,000 in legal fees retired Judge Barry Feudale unilaterally dismissed USP's case not once, but twice, a mere 20 days before the trial date. President Judge Bonnie Brigance Leadbetter is responsible for taking the case from the three-judge panel and handing it to Judge Barry Feudale for disposition. The same PGC arguments rejected by the previous three-judge panel for three and one-half years were accepted by Judge Barry Feudale and led to his decision to dismiss. Upon his dismissal USP appealed his decision with a "motion for reconsideration". Further indicating the need for court reform, Judge Barry Feudale was permitted to rule on the motion and quickly dismissed the case for the second time.
It is impossible for USP to accept that this case was resolved in a fair and objective manner. It is more than likely politics was the deciding factor in the dismissal. The founding purpose of the Commonwealth Court was to settle disputes between our citizens and the Commonwealth. In this regard the Commonwealth Court failed miserably. After three and one-half years and $60,000, USP deserved its day in court. The PGC's deer management deserved the scrutiny of a full hearing and a decision by an objective, three-judge panel.
It is the belief of the USP's Board of Directors that a travesty of justice has occurred. It is our belief that retired judges like Judge Barry Feudale should no longer be called upon to make any decisions for the Commonwealth Court. Furthermore, Judge Bonnie Brigance Leadbetter should be disciplined for her decision to permit Judge Barry Feudale to rule on the motion for reconsideration. Lastly, USP's legal fees should be returned because this entire matter digressed into a legal farce and a waste of our members' hard-earned money.
The purpose and integrity of the Commonwealth Court system has suffered irreparable harm from this ruling. Apparently, the concept of a fair and objective Commonwealth Court system for our citizens to have their grievances with government addressed is a mere illusion. The Commonwealth Court has now degraded itself into a transparent façade dedicated to protecting and continuing the special interest agendas of government.
USP is requesting a full legislative investigation into the reason why this case was removed from the traditional three-judge panel and handed over to a retired judge. Additionally, USP is seeking removal of the PGC from the Commonwealth Attorney Act. As an independent agency and not a state agency, the PGC must be prepared to defend itself in these disputes and not rely on the Attorney General's Office for their defense or the citizens of PA for their financing.
USP doesn't consider the dismissal of this case a loss in the effort to correct this great injustice the PGC calls deer management. Nor, does USP accept the PGC was victorious. Those astutely following this case have long realized that dismissal was the only real escape for the PGC. Had the case proceeded to court the PGC would have suffered a major, embarrassing defeat. Let's be honest, the current deer program is literally indefensible in any arena. We remain confident a three-judge panel would have quickly and easily agreed.
Sadly, the Commonwealth Court has revealed itself as a sham.
USP Board of Directors. On behalf of all sporting people in the Commonwealth.
Standing Guard… Jim Slinsky, Editor
To a different group of people the dismissal of a critical lawsuit might have had a devastating impact. The effect on a different group of people could have been fatal and immediate. Fortunately, this has not been the case at the USP. Admittedly, the news of this first dismissal was shocking. USP knew their case was solid. However, after a week or so, conversations turned to the sham we call the Commonwealth Court of PA. The second dismissal was equally as infuriating and started the wheels of a new strategy turning.
USP has no intention of backing off the deer management issue. The PGC simply must become comparable in deer management to the other major deer hunting states. The PGC has had their head where the sun doesn't shine for decades. It doesn't matter if everyone at Elmerton Ave must be fired to achieve this or if the Agency must be merged with the PFBC to achieve it.
Unified has put forth to our legislators a number of changes to Title 34 that our legislators must pass. It is obvious the PGC is not going to make any attempt to reform itself. We have been playing games with deer management since the 1930's. Sometimes, I believe that deer management is a game, a red herring designed to keep sportsmen arguing so we don't look at how the Agency is really managed. Marcellus gas revenue would be a good example. Where is that money going, in escrow accounts? For what? Will we ever see habitat improvements or a full scale liming program to actually fix our forests? The games played by the PGC are a national embarrassment to our state.
Our legislators claim they don't want to micromanage the PGC. Sensible deer management reforms are not micromanagement. Maybe, we need to change legislators before we can change the PGC? Maybe, that should be the new plan.
Chairman's Message – Winter 2011 Wayne Haas, Chairman
Spring at last, and it's time for gobbler hunting, fishing, and my favorite – baseball. Tonight I was at our grandson's T-Ball game. He was running and laughing having a really good time. His younger sister Mallory and I shared a hot dog as we watched Buddy.
The location of the game was a place everyone knows. It was played in Woolrich, the home of red-plaid huntin' clothes. When I was a kid there were plenty of red plaid suits in the woods and there were plenty of deer in the woods, too. It's sad how some things change. Woolrich is now fluorescent orange. Plenty of deer have been lowered to so few deer that 12% of Jr. Resident license sales have been lost just since 1998-1999. This is ridiculous and has to be stopped!
You can take this to the bank, USP is madder than ever and will work harder to fix this mess. We have offered two, new qualified candidate names for the upcoming PGC Commissioner openings. These are people that will make wise decisions and will get policies reformed, so we can actually improve our deer management. This fight isn't over until we say it's over.
In between times, we will watch Buddy and share a hot dog with Mallory.
USP is always discussing and debating curative, corrective legislation. In addition to supporting HB 688, HB 691 and a Constitutional Amendment guaranteeing our right to hunt, fish, trap and shoot, USP has composed the below to help make the PGC a responsive and responsible wildlife management agency. Please contact your Senator and Representative and members of the House and Senate Game and Fisheries Committees and insist these changes are incorporated into Title 34.
USP Desired Revisions to Title 34
The Commission shall manage whitetail deer by industry accepted quantitative methods and maintain accurate, verifiable population numbers and harvest data for each Wildlife Management Unit.
The Commission shall implement a mandatory reporting system utilizing the most accurate and verifiable harvest data collections systems possible. This would consist of and be limited to: mail-in reporting, call-in reporting and Internet on-line reporting with a $ penalty for non-compliance. These data collections systems shall be verified by a mandatory "hunter deer take survey" conducted each year by an outside contractor. This contractor shall contact a minimum of 10% of the resident license base each year to verify our yearly harvest data.
The Commission shall manage whitetail deer separately and differently on public land and private land. The Commission shall create separate deer management units (DMU) for each DCNR State Forest Land and for each State Game Land over 1,920 acres in size. The Commission shall make every effort to maintain huntable and sustainable populations of deer on all state land avoiding over-harvesting by issuance of excessive doe permits. The population goals for public lands shall be a post-season minimum of 15 deer per square forested mile. Doe seasons shall be closed on any parcel of state land if deer populations dropped below this stated goal.
Also, USP opposes SB 626 banning so-called "pigeon shoots".
USP stands tall with the NRA in opposition to this legislation. Please call your Senator and State Representative and oppose this legislation. Thank you.
Wayne Haas, USP Chairman
Hear Ye! Hear Ye!
The USP's Fall Meeting will be held on September 10, 2011 at the Quality Inn in Milesburg, PA. Take Exit 158 off Route 80 and go north on PA 150 for about 1 mile. Lunch will be served. All concerned sportsmen are invited. The General Membership meeting will be 12:30 PM to 5 PM.
President's Message
By Steve Mohr, USP President
What Are "You" Going To Do About This?
Another year of "the seasons" has come and gone. I hope everyone had many hours of fun, relaxation and success. From the calls I've been receiving, many of you have had your share of frustration, also. Let the good rise to the top.
This past year, like most, I have been contacted by hunters, just looking for an open ear and some direction. Many will start off by stating, "you won't believe this, who do I call? What can I do"? They feel there is a problem, but not sure of the avenue to take.
In many cases the complaints are a direct result with encountering the "man with the badge". Many of these contacts and incidences, ruin a day afield. Many leave wounds and a bad taste. It is not hard to see why license holders become upset, disgusted and irate. Step into their shoes..
It's the first morning of archery season. Anticipation is at it's peak. You hear rustling and foot steps coming in your direction. It is still too dark to identify the culprit. That is until a beam of bright light, hits you in the face. Then you hear a blaring voice announce to every deer in 2000 acres, " Law Enforcement, come down, I want to see your license and Identification.". The man with the badge.
Trappers also call with upsetting stories. They are checking their trap line with high expectation only to come across an all too familiar sight. A trap and it's catch have been stolen. A phone call to the authorities, receives a reply. "I'm too busy today to look into your problem. Maybe in a couple of days, I'll be able to follow up on this." The follow up never happens. No call. No help from the man with the badge.
How about those duck hunters? They can be a different breed. It is the dawn of the first day. All is quiet. You can hear the ducks overhead. Only darkness is holding up the show. All of a sudden your are brought back to reality by flashing lights, booming loud speaker blaring voices. "Law enforcement. We want to check your equipment, boat registration and licenses". Welcome to the man with the badge.
I'm sure you hear many stories and nightmares. Doesn't it upset you to the point of "spitting nails"? Doesn't your blood pressure rise? Makes one choke on their Cheerios.
It is time for all to get involved. Let's start this license year, on the correct foot. Change what is disliked. Fight for our protected rights. Scream until you have an audience. Even if it is opening day. After-all, they do. Don't take no for an answer. Get some satisfaction from knowing "You made a difference." If we are persistent, we can win.
Blue Sky, Steve
East -West Common Bond
by Randy Santucci , Vice-President
When I became involved with USP several years ago, I quickly realized the organization was strongly based with members from the eastern side of the state. As I live near Pittsburgh, I recognized an opportunity to help bring Unified westward. The opportunity I recognized, came from the knowledge that Allegheny County (Pittsburgh area), and Westmoreland County, its neighbor to the east, are the #1 and #2 hunting license sales counties respectively in the entire state of Pennsylvania.
This year like last, late February I manned a USP booth at the Allegheny Sport and Travel Show in Monroeville, which is just a few miles east of Pittsburgh. Five more frustrating days a Pennsylvania deer hunter cannot spend! Knowing USP is fighting against the Pennsylvania Game Commission's fraudulent deer management program, (read John Eveland's evidence if you question this statement at www.acsl-pa.org ), hunters gathered at the USP booth like flies to honey, voicing their disgust with how public land deer hunting is near pointless. Group after group expressed their concerns as they identified their children standing next to them, "how am I going to get them interested in hunting when they see no deer?" I only wish legislators could have experienced the five day onslaught of negative sentiment...group after group...day after day, by completion of the fifth day there could be no mistake...something is terribly wrong in Pennsylvania! Yes, a few disputed USP's claims, but upon further conversation, they all eventually admitted they hunt on private, posted land!
After speaking with other USP Directors, the eastern PA shows in Harrisburg and Philadelphia experienced the same as I, record membership sales for USP and an astonishing outcry from sportsmen against the PGC and its deer management program. The deer decimation agenda of the PGC is not a fabrication or over-blown sentiment of a few unsuccessful hunters, it is real and has progressed to the point that it is crucifying our Pennsylvania Deer Hunting Heritage. Plummeting license sales more than the national average, rural business folding, sportsmen outcry, lawsuits, on and on, what will influence lawmakers to realize if it quacks and waddles...
Fellow sportsmen, yes some private and/or posted lands have survived this onslaught against the state's whitetail resource. You may be lucky enough to have that parcel of land to hunt and enjoy with your children. But, I always believed Pennsylvania sportsmen are a brotherhood of sorts, looking out for each others best interests. Believe what you hear from those not as fortunate as you, this crisis is across the Commonwealth. East to West, North to South, even private land owners now are starting to experience low deer numbers from hunting pressure that has migrated from public land hunters. Contact your legislator or you will be telling your grandchildren I remember when…
A Plucked Chicken?
Editorial by Jim Slinsky
In the last newsletter I speculated about our current gas drilling escapades and its cause and effect on our deer management. The column generated a number of irate responses about the environmental impacts of drilling. It seems many are concerned that PA will once again rape the land and repeat the debacle of 100 years ago when we went on a coal rampage.
There is great validity to their concerns. We need to be ever-vigilant, calming the zeal to generate gas revenue. We know people and industry will always gravitate toward the cheap and dirty path of maximizing profits. We need to be cognizant of what PA will look like when the drilling craze levels off. I recall one legislative aid a few years back telling me PA is going to be the next Texas and he wasn't referring to their deer management. He was advocating "drill, baby, drill".
It does seem as if we are drilling racing against a clock or the competition of other states. I am still waiting to hear how gas dollars are going benefit this Commonwealth or its' citizens. The severance tax seems to be a dead issue. Right now without it, only the gas companies are poised for a profit boom. Will our rural residents that are forced to bear the burden of the heavy equipment on their roads, the eyesore of drilling rigs everywhere, the possibility of serious fires and potentially polluted drinking water ever feel the financial benefit of drilling? It is an interesting question that needs answers.
I agree with those irate readers' concerns. With five acre well-sights going in everywhere and drill rigs shooting into the sky, I am concerned PA will one day look like nothing short of a plucked chicken.
Joe Micelli Passes
By Dr. Charles Bolgiano
Many of you remember Joe Micelli. He lived in Maryland and was a staunch supporter of USP until 2 years ago when for health reasons he suddenly resigned. Joe's wife called me today to give me the news that she found Joe on the floor when she came down stairs on the morning of January 28th. Joe was a devoted family man and wrote extensively about the PGC and how they were abusing their authority and our Constitutional Rights regarding law and order issues. I think many of you remember Joe and his extensive writings on the PGC's abuse of law enforcement practices.

He and I and others spent some time in the PA Capitol and he attended USP meetings. HB 181 was an indirect result of his input, however he always believed that we would get the shaft from the PGC in the long run. Joe was a retired Navy Officer and he and I shared many a story in our brief acquaintance about our military experiences.

Joe was not bashful about his comments concerning the PGC and we should remember him for his influence on the USP. His wife told me that we shouldn't do anything special for Joe, but perhaps send a donation to the America Heart Association.


New Membership Address!!!
Please forward new memberships and club memberships to USP, 530 4th Ave., Sutersville, PA 15083
The Minnie Charters, Capt. Roger Toy, RD 7 Box 543, Kittanning, PA 16201
Great Lakes Sport Fishing Bass – Walleye – Perch – Steelhead
Phone Cell 412-779-0613 814-779-3311
The Minnie Charters
Capt. Roger Toy
RD 7 Box 543, Kittanning, PA 16201
Great Lakes Sport Fishing
Bass – Walleye – Perch
Steelhead
Phone 814-779-3311
Cell 412-779-0613
The PGC Listens to No One
By Richard Fearer, USP Board Member
The PA Game Commission has decided to scrap Citizen Advisory Councils because Carl Rowe and the PGC biologists didn't like the message coming from these councils who are calling for doe tag numbers to be reduced statewide and stop the mass killing of does.
In their report WMI called for DMAP tags to be used as originally intended on farms to control crop damage and not to be used by DCNR on State Forest Land or any public land like the Allegheny National Forest, but they have ignored this recommendation, which shows they don't care about the wildlife resource.
Apparently, the PGC cares only about pleasing the kill the deer groups like the Audubon Society, DCNR, timber companies and all groups who should be fixing the soil that causes failed regeneration by liming and fertilizing the forests.
Acid rain does major damage to our forests while these groups don't want to spend money to fix the pH in the soil to get quality regeneration of our forests. Killing our whitetail deer will not improve the quality of the soil.
After selling 800,000 plus doe licenses for the last 8 years plus DMAP tags on public land the deer herd has reached dangerously low levels, especially in our northern counties.
In closing, Governor Tom Corbett and the PA House and Senate Game Fish Committee members need to replace those irresponsibly managing the deer herd and provide the sportsmen of PA a huntable and sustainable deer herd.
This little beauty was submitted by USP member Dennis Wydra.
The Sportsmen's Reduction in
Government Costs Act
Operating as Independent Agencies and not accountable to all state agency requirements and regulations, the Pennsylvania Boat and Fish Commission and the Pennsylvania Game Commission are prohibited from using the PA Office of Attorney General for any and all legal matters. The act will become effective immediately.
Amen! :-)
WE who enjoy our hunting and shooting heritage, sometimes forget how we got started in this wonderful experience of outdoor interests. We forget how much influence family members have had in guiding and exposing us to the exciting experiences that cemented our passion in hunting, fishing and shooting for our lifetime. For those that are not blessed family mentors, we all in USP know and welcome the opportunity to expose our youth to this grand adventure of the outdoors, it is what we fight for daily. I was recently sent a letter from our membership secretary Mary Lou Golla regarding a young man Adam Puit, a USP member, that came to love shooting outside the father and son relationship many of us grew up experiencing. The letter was prompted from Mary's passionate commitment to USP and her outdoor heritage, she always includes a handwritten note to youth members when she sends their membership card. The letter from Andy's mother (below) tells a story that all of us who give our time promoting outdoor interests know.....it's about the kids! Randy Santucci, USP VP
Dear Mary Lou Golla,
I just wanted to thank you for taking the time to do a handwritten letter to my son, Andrew Puit on 1-27-11. It was very much appreciated. I just wanted to give you a little background on my son. He was born on 3-12-97 two months premature, weighing 3 pounds 3 ounces. Andy ended up dying once in NICU and had to be rushed to Children's Hospital in Pittsburgh where he almost died again. He remained in Pittsburgh for a couple of weeks. When my husband and I got him home, we were so happy, but it was very short lived. Ten days after we came home, my husband was killed in a scuba diving accident (he was a rescue diver). He was diving off the coast of New Jersey and he was doing what is called a shore dive. When he noticed the rest of the guys did not get out of the water when he did, he went back in after them. Somehow he missed them in the murky water and as a storm was coming in, he hit his head off a rock and perished. I buried him two days before our first anniversary.
It has been very trying at times to go through every thing without him.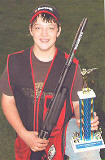 Andy is the highlight of my life and he was very shy up until one and a half years ago when I put him in our local 4-H Shotgun Shooting Group and he just seemed to come out of his "shotgun" shell!....He started shooting and WOW what a difference. He is now outgoing and makes friends. In just the year that he has been shooting, he has shot multiple straight 25's.
<![if !vml]>
<![endif]>Enclosed are several pictures of Andy, including him and Tim Bradley, Benelli exhibition shooter. Andy defeated 125 guys in a trap shooting competition and ended up winning 2nd place!
Again, thank you for your letter, my son is a very rare breed and would rather be out in the woods instead of sitting in front of a TV or a computer, and yes, Andy uses a Benelli, to him there is nothing like it, and NO ONE is allowed to touch it... including me!
Thank you for your time and I will look forward to hearing from you again.
Diana L. Gray-Puit
Glen Richey PA
To the Editor:
Your February 18 edition had an article detailing how Rick Watts, President of the PA State Chapter of Quality Deer Management Association (QDMA), once again lobbied the PGC regarding the war on deer. Mr. Watts refers to a "vocal minority" that is "unhappy with current [deer hunting] conditions". I'd hardly call tens, if not hundreds of thousands of PA deer hunters, who are screaming from the mountaintops (literally) about the lack of deer a "minority". He says his 3,000 PA QDMA members "sympathize with hunters" who hunt in those areas with low deer densities. Gee thanks. We appreciate that while his trophy-buck-farming landowner members are hunting out of their tree houses overlooking their clover plots, within the confines of their yellow sign fences, they feel bad for us little guys who are out hunting in the open forests of state land.
Mr. Watts goes on to recite statistics and numbers of how many deer are supposedly killed and how many deer we supposedly have and on and on. But ALL of those numbers are nothing more than guesses based on information that is unverifiable. I asked one of the Commissioners recently how they estimate the number of deer that are illegally killed each year; he couldn't tell me. The PGC concedes that much of the information used to formulate the deer management plan is "assumption". In other words, they guess and then they have the audacity to call it science.
So who, or what, is QDMA? And why are they so intent on influencing deer management on public grounds, not only here but all over the country?
The QDMA website used to list their "corporate sponsors" separately, but now they are combined, or perhaps camouflaged, with familiar outdoor industry names. If you check the website at http://www.qdma.com/who-we-are/our-supporters/ and click on Meadwestvaco, Soterra, RMS, Milliken Forestry, Plum Creek, and A. Wilbert & Sons, you'll find that QDMA is supported and funded by some of the country's biggest names in the timber/paper/real estate industries. Why would the timber/paper/real estate industries be funding deer lobbyists?
A few years ago I went on a tour of federal grounds with the biologist in charge of managing the deer herd on those grounds. As he pointed out tracts of ground that were holding deer I noticed that the common denominator was that the old growth forest had been eliminated, either by timbering or gypsy moth, which had allowed the undergrowth to flourish and thus support more deer. So I pointed out my observation and asked why we don't timber more ground. The simple answer was that the price of timber is too low.
If the PGC and the DCNR would decide to timber all the land that they could, that they should, and thus create habitat for deer, what happens to the already low price of timber and paper when all that timber is added to the market? The resulting drop in timber and paper prices would negatively impact all those QDMA corporate sponsors. So maybe they decided to fund a lobbying group to go forth and claim that for "Quality Deer" (after all who can be against 'quality deer') we need to reduce the deer herd, not timber more ground.
Of course, all this is mere assumption on my part. But, I'll just call it scientific analysis of the available data and that should make it OK.
Wayne A. Bush
Roaring Spring, PA
814-932-5697
"For an entire generation of deer hunters to die." -Gary Alt, former head of deer management for the Pennsylvania Game Commission, after he instituted the current deer decimation policies and made the statement to the sitting game commission 'Now we wait' and was asked by one of the Commissioners, "Wait for what?"
To the Editor:
I have a camp in Bradford County on Barclay Mountain where I have hunted since 1967. We have 20 men in the camp, this year only 14 showed up due to the lack of deer the past few seasons. This year I saw one small spike and one doe, several of the guys didn't see a single deer this season. Last season 11 of the guys including myself didn't see a deer in a week of hunting.
My camp borders Game Land 36 where we have several large food plots and a lot of cover. I could go on about how we once saw 20 to 30 deer a day and how the numbers have dropped every year for the past dozen years or so to their current sorry state, but I won't. I could tell you about how we went scouting after the season two years ago and walked old logging roads between my camp and Sunfish Pond for two days with fresh snow and counted a total of 15 sets of tracks, but I won't. I have offered, on several occasions, to have members of the PGC spend a weekend at my camp, I'll put them up and feed them as well as guide them around Game Lands 12 & 36, but they never responded to the offer. I want them to show me all the deer they say are there! We have seen more bear the past few years than ever before (although not in bear season) and coyotes are active every night around the camp and across the road, sounds like a convention! The PGC has done a great job reclaiming the old strip mines, planting rows of pines and crab apple along with clover, oats, grass and turnips, too bad there aren't any deer to eat the food.
Keep up the good work and the good fight, the USP is our last and only hope.


Robert M. Bauersmith
King of Prussia, PA
484-919-8431
To the Editor:
I am 72 years old and retired from the army in 1975. After retirement from the Army through the mid 1980's I hunted mostly Armstrong County (Area 2D). Most every year I would get a buck or at least a doe. There were a couple years I got skunked, but it's my own fault because I saw deer and got some shooting.
Starting in the mid 1980's through 2000 I hunted Clearfield county (Area 2G). There were 6 – 8 of us, and we would go to camp the Saturday after Thanksgiving and hunt through the following Saturday. We enjoyed getting into the outdoors and we would see deer and supported the local business by buying our food, hunting supplies, and fuel. Once the current deer reduction plan started we went to camp less and less. Now in that area it is almost impossible to find deer to hunt. We still have a camp there, but with no deer to hunt. Most of the businesses are gone and we have lost interest in hunting that area. We do some fishing and bear hunting, but the deer are nonexistent. I have visited many of the fenced areas and find as much food and growth outside the enclosures as inside, there is no game to eat the feed.
Last year in February we went to camp and hunted coyotes over a weekend. It snowed the first night we were there, the following morning we traveled well over 200 miles and walked back several log roads and pipelines calling coyotes. With the fresh snow we only crossed one set of turkey tracks, no deer tracks at all.
My younger brother took his grandson hunting for the first time and they saw no deer at all. His grandson lost interest in hunting and did not even want to go with my brother the last day. My brother's eyesight is not as good as when he was younger and he did see a buck, but it went past him so fast he did not know whether it was legal or not, so he did not shoot. Another hunter saw and it was a legal buck and shot it. The antler restrictions have not produced any record bucks and in my opinion and needs to be removed. The season should go back to separate buck and doe seasons with one and done.
As far as my hunting this year, it was very poor, like the last several years. My brother-in-law and I hunted several days and at times went deep into the woods as our health would permit. There were just no deer to be found, not even tracks. I know there are plenty deer in areas you cannot hunt like the parks and cities, but that don't help us hunters. At my age and coming health problems I do not have that many years left to hunt. It is a shame the politicians and PGC have ruined hunting here in PA. At one time I respected the PGC, now I have no respect for them at all; they do not listen to hunters and are interested in forest improvement instead of hunting improvement.
Blaine Toy, USP Secretary
Where Are Our Political Leaders?
By Dr. Charles Bolgiano
In 1989 our then Governor Robert P. Casey proclaimed the following on the occasion of Pennsylvania Hunting and Fishing Day. "Pennsylvania's natural resources are world famous. From the depths of our green forests to the crystal blue of our lakes, Pennsylvania's wildlife is abundant and the scenery spectacular". Three centuries ago our Commonwealth's founder William Penn, wrote of a "good and fruitful land" where "fowl, fish and wild deer" were plentiful and the "the air is sweet and clear, the heaven's society.
Today we cherish this rich environmental heritage. Our sportsmen and women are committed to protecting our abundance of game and fish and maintaining an ecological balance in our modern society. Nearly three million Pennsylvanians are licensed to hunt and fish in the Commonwealth. These individuals play a vital role in helping to maintain our rich and beautiful environment. Together, they work to ensure that Pennsylvania's natural resources remain intact for generations to come.
Today, some twenty years later, Governor Casey's proclamation recognizing sportsmen and the legacy they inherited from their forefathers, including plentiful "fowl, fish and wild deer" doesn't strike a happy note with Pennsylvania's sportsmen. If anything it strikes of a concern that Pennsylvania legislators have abandoned the wealth of respect that sportsmen hold for William Penn's assessment of Pennsylvania's wealth of natural resources.....they are now far from world famous, especially our wildlife and the leadership seems hell-bent on making things worse while ignoring their obligations to protect and promote our heritage values.
For the past ten years, State Leadership has given to the Pennsylvania Game Commission everything they have asked for while the PGC's own financial resources have expanded at the expense of what Governor Casey termed twenty years ago, "a cherished rich environmental heritage". Sportsmen's rich heritage of hunting is being destroyed beyond comprehension. The Senate has threatened to make it illegal to hold special hunts involving released birds and in the process have endorsed legislation that would even discount the fact that the HSUS, the nation's foremost anti-hunting organization's leadership is staffed with a person with multiple Game Law Violations.
State Leadership has turned a deaf ear against the pleas of deer hunters whose sport has seriously declined due to a PA Game Commission that insists that there are too many deer in a situation where the truth of the matter shows that the Game Commission is more bent on self-destruction than service to three million Pennsylvanians who in 1989 were licensed to hunt and fish.
USP Testimony at the PGC Commissioner Meeting, April 2011
For the first time in a long time, USP and the PGC are not in Court. USP can say that we don't like or want to be in Court. However, we can say that we could go there again. We simply will keep trying to stop this miserable deer eradication program full of deception.
To say that we are disappointed at the current PGC and staff deer management program would be a huge understatement. There are no printable words that can explain our feelings.
How can I write a passionate enough letter to have you change course of the deer management program and tell the PGC Director and staff that they have not been truthful to you?
Maybe you know and just don't want to make waves. Maybe you know and can't effect change that is so desperately needed. Maybe you don't know and don't want to know.
USP has been delivering the truth on this deer program since it started in 1999. We pushed hard for the FLIR studies that showed there were few deer compared to what the PGC said. We pushed hard for the deer audit that WMI did and found that the PGC deer health and forest health excuses were crap. Now, John Eveland has come forth and has shown us the light of truth again.
We ask, are you aware that it has been proven the deer herd was not – and had not been – in poor health? And, this evidence was not authored by Mr. Eveland, but by the PGC. According to a nine year study conducted by PGC deer biologists (that, incidentally began the year the new deer management program started and encompassed all the Wildlife Management Units), the embryo counts for all those years averaged between 1.51 and 1.61. Importantly, according to this same report, in order to be classified as "unhealthy," the embryo count would have to be less than 1.1 while anything over 1.5 indicates excellent health.
We ask, are you aware that information provided by the U.S. Fish and Wildlife Service, only eight percent of the "Eastern Forest" (which, just to be clear, includes Pennsylvania) is in a "successional," i.e., regenerating, stage? In other words, the problem, for a majority of our bird and mammal species (besides and including the whitetail deer), is the overabundance of mature forests. And, according to a 2006 report prepared by the DCNR, 89% of their regenerating forest land showed no impact at all from deer browsing, 7% showed light or moderate browsing and only 4% of their total forest land was "heavily or severely browsed."
We ask, are you aware that the Allegheny National Forests theory to remove the deer to allow regeneration prior to permitting a timber harvest in a closed canopy has now been disproven by her own research? Forcing the entire state to conduct an experiment prior to conducting valid research could be considered scientific fraud - although give her credit on not covering up the results of the recent paper. In fact, there were no prior research studies done before all the crazy mismanagement directives were pressed upon us.
Like my Grandpap always said, "don't bitch unless you have solutions to offer". Not only does USP have solutions that we offer, but we also will work to make legislative changes that cannot be overlooked. Wayne Haas, Chairman, USP
USP V-P Randy Santucci and Eastern Pennsylvania Firearms Coalition Co-Chairman Jack Iannantuono are appearing/appeared on "PA Crossfire", an Eastern PA TV show that discusses topics affecting PA. Randy and Jack identified problems surrounding the PGC's Deer Management Program. The program is scheduled to air May 4th and 18th cable networks RCN4, RCN8, Service Electric and Blue Ridge air time approx. 7:30 or 8 PM check your local listing for "PA Crossfire". The date and time could be changed due to scheduling of local events.
Special Attraction: From the PGC's last meeting go to www.livestream.com/pennsylvaniagamecommission, click on the video of April 11th Commissioner Meeting Part 1 of 3, start the video and drag the scroll bar to 2:52 and watch 15 to 20 minutes, you will not believe your eyes and ears. Tom Boop's and Jay Delaney's questioning of Chris Rosenberry's program numbers are what you need to see how far this agency has strayed. "We don't care how many deer there are as long as we meet the goals of the deer management program", proclaimed Chris Rosenberry. Don't miss this.
Important Contact Info
If you feel the urge or need to vent, below are the critical people to contact.
Chairman, House G & F Com.—St. Rep. John Evans, 717-772-9940, jevans@pahousegop.com
Committee Vice Chair, Todd Rock, 717-783-5218, trock@pahousegop.com
Committee Secretary, Kurt Masser, 717-260-6134, kmasser@pahousegop.com
Committee Minority Chair Ed Staback, 717-783-5043, estaback@pahouse.net
Committee Minority Vice Chair (Dem) Kevin Murphy, 717-787-8981, kmurphy@pahouse.net
Committee Secretary (Dem) Gerald Mullery, 717-783-4893, jbucher@pahouse.net
Chairman, Senate G & F Committee—Senator Rich Alloway, 717-787-4651, alloway@pasen.gov
Committee Vice Chair, Charles McIlhinney, 717-787-7305, cmcilhinney@pasen.gov
Committee Minority Chair, Richard Kasunic, 717-787-7175, rkasunic@pasenate.com
Committee Ex-Officio, Joe Scarnati III, 717-787-7084, jscarnati@pasen.gov
PGC Commissioner Tom Boop, 570-286-6701, tboop@verizon.net
PGC Commissioner Gregory Isabella, 215-336-1710, secommissioner@aol.com
PGC Commissioner James Jay Delaney, 570-825-4424, pgcdistrict7@aol.com
PGC Commissioner Ron Weaner, 717-677-9120, pgc6@superpa.net
PGC Commissioner Ralph Martone, 724-652-9315, nwcommissioner@comcast.net
PGC Commissioner David Schreffler, 814-784-0044, c-dschreff@state.pa.us
PGC Commissioner David Putnam, 717-480-2283, nccommissioner@gmail.com
PGC Commissioner Bob Schlemmer, 724-327-1649, rwspgc@aol.com