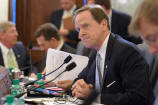 Washington, D. C -- U.S. Senator Pat Toomey (R-Pa.) announced today he will be introducing legislation to repeal an onerous Department of Transportation regulation mandating new street signs in towns and municipalities across the country.
A longstanding Department of Transportation mandate would require all municipalities to replace their current street signs with new signs that meet federally approved reflectivity standards. According to the mandate, local towns will be responsible for paying for the replacement of current street signs.
Sen. Toomey announced his new legislation after meeting with local officials in Scranton to talk about the economic toll this regulation is having on already strapped municipal budgets.
"I appreciate Sen. Toomey's visit today and the legislation he is introducing," said Joe Chacke, president of Forty Fort Borough. "It's a great first step in the process of changing our government from a bureaucratic government back to a democratic government."
Sen. Toomey has already had success in alleviating this burden in Lower Merion in Montgomery County. Lower Merion officials argued that the street signs mandate was not only expensive, but would force the town to replace its cast-iron historical street signs, stripping the community of its historical character. Working with the Department of Transportation, Sen. Toomey achieved a historical exemption for Lower Merion.
"I have reached out to the Department of Transportation and look forward to working with them in alleviating the burden this regulation places on Pennsylvania municipalities and taxpayers," Sen. Toomey said. "At the same time, I am introducing legislation to make sure that communities like Scranton are not forced to foot the bill for expensive federal mandates. While I appreciate the Department of Transportation's safety concerns, these decisions are best made by local communities and municipalities."